10 Ways to Promote your Referral Program
Referral programs can be one of the most cost-effective strategies for growth. But simply having a program isn't enough.
Too many companies shy away from taking the time to promote their new initiative, or hide it in hard-to-reach sub-menus, resulting in little to no customer engagement. If you're going to take the time and money to launch a new referral program, it's in your best interests to show it off. Treat your program like you would a new product feature - especially since one of its main purposes is to benefit your customers!
Use this article as a checklist to make sure you're maximizing your reach across different channels. We'll cover basic strategies and share a few places you may have not thought of as ad space.
1 - Make it easy to find when users log in
When you want to benefit from the advocacy of your customers, it's critical that you focus on making your referral program easy for them to find when they have the chance.
Instead of burying it within levels of account settings, let it stand out in your main menus and navigation. The best-performing programs are accessible on every screen of your app. In fact, we've seen program performance more than double simply by making it more visible
Check out how Blink Health, a prescription management platform, uses dedicated and highlighted links in both the navigation and user menu to promote their referral program. A common practice is to use a small icon (such as a gift box) and/or a contrasting color for the referral program link to draw attention.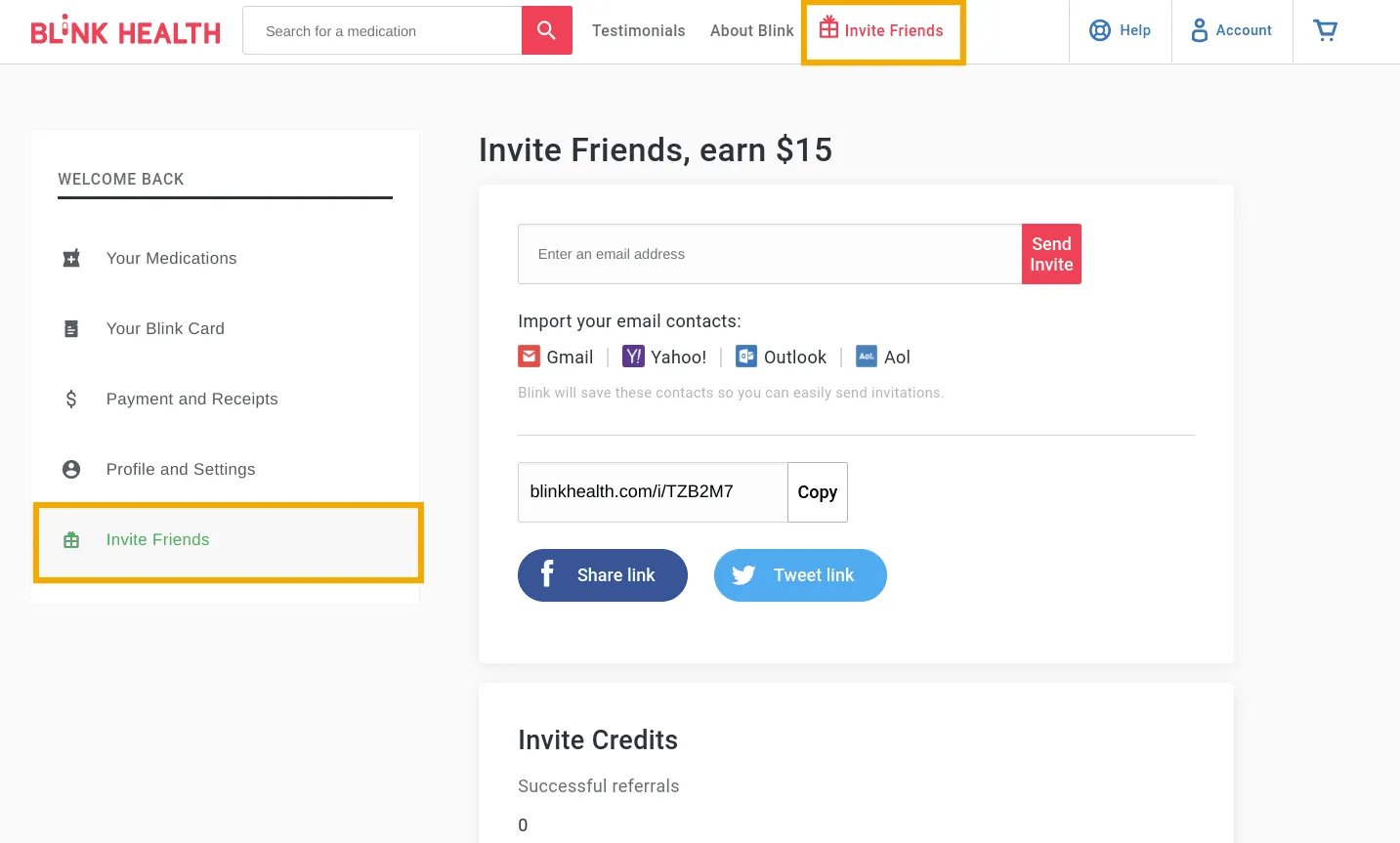 Here's another example from Flytographer, using both text and imagery to promote the program in the user's profile.
2 - Create an explainer page
Not only does an explainer page help with boosting awareness, but it helps ensure customers understand how your referral program works and how they can participate.
Create this page on your website to outline the structure of your program and how a user earns and redeems rewards. It's a great place to direct users who want to get started and can be used as CTA links in your emails, social posts, etc.
Start by answering these questions on your page:
What rewards are available?
How do you make a referral?
Who can make a referral?
How many referrals can you make?
Are there any exceptions?
How do you get started?
Even if your referral program is not open to the public and only accessible by customers, it's a good idea to build a public-facing explainer page that anyone can access to learn more about how it works, and so they can share it with others who are not yet customers.
Below is an example explainer page from home security brand Brinks.
3 - Write a blog post announcement
Writing a longer announcement about your new program on your blog can be a great way to engage your subscribers and provide some of the finer details that people might be looking for.
You can include additional info like quotes from your team members, the story behind the program. instructional screenshots and GIFs, reward examples, and more. Don't forget to send out an email to your blog subscribers with a link to the blog post!
Adzooma, a leading PPC management platform, released a post on their blog to demonstrate how customers can participate in their refer a friend program with GIFs and screenshots and a link to get started.
4 - Use email marketing
To get the most out of your email channels and subscribers, consider an official launch email and consistent promotion in your regular newsletters. This is where you can leverage the new content on either an explainer page or blog post.
An official email announcing the launch of your new or improved referral program is a great way to drive initial action. Leverage the contact information you already have on file to send an email that explains the following:
What's in it for your users
How the program works
How they can participate right away (include a link or instructions in the email)
Information about your referral program can also be included in onboarding emails to new customers, and as standard sections in your regular newsletters to keep it top-of-mind.
Here's an example email from financial company KOHO that lets customers know about the referral program as part of an onboarding email sequence, sending about a month after the user first signs up:
Newton, a crypto trading application, adds a standard snippet about their referral program into the footer of almost all of their marketing emails:
5 - Promote it on social media
Depending on where your target audience spends their time online, leverage your following on LinkedIn, Facebook, Twitter, and other platforms to spread the word. The average person spends about 145 minutes on social media every day, so it's worth your time to utilize these channels.
Social media is free, and the short lifespan of each tweet or Facebook post means you can frequently share news and info about your program and any updates.
In your post, include eye-catching imagery, a small blurb about why someone should participate, and a link to your explainer page or blog post to learn more.
Consider entering users into a prize draw when they share the post with friends to drive a little extra momentum around the launch date.
6 - Ask at the right time with in-app triggers
The best time to promote your referral program to your customers is when they feel positively towards your brand. Positive emotions increase a user's likeliness to further engagement with your product or service, and in this case, make a referral.
Start by identifying the moments when your customer is most likely to be satisfied with your product or service, then use the opportunity to remind them of your referral program.
For an e-commerce model, this moment could be once the user has completed a purchase and is excited to receive their order.
If you provide a CRM tool, this might be when a user closes a sale using your software or has collected a certain number of leads.
If you run a monthly subscription box, this could be after the customer has been delivered their 3rd consecutive box, clearly indicating satisfaction with their purchase.
Online design tool Canva does this by asking a user to refer a friend right after they've downloaded their completed design project, likely proud of what they have just created.
7 - Promote it throughout your app
Depending on the nature of your product, there may be opportunities to add referral program promotion within the pages of your app that users interact with on the regular. While this goes hand-in-hand with making your program easy to find when users log in, this goes beyond menus and navigation.
For example, if you have a feed of new content that users scroll through, referral program promotion can be added throughout, or after a user has scrolled for a given length of time.
Front Finance does this in their mobile app by adding a referral program CTA within the home feed. This helps keep the program top-of-mind and makes it easy for anyone to come across while browsing new posts.
8 - Use custom email signatures
Add in a bit of extra promotion with each email your team sends by designing a signature with a quick message and link to your referral program.
This way you can engage everyone from your sales, customer success, and marketing teams to generate awareness.
This can be especially powerful for support staff who help solve customer problems and create happy moments on a daily basis. However, even threads with prospects and professional connections represent an opportunity to promote your program and help you stand out.
With an email signature in place, the recipient is presented with a foolproof way to access your program that you don't have to worry about maintaining. Here's an example from Typeform:

9 - Incorporate it into your value proposition
A well-designed referral program is actually considered a welcomed feature by your customers, and can help win-over prospects who might be evaluating similar options.
Because of this, don't be afraid to put it front and center as a primary way for customers to save money or get rewarded.
Mobile phone provider Visible does this by promoting their referral program as a benefit for new customers as well as existing ones. The home page prominently features how you can save on your monthly bill by participating in the referral program.
10 - Add promotion to your invoices
If you offer credit or a discount as part of your referral rewards, adding a note to your customers' invoices is a great way to get them involved in the program.
When a customer is reading over their monthly invoice, they'll be extra receptive to earning a discount or perk to lower the grand total on the next payment.
Add a note like "Refer a friend to earn 10% off your next invoice!" with a link to where they can get started. This could also be included in the invoice notification email, or billing page within your app.
In case the amount due makes the customer question whether your value is worth their investment, this is a great opportunity to remind them how they can pay a lower fee next month by inviting a friend.
Final Thoughts
The takeaway here is that you need to purposefully promote your referral program to get the results you want.
There's no point in investing time and resources into a referral strategy if your customers will need to hunt through your website or app to find it! Experiment with these 10 strategies to find what works best for your audience.
Have you tried another method that worked for you? Let us know by tweeting us!