6 Ways to Improve your Hardware E-Commerce Mobile Marketing Strategy
Consumers are hungry for connected devices that help them extract value from their hardware products with a mobile app. Creating a rock-solid hardware e-commerce mobile marketing strategy lets your company build longer lasting customer relationships.
Companies like Tile, Fitbit, Nest, and Chipolo take advantage of mobile marketing to deliver a winning customer experience. Whether it's encouraging app activity, additional purchases or customer referrals there are many ways companies can optimize their mobile experiences to reach retention and revenue goals.
In this article we'll take a look at IoT companies like Fitbit + Tile + Nest as well as Gaming Toy companies like Star Wars Droid BB-8 + Anki Overdrive.
Fitbit and the power of freemium
The Fitbit is a wearable device that tracks your physical activities to ensure you get the most out of your workout regimen. Through its companion mobile app, you can view accurate information about the distance you've travelled or the number of steps you've taken. You can also use the app to calculate how many calories you've consumed and compare your results with friends online.
It is this social aspect – along with the addictive nature of fitness – that leads to additional sales. Users, from within the app, can purchase Fitbit branded accessories, clothing, and even a personalized training plan, so they can achieve better results.
You don't even need to have a Fitbit product to download and use their app. Anyone can install the clean, easy to use app for free. Once they are hooked on the app, it is only a matter of time before they purchase one of their products.
Tile uses in-app purchases to encourage customer renewal and up-sell
Tile is a small connected device that helps you keep track of your items. With the companion Tile mobile app, you can then track the location of that item at any time. For many, this has become a necessary personal security tool to protect things like vehicles, wallets, keys, and more from either theft or loss.
The genius of this product is that the battery in each Tile is non-remove-able, so you have to replace your Tiles every year. It's the app that ensures customers keep to this schedule which all but guarantees repeat business year after year.
The Tile app has an in-app store with several payment options to help users seamlessly pay for their new pack of Tiles. Finding ways to reduce friction with the customer renewal process is essential to extending the customer lifetime value for your company.
Nest uses in-app marketing to cross-sell their suite of products
Did you ever watch The Jetsons and wish your home could be as automated as theirs? We may not be quite there yet, but we're getting close thanks to Nest. Nest offers a group of products to automate certain components within your home such as thermostats, security cameras, lights, exterior door locks, and more.
Through the free Nest app, you can control your Nest connected devices and view their status on your mobile device. As the Nest environment becomes ingrained in a customer's living space, they become more dependent on it, which leads to further sales.
The Nest app is simple and easy to use, making it a smart choice for all walks of life. Users can learn about new products that work within the Nest ecosystem, and make purchases right from the app. The app also collects information about the customer and can, in the future, direct marketing messages tailored to their specific needs.
Otterbox improves device performance with customer usage data 
Otterbox is one of the leading manufacturers of protective cases for smartphones and also incorporates a complementary mobile experience. The mobile app for their Defender ION Series collects and analyzes data about the consumer.
While this particular phone case, as advertised, significantly extends the battery life of the phone, the app adds value by learning the user's habits to improve battery life even further. It monitors almost every aspect of the phone's usage and customizes itself to suit that individual phone.
Sphero's BB-8 incentivizes mobile app downloads with additional product functionality
There probably isn't a bigger, more successful, movie franchise than Star Wars. If your business has the opportunity to include a Star Wars licensed product, you go for it. That was the case for Sphero who turned their namesake app-enabled toy into one of the most sought after gadgets of 2015.
Sphero's BB-8 is a scaled down replica of the now famous droid from Star Wars' most recent installment. Through the free downloadable app, you can easily control this toy and make it move just like it did in the movie.
Their mobile app is a strong area for marketers to promote re-engagement with the product as well as use push notifications to cross-promote other toys from their product line.
Anki Overdrive uses in-app marketing to drive additional store revenue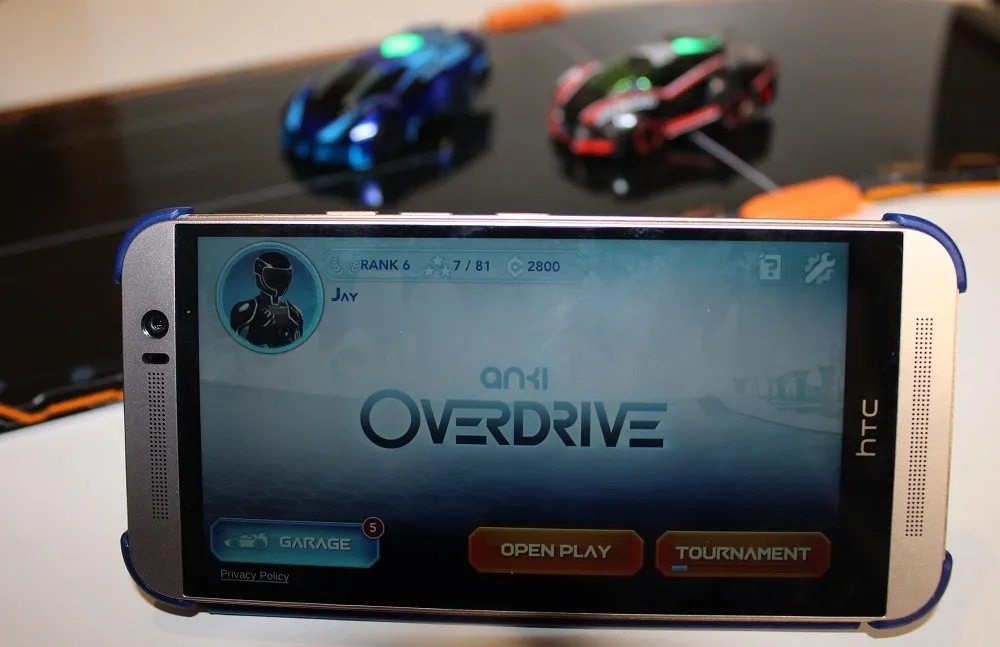 Anki Overdrive is an app enabled auto racing toy. The cars run along a slotless track and their movements controlled on a smartphone via a free downloadable app.
Though Anki Overdrive does not, at this time, market in app purchases, the tools are there to do so in the future. As you play with the Anki Overdrive toy, you can unlock new and improved features on individual cars. It's conceivable that, at some point, they could offer to remove these locks for customers who choose to pay instead of play.
Beyond that, you can use the app to access the Anki store to purchase additional pieces of track and cars. The app itself is attractive with a layout that is simple to navigate, making it an ideal toy for kids of all ages.
Conclusion
The key to long lasting relationships with your customers is to provide great experiences at the right time. For hardware products many companies can take advantage of another channel and build a standalone mobile app to complement their strategy. By using mobile app marketing campaigns you'll be able to increase engagement with your hardware product as well as promote other products from your catalog. 
For the best results, create an app that adds actually adds value to what your product does. The more your app becomes intertwined into your customer's life, the longer your relationship will be.