8 Fashion E-Commerce Email Marketing Examples
As marketers, we all need to learn from other brand campaigns and apply those concepts in our own marketing. Examples can be Super Bowl Campaigns, Cannes Lions Award Winners and even email marketing automation tracks.
The important thing to remember is every piece of marketing that you learn from can help you unlock results at your own company.
Though the first two examples of brand advertisements seem to get the most buzz in marketing publications(looking at you AdAge), email marketing examples are just as important to learn from...
In this article we take a look at fashion e-commerce email marketing examples from Jackthreads, Zappos, Aritzia, One Kings Lane, Crate&Barrel, Frank&Oak, J Crew Factory and Old Navy.
Jackthreads - Snappy Copy + High Quality Photography
First off, here's a fact of email marketing: Most people receive dozens of emails per day, and the time they devote to viewing each is pretty short. By using large, attention-grabbing photographry, Jackthreads.com maximizes the amount of time the reader will devote to this email.
Everything about the photographs are simple. They exist only to illustrate how the products look. The models wearing the products are posed simply, and the photos are arranged in an orderly fashion.
If a customer is interested in a particular product, they just have to click through using the call to action below each photo to easily arrange their purchase. It's a no fuss, no muss business experience.
Frank & Oak - Building a Content Theme - Rugged Lifestyle Products
While the last example used large images to make the most of the short amount of time readers would spend on it, clothier Frank & Oak wants to earn your time - as much of it as possible, in fact. In this example, the marketer grabs our interest by marketing, of all things, a self help book - instead of clothes!
This bold strategy piques the reader's curiosity so they spend more time on the email. As you continue through the message, you will notice that they have selected a number of outfits that comfortably fit with lessons from the book. Again, large photographs are used to illustrate the products available, along with handwritten, casual looking descriptions. By the end, you feel that Frank & Oak isn't just a clothier, but a friend.
J Crew Factory - Simple Puns and Large Photography
Large, appealing artwork and equally large discounts are the calling card of the modest fashion house, J. Crew Factory. This example illustrates how a single, color coordinated photograph and clever puns can draw your audience's attention. I mean, there's a picture of a hot dog with a pun using the word 'ketchup'. What's not to love?
Then the folks at J. Crew Factory up the ante by boldly advertising that everything is 50% off. If the hot dog didn't grab you, the savings surely will. There are several calls to action, too, that make it plain that there are fashion choices for everyone in the family.
This email campaign is fun and laidback, which appeals to a large cross section. Shopping is supposed to be an amusing experience and this email exudes good times from beginning to end.

Old Navy - Encourage Click-through with Discounts not Products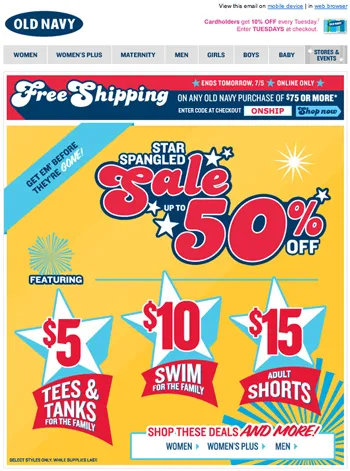 Old Navy uses a number of tactics to draw customers to their website as well as into their brick and mortar stores. Often, such as in the example above, their email marketing campaigns contain little to no photographs of the products for sale. Instead, they use loud colors and large, flowing fonts to get - and keep - your attention. The use of contrasting colors, such as oranges and blues, gives this email a slightly retro look that is appealing to some demographics.
There are links and calls to action throughout this email. From the menu banner along the top to the large, colorful prices near the bottom, practically everything in this email can be clicked through to make a purchase.
It is clear that Old Navy recognizes their target audience: young families who want to look hip but don't want to sacrifice their bank account to get there, which is why their email campaigns look thrillingly thrifty.
Aritzia: Artistic photography and subtle CTAs

In this example, clothing retailer Aritzia grabs your attention by using big and bold photography that is staggered throughout the length of the email. The framing of each shot is different, and they use a mixture of photographic styles to keep our eyes fixed to the screen.
The featured products are styles that are in demand for the current or upcoming season. Unlike the previous two examples, Aritzia, which is a bit more upscale, recognizes that their customers are less driven by low prices and instead are driven by the sheer thrill of shopping. This is why there are no prices or stated discounts in the email. Instead, readers are simply nudged to the company's website by the low profile calls to action.
Zappos: Promoting a collection with a seasonal theme
While Zappos.com is famous for being a popular online shoe brand, in this email marketing campaign they show off the fact that they carry other items as well, such as clothing and handbags. What's more is the fact that they showcase these additional items in a fun and flirty way.
The main body of the email consists of one large and colorful photograph featuring styles that are in demand. The caption tagged to the photo teases "someone will definitely want to kiss this cook", which adds a bit of intrigue. After all, sex sells, but it doesn't have to be overt.
Like some previous examples, Zappos knows its target client is not necessarily looking to save a buck. This is why there are no posted prices or advertised savings in this email. To find out how much you'd have to spend to buy these particular items, you'd have to click through to their website.
One Kings Lane: Welcome Email 1-2-3 Layout
This marketing email from One Kings Lane tells me everything I need to know about this E-commerce brand. After reading, I know what types of products they sell, how they sell them, what their products look like, and how I can use these items to transform my home's decor.
Here, the large and colorful images that are splashed across the page draw my attention. The bold wording indicating how much I can save by purchasing through One Kings Lane make me hold my gaze a little longer, while inspirational before and after pictures make me dream of making my own home a better one.
Their target audience is everyone, which is why this email is designed to appeal to such a broad spectrum of people. This all but guarantees a high number of click through's to their site which can lead to higher sales conversions.
Crate & Barrel: Site-wide sale not focused on individual products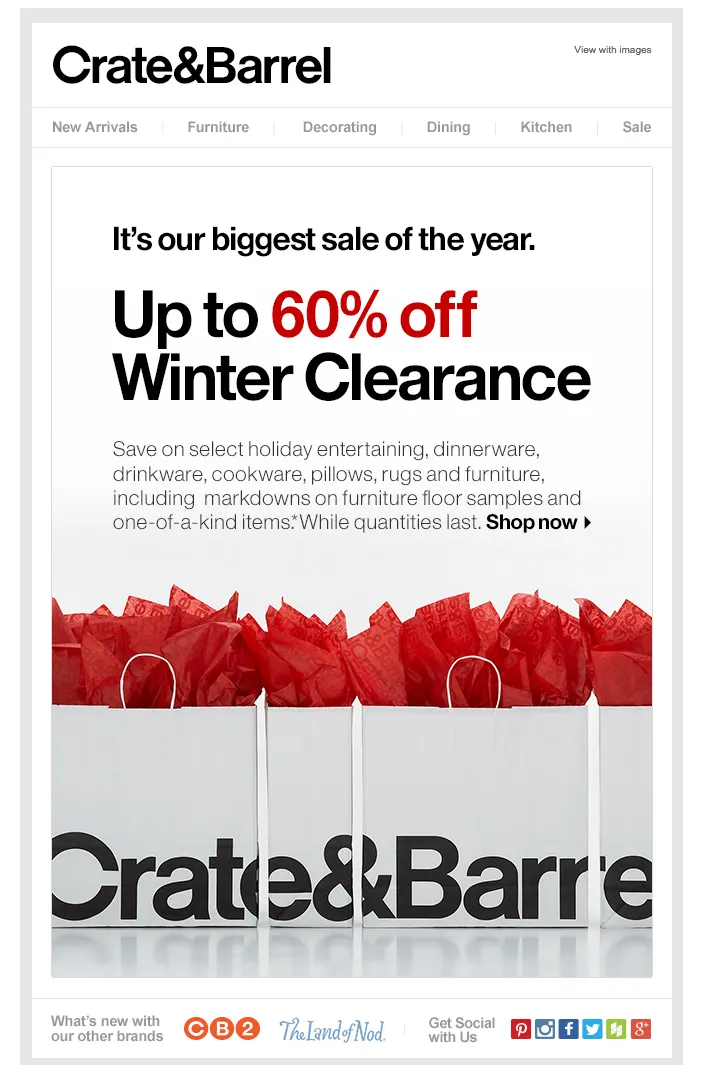 Popular home decor seller Crate & Barrel, in this example, employs a simple design to make the most of the brief amount of time recipients of their email will spend on it. White space is in abundance, even more so because several of the objects pictured, notably their own shopping bags, are also white. This use of white space allows readers to focus on the big, bold, and prominently colored text.
In this case, Crate & Barrel hopes to lure you with the promise of savings. And not just any savings, either. The savings are so big that they advertise it with large, red, block lettering, which is in contrast to the smaller, black typeface in the rest of the email.
While this email does not give the reader a lot of information at first glance, it offers enough that people will answer their call to action and click through to the website to at least browse their selection. They may even get a customer or two that they wouldn't have otherwise earned.
Wrapping Up
Email marketing makes a big difference to your bottom line. When you know what your target audience is drawn to, it can be pretty easy to put together a campaign to remember.
You can attract the attention of any reader by using large, professional quality photos, loud colors, fun phrases, attention grabbing fonts, and strategically used white space. Then, you can seal the deal by stating your prices or discounts and providing a clear call to action that will take the customer to your website.