How to Create an Effective In-App Messaging Strategy
As far as guaranteed ways to reach your audience go, in-app messaging is one of the least intrusive and most effective methods available. Studies show that 85 percent of consumers' mobile time online is spent within an app.
For brands with mobile apps, this means being able to engage active users while using consumer behavior attributes to drive specific actions. This post is going to give you the best practices and guidelines for creating the best in-app messaging strategy available.
From user segmentation, crafting persuasive copy and design elements, user behavior traits, to every type of necessary message you can send - this is your total guide to retaining app users and helping them take action.
---
What is In-App Messaging?
In-app messaging (also known as app interstitials and native app content) broadcasts messages to customers who are using the app, within the app interface itself.
These appear as pop-up windows that may be placed at the top, middle, or bottom of the screen. In-app messages use a combination of images, text, and links. Similar to push notifications, but there's more room for rich content and longer copy.
The best brands find these to be an effective owned channel for reaching customers with targeted calls to action, driving users to important areas of the app or success guides.
(Source Chipolo App)
---
Why is In-App Messaging Important?
Because in-app messaging is rooted in analytics and contextual user behaviors, it can be triggered based on user interactions. With its tailored style, it's better at delivering information based on user context and expectations, creating a more seamless progression from start to conversion.
In-app messaging can - and should - feel like a natural extension of the app itself, not additional marketing. It's best done when made consistent with your branding and when the actions users take appear seamless. The location of the message on the screen, how the message is dismissed (depending on time, swiping action) and what it connects to (news feed, web URL, deep link in app) are all worth time to map and coordinate.
As the audience is already engaged and somewhat captive, these messages see higher engagement rates. Whether you're out to showcase app features, highlight a promotion, or boost in-app purchases, the ability to connect directly to segmented users in a personalized way is hugely important.
---
The 5 Crucial Aspects of Your In-App Messaging Strategy
Before we look at examples of how to send specific in-app messages within a campaign, let's look at the guidelines for how to approach your in-app messaging strategy.
#1 Goals
An in-app messaging strategy should have clear and defined goals, and should be easily measured within the app itself. How will you understand engagement? How about overall app retention? Is app usage habitual, leading to increased success of in-app messaging?
Understanding the funnel metrics of your wider multi-channel strategy and measuring behavioral patterns of users will be important when determining how to approach them.
#2 Timing
Given the use of marketing automation software, in-app messaging is generally released to drive a time-bound action. Flash sales, the release of a new feature or level, and news updates are good examples of this.
Messaging can also be tied to actions of the user. An abandoned cart message campaign, a promotion on similar products while in the app store: these triggered responses can be very effective when delivered at the right moment.
#3 Segmentation
The best brands segment their users to increase the level of engagement and overall user experience. Say you've released a new feature on your app: highly engaged users may have already discovered this new feature, so don't target them with the rest of your in-app messaging. Establish the engagement states of your users before sending messages, so you don't annoy your best customers.
Create segments around demographics, common behavior, device type, and custom events

Use in-app messaging in combination with push notifications and email to boost engagement
You'll also be able to selectively target users for special offers with campaigns that may not apply to your entire app audience. Past purchasing behavior such as session length and frequency, users that added similar items to the cart but never checked out: these attributes can help you best target the audience for your campaign.
Identify the attributes all campaign users should share

Segment by attribute to create the ideal audience

Target audience segment when building an in-app message
---
#4 Automation
With segments in place, automation technology allows you to "auto enroll" new users as they meet established criteria. Now, these new users will automatically receive the in-app campaigns they've qualified for.
This way, you never miss an opportunity to convert new users. Be sure to "chain" messages as well; this guarantees that when users re-engage with or re-qualify for an in-app campaign, they'll receive the appropriate messages.
#5 Content
As always, copy should be clear, concise and full of actionable language. Make the value added clear and present the CTA prominently.
(Source)
When creating a CTA  button, make it large enough to be easily clickable. As the entire in-app message is clickable, the CTA really needs to be outstanding in terms of formatting and text appeal.
Don't shy away from A/B testing to determine the optimum colors, content, sizing, and formatting for your brand.
Think of in-app messages as mini emails - rich in content and driving action in a similar fashion.
---
The 7 Most Important Types of In-App Messages
Here are the seven most important best practices of in-app messaging as they relate to seven types of message campaigns that you should not overlook within your strategy.
#1 Onboard Messaging First
Top brands use in-app messages to relay the value of receiving push notifications before asking users for an opt-in. This way, brands can bring users into a multi-channel mobile strategy while increasing engagement and improving retention rates.
(Source)
Snapguide, a DIY app, uses in-app messages to highlight how the user will receive a better experience by allowing push notifications. Emphasizing relevance and value, while keeping the design similar to the push notification opt-in screen itself, helps earn user trust and increases retention.
Indeed, such notifications create a structured nurturing process within the app and prolong session time. Localytics' latest engagement study found a 3.5x better retention rate with apps that used in-app messaging. This translates to an up to 50 percent increase in third-month retention rates. The end result is a stronger multi-channel rapport with users.
#2 Assist with Discovery Messages
Mini-orientations are a great way to help new users get to know your app, especially those that skip through quickly and forget the details of the initial how-to process.
(Source)
The Nike+ Running app shows how to change the graph view by rotating the screen. It's simple, visually oriented for on-the-go activity, and immediately relevant for increased value.
The discovery message is perfect for showing quick tips about getting more out of the app experience, especially since it doesn't disrupt the UX by moving the user to a different screen.
#3 Use Easy Feature Update Messages
Feature updates and version changes don't get much attention. If users set their apps to auto-update, they will miss out on important releases. This can result to in-app confusion and little use of new features following their release. A simple message can highlight the big changes and give users a sense of how to adapt usage patterns in accordance with all that hard development work.
(Source)
Feature-reliant apps like Instagram really need to keep users up to date. This 2013 location feature update does a great job of sharing the fundamental aspects and best practices with users. This content, and the corresponding visual aids, is neatly tucked into an in-app message that triggers when a user attempts to add a location.
#4 Use Consumer Behaviors to Guide Real-Time Messages
Mobile users love a great deal. According to Juniper research, consumers are 10x more likely to redeem mobile coupons that print coupons. Mobile shopping is on the rise and is closely linked to social media, with users checking their devices for referrals and social proof before making purchases.
As shopping is an emotional process, reaching your segments with urgent deals at the right time can swing them toward a promo deal or additional purchase. In-app messaging is an ideal partner for in-app purchases.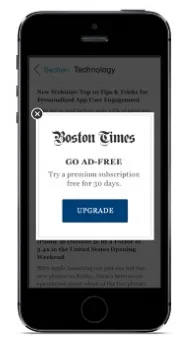 (Source)
Users always want the newest version of things. They also appreciate product scarcity. So, if you can offer them something unique in exchange for a desired action, expect big results
This reinforces company identity and gives users something to talk about on social channels. Any time users find something special, they're sure to talk about it.
#5 Make Interstitial Messaging Highly Relevant
When debuting something super cool, important, or something hosted on another platform, use an interstitial message to prime users for leaving the app. Splashy design and a clean, enticing layout and CTA make for a good message.
(Source)
Amazon's new package tracking capabilities necessitate an intermediary message to get complete user attention. By deep linking to another space in the app, Amazon is able to demonstrate to users the scope of this new feature. Giving users the option to break away from their current use is important - but with the separation of the message already in place, it's an easy sell.
#6 Go Cross-Channel
Engaging app users shouldn't be limited to experiences within the app; you should seek to bring users to every channel. Cross-channel promotions facilitate more interactions, get more shares, and boost desired actions. Any time you can share deals, offer prizes, or free money - users are sure to click.
(Source)
#7 Social Sharing CTAs
Altruism is huge psychological factor when increasing engagement and inspiring action within an app. Humans naturally want to help and share with those in their sphere, and brands that use their apps and brand loyalty in tandem see increased usage.
(Source)
Clothing brand Uniqlo does a great job of making their product experience sharable. Above is the secondary lifestyle Uniqlo recipe app, a great way to increase engagement and showcase their products to users. The elegant and seamless way to share recipes - and Uniqlo gear - doesn't require the user to navigate away from the current screen (very important) while posting their favorites within their friend groups.
By connecting users with friends, Uniqlo benefits from increased awareness and gains value through social proof.
---
Key Takeaways
Brand in-app messaging is a pivotal component of a successful multi-channel marketing strategy. The first element to secure is user segmentation based on user history and demographic attributes.
With this in place, use mobile marketing automation software to send pinpointed and relevant in-app messages to users. This means dialing in message copy, CTAs, and design through testing. By using the proper messaging campaigns your brand will see a lift in customer engagement.