Referral Reward Tiers: The secret to a better ROI
When it comes to word-of-mouth marketing, not all customer referrals are created equal. So why always offer the same rewards?
If you're looking for a way to get a better ROI, boost program engagement, and automatically personalize each reward, it's time to set up referral reward tiers.
What is a tiered referral program?
A tiered referral program is a structured referral program that lets you configure different rewards for different kinds of referrals.
Use SaaSquatch to create tiered referral programs that trigger the best rewards based on your own custom rules like what the referred friend buys, who makes the referral, and how the referred friend interacts with your product.
Keep reading for more ways that tiered referral programs drive conversions.
In this article:
Why use referral reward tiers?
1 - Get a better ROI on customer acquisitions
By offering different rewards relative to purchase amounts, you can be confident that you obtain the highest return on investment.
For example, if the promoter gets the same $20 referral reward regardless if their friend signs up for the $5/month plan or the $100/month plan, you're likely to experience a negative ROI on some of your acquisitions.
Instead of tirelessly trying to find one reward that applies to all purchase scenarios and still benefits both your customers and your bank account, create tiers that make the most sense for different kinds of users and their purchases.
To calculate the ROI for each tier of your referral rewards, download our free Excel calculator!
2 - Boost referral program engagement
Appeal to a wider range of users by offering different ways to refer and earn.
If you only offer one reward to be earned one way, you might exclude customers who don't match your criteria. Maybe one of your best users knows a great company who would benefit from your Enterprise offerings, but you only reward referrals to your Individual plans.
The more opportunities you offer to earn referral rewards, the more referrals you'll get. Tiered programs let you reward for a wider range of purchases and actions while keeping your ROI in check.
Instead of trying to set up multiple referral programs, use a referral software platform that supports tiers to automatically give out the appropriate reward.
3 - Control customer behavior to your advantage
By specifying what someone needs to buy or do to trigger the best reward, you can control behavior to your advantage and promote specific product engagement.
For example, if customers know that they can obtain a higher-tiered reward by referring friends to the Premium Plan, they'll put in more effort to communicate its benefits to their inner circle.
Similarly, you can influence how easily customers move through your product's lifecycle by specifying what valuable customer action triggers the best reward.
For example, an activation event is a critical component of customer retention in the digital economy. Depending on what that is for your brand (ie. logging in 5 times in a month, adding 10 items to a wishlist), you can make sure that the promoters are rewarded accordingly when they encourage friends to complete this action.
4 - Automatically personalize referral rewards
Loyalty research from 2017 indicates that customers think "offer[ing] personalized rewards" is the number one thing a loyalty program should be doing for them.
However, only 22% of customers are very satisfied with the level of personalization they are getting, so creating tiers lets you offer rewards that actually match a user's needs.
For example, use a tiered referral rewards structure to automatically reward your customers based on who made the referral. This is especially helpful in a B2B scenario where either an employee or a manager could be making the referral. Since an employee doesn't personally pay the bill, they'll be more receptive to a gift card they can use for themselves, whereas a higher-up account executive focused on controlling the company budget would appreciate a discount on their subscription.
When you can reward your users with what they want most, you are more likely to influence a referral.

What kind of tiers can you build for your referral program?
Create reward tiers based on specific actions performed by the referred friend, or relative to characteristics of either the friend or the promoter.
For example, create reward tiers based on:
- How much the referred friend spends: To maximize the ROI on your referral acquisitions, offer rewards that are relative to how much the referred friend spends, or what they purchase.
Example: An accommodations marketplace like Airbnb offers a $10 app credit when you refer a friend who books a $100 trip, and a $20 app credit if you refer a friend who books a $200+ trip.
Example: A mobile phone carrier offers a $50 gift card when you refer a friend to any phone plan over $70/month, and a $25 gift card for referred friends who choose a less expensive plan.
- When the referred friend buys: Offer different rewards based on the seasonality of your referrals to encourage stable revenue all year long.
Example: An e-commerce store offers a special 40% discount coupon for referrals made during the slow season or when they need to clear out inventory, and offers a 20% discount for referrals during the rest of the year.
- How (or how often) the referred friend buys or interacts with your product: Give out rewards once the referred friend has started to develop into a repeat customer or power user. Use this to encourage specific actions that you know lead to increased engagement with your brand.
Example: A cloud-storage application (like Dropbox) rewards a promoter after the friend has logged in 5 times, or after they have installed the app.
- What kind of user is referred: Offer rewards based on what kind of user is referred to your product, and what kind of impact they will have on your business.
Example: An online learning platform (like Skillshare) rewards promoters with a 10% monthly discount for referring new students, and a 30% monthly discount for referring new teachers to the platform.
- What kind of customer made the referral: Use criteria about the promoter to determine what kind of reward is most suitable for them.
Example: A B2B software platform rewards referrals from an Employee with a gift card, but reward referrals from Account Owners with a product discount, as they are the ones paying for the software.
Alternatively, reward your premium users with better rewards, giving basic-level customers more incentive to upgrade for the better earning potential.
- How many referrals the promoter makes: Encourage more referrals by offering better rewards for your best advocates.
Example: An e-commerce store rewards promoters with a $10 store credit when they make 5 referrals, and an additional $20 when they make 10 referrals.

Top brands using tiered referral rewards
Rover
Rover is a platform that connects pet owners with pet sitters. You can easily find a trusted sitter to take care of your pet, or make some extra money looking after other animals.
Rover has referral rewards separated into two tiers depending on what kind of user you refer:
Earn a $20 Rover credit if your friend signs up as a pet parent
Earn a $50 Rover credit if your friend signs up as a pet sitter or dog walker
Other digital businesses that set different rewards for different kinds of user referrals include Airbnb, SkillShare, and Outdoorsy.
This is a smart approach for companies in the sharing economy, as these businesses rely on a balance of both users and sharers. Airbnb cannot exist without both home hosts and renters, so it makes sense to encourage referrals for both kinds of users. The different rewards ensure that they still end up with a positive ROI and fully-functioning marketplace.
Moo
Moo is an online printing service for custom items like business cards, and marketing materials like postcards, flyers, and stickers.
Moo offers another example of separating referral rewards separated into tiers depending on what kind of customer you refer:
Earn a $15 Moo credit if you refer an individual
Earn a $150 Moo credit for every qualified business you refer (10+ employees)
A business customer will likely make more frequent purchases in higher quantity (i.e.. business cards for all of their employees) and therefore justifies the higher reward value for the user who referred them.
Go Ahead Tours
Go Ahead Tours is an online platform for booking guided and group travel tours.
Go Ahead Tours' referral program rewards users differently based on how many users you have referred, starting at $100 for the first referral, up to $300 plus a free trip after your 8th referral.
Go Ahead Tours encourages multiple referrals from each customer by using psychology triggers and visual cues to motivate achievement towards the end goal of 8 referrals, reserving the most valuable reward for their top-tier advocates.

How do referral reward tiers work with SaaSquatch?
As a leading customer referral software platform, we know that one size doesn't fit all when it comes to referral rewards. This is why our tiered referral program functionality supports the flexibility you need to get the results you desire.
When using SaaSquatch to set up referral reward tiers, you simply:
Choose the criteria that define your tiers
Choose what rewards are assigned to each tier
The snapshot below shows the initial configuration of a tiered referral program in SaaSquatch that offers different rewards based on the referred friend's total cart size.
If the referred friend spends between $50 and $100, the promoter receives the reward set for a Tier 1 referral
If the referred friend spends over $100, the promote receives the Tier 2 reward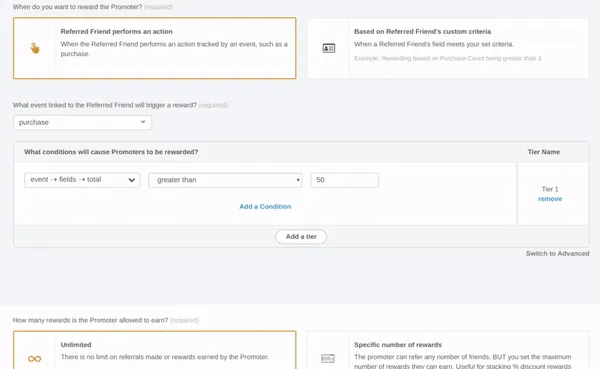 In the following steps, rewards are configured for each tier individually, for maximum flexibility:
Referral reward tiers are available as part of our Growth Automation platform.