Looking at the Slack, Intercom and Prezi Referral Programs
We all know referral programs can be used to achieve scalable growth. The problem right now is the industry doesn't have widespread awareness like the other well-known acquisition channels like Google Adwords and Display Networks.
Outside of the polarizing Dropbox referral program example there hasn't been much coverage for this rapidly growing industry.
That's why we're dedicated to educate and shine a light on these problems many marketers are looking to solve.
My goal is to get more marketers thinking about how to build and continue to improve a referral program.
Today I'm going to take a look at the referral programs of high-growth companies like Slack, Intercom and Prezi. I'll go over the parts they do well and some areas they can look to improve.
Slack
Incentive - A $100 credit for both the sender and recipient is a large enough reward to get users interested in the program. Cash is tricky though you have to have a user type that is motivated to make an action to earn that credit.
User type - Even though they give out a hefty $100 credit to both parties, I'm not sure if this is the right incentive for their free users. The majority of free users aren't looking to pay for your service and might be more interested in free upgrades instead (IE 2 more integrations, access to analytics).
Promotion - Another area the team behind Slack could look to improve is their promotion of the referral program. They can include it in their system notification and lifecycle emails as well as place the program in the main navigation of the product.
Intercom -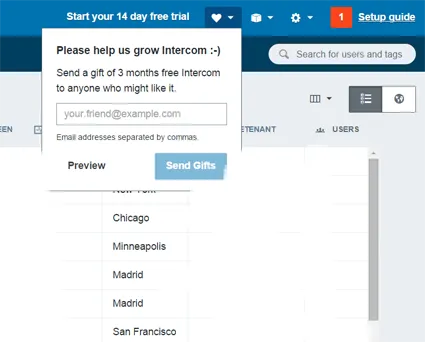 Reward - A '3-month free' reward for both the sender and recipient is one of the bigger incentives that I've come across. Giving out something of value to your users can increase their motivation to make a referral.
This could also be a major factor for their trial user -> paid user conversion strategy. Opening up the referral program to trial users can help convert since you give them the ability to extend their free stay with a successful referral.
Experience - Placing the referral program in the main dashboard experience is a great way to increase visibility for any referral program. This approach passively catches the users' eye all without taking away from the main product experience.
Another way Intercom tells their users about their referral program is in their daily digest email. Typically system and customer life-cycle emails are neglected as marketing channels.
By including a referral program call to action they can take advantage of a previously under-utilized channel and encourage program participation.
Proving that life-cycle emails are not only great for customer retention, but can also be used to improve other key areas of your business.
Main Dashboard CTA - While I like placing the program prominently in the product experience, the call to action needs some testing. It doesn't tell the user about the double-sided incentive. It only tells the user about the gift the sender will receive, giving the user an impression of a single-sided reward offer.
Prezi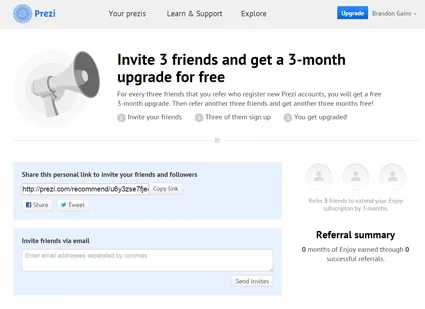 Instant Gratification - Many programs fall into this common trap. Prezi sets a high bar for their users to earn a reward, they must complete 3 successful referrals before they get any sense of recognition. This makes the reward unattainable for the majority of their users which will lead to lower engagement rates and weaker program performance.
Visibility - Unfortunately Prezi ends up burying their referral program in the middle of their account settings page. Hiding your program from your users is a common mistake and can negatively impact program performance.
They should look to place the program in it's very own spot within the product experience as well as use other promotion tactics to get users aware and engaged with the referral program.
Wrapping Up
The key here is to understand creating a referral program is more than just selecting a reward on a whim. You need to understand what users you want to target and what motivates them to make a referral.
Dec 2016 Update - Intercom is no longer running a referral program campaign.
Image courtesy of jesadaphorn/freedigitalphotos.net