Loyalty Program Promotion Checklist: 7 Effective Strategies
Anywhere you go on the web, a series of CTAs and flashy words are competing for your attention.
Since you landed on our article, your eyes were likely drawn to the green banner at the top of the page showcasing our newest feature.
If you're new here, maybe you saw a popup on the right asking you to subscribe to our blog.
But have you noticed the link to our privacy policy in the footer?
Probably not.
As a web visitor, you're only going to notice the things that are purposefully promoted.
Your loyalty program is no exception.
If your loyalty program isn't driving the engagement you hoped for, the problem might be that no one knows it exists.
A comprehensive rewards strategy is an extremely effective tool for businesses in the digital economy, but too many companies unknowingly make it hard to find, or don't bother promoting it at all.
Believing your loyalty program will promote itself is a common misconception. Global giant AirBnB cites a lack of promotion as one of their early referral program's biggest problems - not even their employees knew it existed.
Knowing the right places to promote your incentives helps you leverage loyalty as both a customer acquisition and retention tool to engage users at all points in their lifecycle.
Treat this article as a checklist to make sure you're maximizing your reach across different channels. We'll cover basic strategies and share a few places you may have not thought of as ad space.
1 - Send an email announcement to maximize reach
If you're launching a brand new loyalty program or making significant changes to your existing one, a classic email announcement is a great way to make sure customers receive the necessary information.
This is an often overlooked strategy, but one of the most important ones! A roundup of marketing channel performance metrics by Campaign Monitor indicates that email reaches more users for less when compared to paid ads and posts on social media. Check out the full comparison here.
To spread the word about your loyalty program, leverage the contact information you already have on file to send an email that explains the following:
What's in it for your users
How the program works
How they can participate right away (include a link or instructions in the email)
Decide what you want users to do after reading your email. Should they click a link to your online store to place an order and receive rewards? Log in to review their reward balances? Share something with a friend?
If you send weekly or monthly newsletters, add a standard section to your email template with information about your loyalty program to keep it top-of-mind.
2 - Make room on your website and within your application
Once a user has landed on your website, locating your loyalty offerings should be a breeze.
If a prospect is surveying multiple competitors to make a decision, showcasing your company's loyalty program can positively sway their decision.
Studies indicate that 69% of customers allow the presence of rewards or loyalty programs to influence their purchasing decisions, so make sure it's not buried in your navigation (source).
Your home page is likely the area with the most traffic, so consider these areas to place a clear CTA:
Banner along the top of the page:

Button over the hero image:

If your digital business has users log in to a web app, mobile app or portal, you can apply these strategies to continue building awareness. Existing customers may not require as "in-your-face" promotions as your website visitors, but will benefit from links in the navigation menu, footer, and when reviewing account information.
Here's an example from the Dropbox account details page:
3 - Host an explainer page on your website to promote participation
While participation in your loyalty program can be negatively affected by a lack of awareness, it can also suffer when customers don't understand it.
A dedicated explainer page on your website and within your application is the perfect way to indicate exactly how a user earns and redeems rewards. It acts as the ideal destination for your CTA buttons and links to help users get involved and learn more.
Your page should answer customer questions such as how many referrals they need to make to receive 20% off their subscription, or how much they need to spend before becoming eligible for VIP rewards.
Start by answering these questions on your page:
What rewards are available?
How are rewards collected?
How are rewards redeemed?
Are there any exceptions?
How do you get started?
Nintendo's explainer page for their rewards program features a well-illustrated summary of the reward collection and redemption process, including a video to walk users through the details.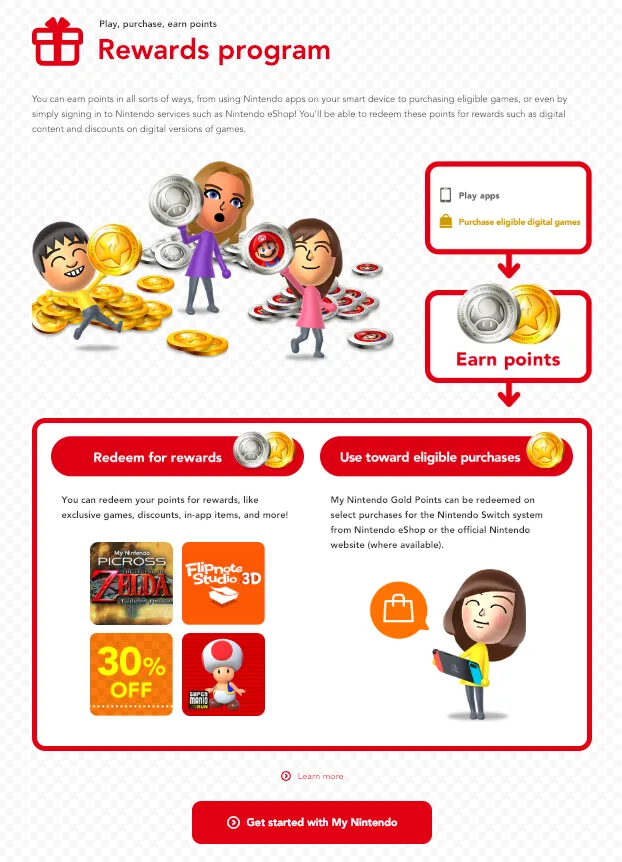 4 - Promote to customers at their happiest moments
The best times to promote a loyalty program (or anything at all) to your customers and incentivize action are the moments when they feel positively towards your brand. Positive emotions increase a user's likeliness to further engagement with your product or service.
For an e-commerce model, this moment could be once the user has completed a purchase and is excited to receive their order.
If you provide a CRM tool, this might be when a user closes a sale using your software or has collected a certain number of leads.
If you run a monthly subscription box, this could be after the customer has been delivered their 3rd consecutive box, clearly indicating satisfaction with their purchase.
With fresh, positive feelings towards the use of your product or service, a customer is much more likely to want to refer a friend or try one of your new features if presented with the opportunity.
Identify the places in your application or website where a user would be feeling the most positive, and remind them about your loyalty incentives, either through in-app messaging or an email notification.
5 - Reach customers through third-party apps
Social media is likely a channel you're already using, so why not tie in promotion about your loyalty rewards?
Internet users are now spending an average of 2 hours and 22 minutes per day on social networking and messaging platforms - a number that is continuing to rise. It's a no-brainer to place your content in places where people are already looking.
Social media is free, and the short lifespan of each tweet or Facebook post means you can frequently share news and info about your rewards.
Consider sharing a post in the form of "Did you know you can receive $10 credit when you refer 2 friends?", or re-share content from users who express satisfaction in your rewards program.
Let your customers do the sharing for you too. Think back to those happy moments for the best places to encourage users to share a quick message about your brand and its rewards.
6 - Make a customer's monthly invoice easier to justify
The moment customers receive their monthly invoice is one of the only times they think about how much they pay for your service.
It's also the time when they would be most receptive to earning a discount or perk to lower the grand total.
In case the amount due makes the customer question whether your value is worth their investment, this presents a great opportunity remind them how they can pay a lower fee next month by partaking in your loyalty program.
7 - Add subtle promotion with an email signature
Squeeze in a bit of extra promotion with each email you send by designing a signature with a quick message and link to your loyalty program.
This can be especially powerful for support staff who help solve customer problems and create happy moments on the daily. However, even threads with prospects and professional connections represent an opportunity to promote your program and help you stand out.
With an email signature in place, the recipient is presented with a foolproof way to access your program that you don't have to worry about maintaining. Here's an example from Typeform:
Final Thoughts
The takeaway here is that you need to purposefully promote your loyalty program to increase participation rates and boost your return on investment.
There's no point in investing time and resources into a loyalty strategy if your customers will need to hunt through your website or app to find it.
Don't fall into the trap of thinking your loyalty program will promote itself. Use our 7 strategies to keep your incentives top-of-mind for new and old customers.
Click the image below to download our free PDF checklist with all 7 strategies!