Refer a Friend Promotions – 16 Menswear Referral Marketing Examples
Customer referral marketing is the art of encouraging a customer to share your brand with their friends, family, and business network. In this guide we're going to review a few menswear referral marketing examples by showing you how leading brands like Indochino, Frank & Oak and JackThreads approach this important customer marketing initiative.
Indochino - Integrated Refer a Friend Promotions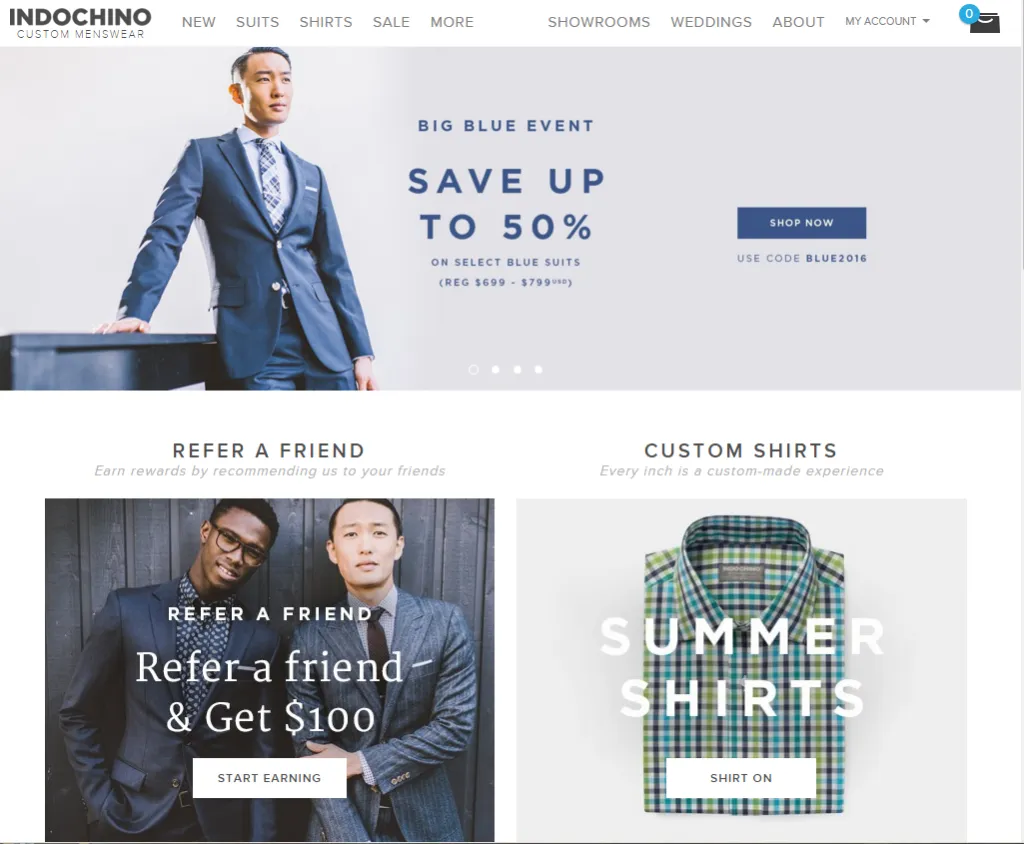 Menswear fashion retailer Indochino is all about looking sharp and their referral program is exactly that. While the Indochino main page focuses on current specials first and on their referral program second, they still do a great job of putting the program in front of their shoppers.
Browsers interested in the referral program can find out more with a simple click or tap. Instead of taking the user to a new page, a pop up appears with more information and a customizable message that can be sent without interrupting the shopping experience. A direct personal link is also made available for folks wanting to share over social channels or embed elsewhere.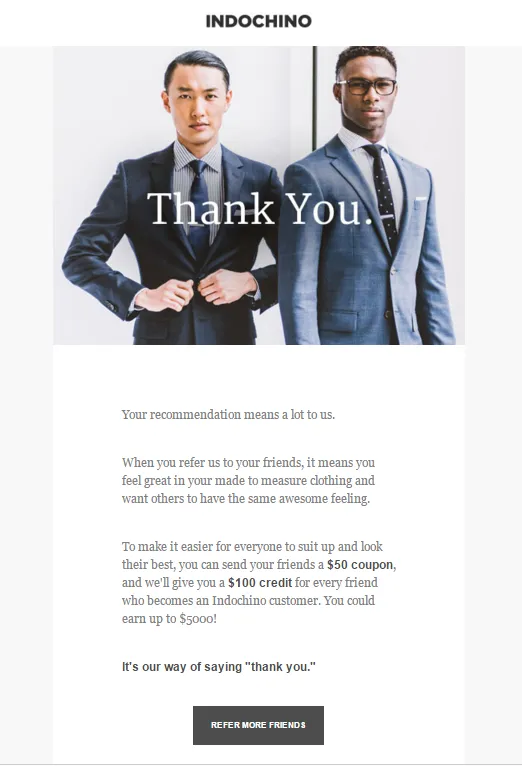 Referral invitation bonuses are sent via email, arriving in the referrer's inbox as a thank you reminder (shown above).The email details the benefits of the referral program and a prompt to continue referring friends. The Refer More Friends button at the bottom brings the viewer back to the referral program pop up on Indochino's site.
The Indochino referral program is simple. A current customer refers one or more friends.Those friends are offered a $50 discount on purchases of $300 or more. For every new customer who does so, the original referrer receives a $100 credit with Indochino. This program is capped out at $5000 in rewards for the referrer. This may seem a little high, however a popular social Influencer with an eye for menswear and a sizable mailing list could easily make that mark.
For those super sharers, tracking rewards is going to be part of the excitement. You may have already noticed a small "Send my referral history" link at the bottom of the referral pop up. Clicking through prompts the shopper to send themselves the following email.
Combining a "Thanks!" with share/bonus data is a great way to show value to frequent referrers.
Referred customers will find an email from their friend in their inbox. The way this is set up works great when the sender's email account includes their first name, however accounts with anonymous or joke handles can make the invitation seem a little spammy.
The sent referral email has a similar layout (note how it is designed with an eye towards mobile users) and includes the custom text filled in when referring the friend "Indochino makes great fitting, stylish and affordable suits. Here's $50 to get you started on your first suit. Enjoy!"
The second paragraph "I thought you might want to try it too, and because I'm referring you, you get a $50 coupon. It's good for purchases over $300 on regularly priced merchandise" is added in addition to the sender's customized message, which prevents any well meaning referrers from modifying the terms of the referral bonus.
The call-to-action button at the bottom of the email brings the referred customers to the Indochino site to start shopping. I particularly like the strong "SAVE $50". It encapsulates the customer's main benefit and really, who doesn't want to save fifty bucks?
Indochino's program structure and promotions inspire three actions that referral marketers love:
It inspires purchases from new customers
There is a high-likelihood that the new customers will pass on the deal they just took
It builds an ongoing relationship with the original referrer, further incentivized by credit
JackThreads - Exclusive Invites and Re-Engagement Loops
Online men's style retailer JackThreads has refined their referral marketing strategies to come up with a diabolically simple referral plan.
Anyone who signs up for a JackThreads account through a referral link gets $10 towards their first purchase. If a referred customer makes a purchase, the referrer is credited $20 towards their next purchase.
Awesome right? The only downside is that the link to the program is buried. After twenty minutes browsing the site, the only two references to the program I could find was the link in the drop down (see above) and a mention in the JackThread FAQ. Once found though, JackThreads offers a few pretty interesting referral marketing ideas.
JackThreads has designed their referral program to be as shareable as possible. Fans can participate by sharing via email, social media, or by posting a direct link anywhere they want on the web. Direct link sharing helps customers add the link to their clipboard and choose their preferred messaging platform like WhatsApp, Kik or Facebook Messsenger.
The Social Buttons below the offer allow users to share directly to Facebook and Twitter. Clicking on either connects to active social accounts with a pre-filled message that can be customized. Note how the Twitter message has 60 remaining characters. That leaves enough space for the sharer to add their own tags without having to rewrite the whole message.
Underneath the social sharing options we find the email call to action. Here, the sharer can add as many email addresses as they'd like, however the sent email do not have a customizable message like the social options.
Referred customers reached by email are treated as if they've just been invited to an exclusive club. JackThreads does a great job of giving a quick overview of what the offer is and what they have to offer in two short paragraphs.
Remember the referral program screen? Frequent referrers can track how much credit they've earned from sent referrals. Giving the customer the ability to check their performance helps promote re-engagement with the referral program.
All in all, JackThreads does an excellent job of bringing their referral marketing plan to life. Their program focuses on three tenets of Referral:
They make sharing easy.

Sign up is simple.

They keep successful referrers engaged
Frank & Oak - Website HelloBar CTAs and Simple Invite Emails
Online fashion outlet Frank & Oak is better known for its discount designer clothing than their referral program, but that doesn't mean their referral marketing plan isn't a hit.
In the past Frank & Oak has promoted the program as part of other events and sales. Currently finding the Frank & Oak can be a little difficult. Smart shoppers can use the magic of Google to search for ways to earn Frank & Oak rewards.
Observant shoppers will notice that the text in the black bar at the very top of the page changes over time. Clicking the "Get up to $2500 in free clothes" link is the gateway to the Frank & Oak refer a friend program.
Frank & Oak's referral program is as simple as they come. Invited friends get $25 on their first purchase. When that referred customer buys, the person who sent the initial invite receives $25.
Getting a referral out is easy. The Frank & Oak team included a share to Facebook button, the option to get a direct personal link that can be used practically anywhere, and they've also included a service that builds mailing lists for the shopper.
The sent referral email shows up almost immediately as a simple invitation to shop using a referral discount. Clicking through the email "Accept My Invitation" link brings us back to the Frank & Oak page. All that's left to do is sign up for a free account to claim the offered $25 bonus.
Here's what you can learn from Frank & Oak 
They make it a special event. Even if your referral program is part of your day-to-day promotions, try repackaging it alongside your next big campaign.

They build mailing lists for the shopper. It shows just how many contacts your shopper really has which in turn shows just how much potential free credit is possible..

They ensure user privacy. A simple statement such as "No emails will be sent without your consent" goes a long way to get over any initial trust hurdles.
Wrapping Up
Let them customize, then add. Start the referral message out with a sharable call to action that the sender can change. Adding your own lines after the customized message let you shape the experience, but keep it feeling personal.
Track the rewards. Incentivize sharing by showing just how much a referrer has earned to date. The more rewards claimed, the more they're going to share.
Keep it simple. The more hoops to jump through, the less likely even a passionate customer will be to share your service.
Use more than one channel. Referral programs are most easily managed by email, however social channels were built to share. Including links or social sharing tools encourages customers to spread referrals to friends and followers.
Lay it all out. Showing the terms and benefits of your referral program can easily show the value of participating.
Promote the program. You want your brand out there and your fans are willing to share it. Why make them dig to find the content you've worked so hard on?
Image sources: