Product Marketing Versus Product Management
Who doesn't love the show Silicon Valley?
Mike Judge, the man who gave us King of the Hill, created this uproarious and remarkably realistic show about startup culture. The fourth season arrives soon from HBO, full of more programmer parody, awkward hilarity and personality-driven hi-jinks that depict the tech world with rare wit and candor.
Silicon Valley follows the software startup journey for Pied Piper, a fictional compression algorithm, from seed to launch and beyond. Richard Hendricks, the socially inept and otherwise gifted CEO, bumbles through the myriad of challenges that surround bringing a product to market. 
Comically aided by his megalomaniac, leonine alter-ego Erlich Bachman (who willfully channels Steve Jobs), viewers feel the slings, arrows, and humors of what it takes to navigate the big-money maelstrom of startup culture. This show comes highly recommended for anyone who wants to laugh and learn at the same time.
If you were Richard Hendricks, you'd be interested to see product marketing versus product management broken down in a guide like this as these two disciplines are pivotal and distinct to the success of your product - yet they're often confused. 
In today's guide we'll highlight leading consumer brand case studies that show the benefits of these two essential functions. By the end of the guide, you'll know how to approach each capability in your organization. Whether you're a fast-growing startup or a Fortune 500 brand.
What's the Difference Between Product Marketing and Product Management?

The product manager is the one who works to create and define a new product, then ensures it can be sold. 
The product marketing manager is the one who brings the product to market and makes sure that it sells.
In other words, the product manager is product-facing. The product marketing manager is customer-facing. Both roles are essential and overlap to deliver a successful product to market. For example, without someone to manage the product with the product team, your features and requirements don't get built to spec. Without the product marketer, sales and marketing teams are driving blind when it comes to product value and why it's important to business. 
The confusion around these roles arrives because each organization will define the roles differently, based up their product, market, and internal capabilities. It's crucial that these two roles work closely together. To be truly effective, both roles must be able to influence results across the entire organization. Both will relay information back to their teams. They will collaborate on go-to-market planning and market research, and share insights about how best to present their product.
According to PMI, for every $1 billion invested in the United States, $122 million was wasted due to lacking project performance. So obviously there's some room to improve the understanding of these two functions. Now let's look at some clear differences between the product manager and the product marketer.
What is a Product Manager?
The product manager defines the requirements and features necessary to deliver a complete product to market. He or she will be leading the product team to success. As the foundational product leader, they'll be driving the strategy behind the product roadmap. 
Product managers set a clear vision behind the product to guarantee that this value is understood and shared between the product team. This leader will communicate closely with engineering to build out what is crucial to a successful product. Essentially, the 'what' and the 'when' of the product is their domain. They will align the product with market demands. Internally, the product manager must champion what the customer wants and in this way focus on customer development.
A product manager makes product decisions. Any product updates and product information needed by product marketing teams flows through them. Acting as the lead resource, answering questions across departments and offering deep product expertise even after the product is in the market.
What makes a great product manager?
"The best product managers create a big vision-- one that is bigger than just the product itself.  More importantly, they can take a complex vision, simplify it, and communicate it-- making it easy for people to get it, and be a champion for the long and short-term vision.
They are an expert at human psychology and behavior: the best product managers think about the user in every scenario-- how they would think about x feature, how they would react to a design. They constantly ask: what would [muse/user] do?"
-- Kristina Simmons, Project Manager at LuluLemon
What is a Product Marketer? 
The product marketer defines the market position of the product as it relates to the overall product strategy. In this, a product marketing manager must be on the same page as the product manager. They conduct market analysis, research competitors, and flesh out the strategic position of the product in relation to customers and other market players.
 A product marketer is responsible for creating the customer-facing messaging, as well as outlining all tasks needed to communicate those benefits. This leader will communicate marketing value across the organization to ensure the product is understood. The go-to-market strategy is their creation.
Externally, the product marketer will give product demos, host webinars, give presentations, as well as create marketing materials. Product marketers define the product as the market knows it. They bring the product to the market and drive its adoption. This means understanding what must be built, how to price it, how to package it, and how to sell it. To be effective, they must align all messaging with market demands.
Additionally, the product marketer works to support sales teams with tools and expertise. Updating and optimizing all marketing material and programs geared towards demand generation falls to them.
What makes a great product marketing manager?
"Product marketing, at its heart, is about understanding what you're building, why you invested in it, and how it will benefit the user — and then messaging that understanding to your customer." 
-- Joanna Lord, Product Marketing Manager at ClassPass
Product Management Case Study - Airbnb
 
(Source)
As a disruptive startup, Airbnb has always been elastic and vision-driven. When the travel app moved into recently de-embargoed Cuba in 2015, the company's first product manager, Jonathan Golden, was charged with setting the tone and direction for a new international market. He would also be updating product features simultaneously. Sound tough? Golden used modular, cross-functional teams built around engineers to maintain an expansive company objective while staying aligned to a central brand vision. 
The challenges were many: entering a restricted market, managing money transfers, and making translations. This was nothing new: from 2012 to 2013, Golden had run elastic teams during the Airbnb's first worldwide expansion. In Cuba, he and his team would be well-focused on user tools, resolving issues with reservations and host interactions such as refunds and alterations. But during 2012-2013, their mission wasn't clear and wasn't focused on an outcome. So the challenges became monster headaches that seemed impossible.
"We realized that it would be best to disperse the team into two outcome oriented teams — the booking flow team and the host team," he said. "This enabled these two teams to realize their mandate through a wider but yet overall more simplistic scope."
A results-driven approach helped the teams work on challenges such as translations, new payment system, and UI changes. This process would be later mirrored in 2016 with the push into Cuba. The new market required new infrastructure in the country - yes - but also coincided with how the payments platform could help users engage in a meaningful way. The task was given to the Payments department and Golden was brought in again to stay the course.
Airbnb's product vision for Payments was to create a global payments platform, a frictionless experience between guests, hosts, and partners. Golden was asked to run a product overhaul while moving into a new territory.
He found early on that a clear product vision was needed again in Cuba and that product teams are best built around outcomes instead of features. Having a clear line of sight to what your company looks like in five years gives meaning to the day-to-day functions. Like metrics and design objectives, the Airbnb vision is communicated clearly and often throughout the teams. 
"A lot of people call me and ask how they should structure their product organizations. I always tell them to do it based on the outcome. If you do it based on features, then you're going to be perpetuating those features whether they're useful or not." 
(Source)
Golden is experienced in reworking product features. For example, the app's Wish List feature used to be called Favorites. But the company felt that a single-user favorites tool wasn't aligned with the real customer need. After all, sharing favorites amidst a group was more often the user want. 
So Golden dismantled the framework and reassessed the product vision with his team. Just prior to heading to Cuba, the product vision was recreated and re-released. The new product vision improved user behavior around the app, turning the feature into a collaborative tool for trip planning. No surprise: there was a huge bump in usage.
Looking to Cuba, Airbnb's vision for the Payment team was creating a better world where connections were more human and less transactional. In 10 weeks, a cross-functional team was assembled. As with its previous international jump, Cuba was an opportunity to reimagine key product features that would streamline usage and impart meaningful experiences to the Airbnb community. Two months after landing, the infrastructure was up and running. Thanks to clearly articulated and constantly reaffirmed vision, the context was reinforced with team members and this drove results towards a more meaningful product. Golden's clear vision and collaborative teams began with the end in mind, succeeding as a result:
"Outcomes define what we want to achieve for people in our community," says Golden. 
Project Marketing Case Study - Rdio v. Spotify
(Source)
The first modern streaming service aside from Rhapsody arrived in 2010 as Rdio. Prior to the mobile era, it offered a $5 web-only streaming plan and a BlackBerry app. But despite being a frontrunner, the app floundered. The challenge? Balancing product management with product marketing. Ultimately, a slow rate of user growth and a poor marketing strategy would result in the app's failure.
Built upon music recommendations from user communities, the app was developed for two years prior to release. Then, innovative features like friends favorites and a 'what's in heavy rotation' playlist had instant appeal to users. Music lovers could explore a huge online library (7 million songs, compared to Spotify's current 30 million) and the app had a knack for surfacing what listeners could vibe to. But this then-great product wasn't marketed well enough to compete in the emerging music streaming space.
Spotify was on their tail. Users perceived it as a free iTunes, thanks in part to a cunning marketing strategy and deep investor pockets. In the wake of Napster, people were buzzing about free on-demand music. Forget the ads, they said: a cheap paid subscription solved that. By comparison, Rdio required an up-front payment. Given this barrier, Rdio was struggling to grow in an emerging freemium market. 
To make matters worse, Rdio never arrived at a unified marketing message for its unique service. Tragically, the company couldn't keep a marketing department head for more than a few weeks. Employee interviews reveal that Rdio would routinely prioritize the wrong objectives. Building out features like a queue - which other services offered - was a waste of time and resources when a key differentiating feature was sorely lacking.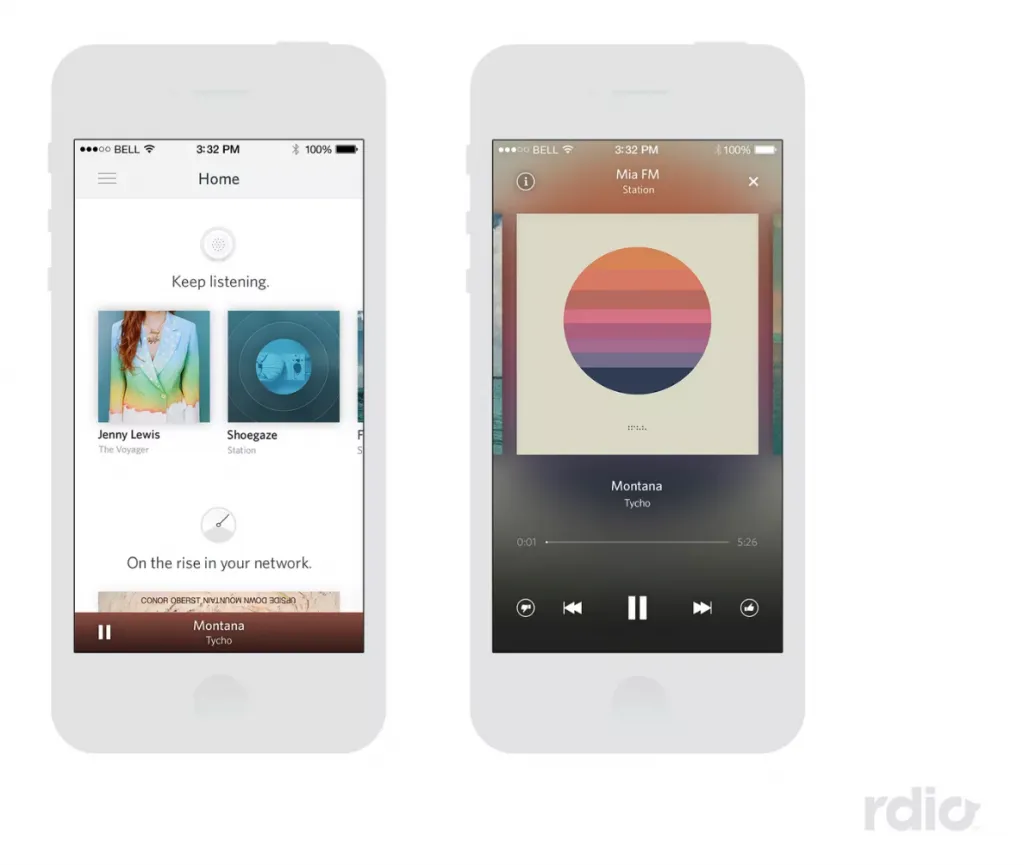 (Source)
"If we hadn't had something like that, nobody would have noticed and it would have been fine. I still wish we could have solved it, but it was more of a personal quest than a brutally honest assessment of priorities."  
- Wilson Miner, design leader at Rdio until May 2012
And then in 2013, Spotify hit 24 million users, and 6 million of them paid. Anxious to keep pace and promote the newly built-out, free, ad-supported version - a Spotify hallmark since 2008 - Rdio turned to terrestrial radio to promote its service. This was not a success. Within the year, the CEO stepped down. A month later, a third of the staff were laid off. In a last-ditch effort, the app added live radio stations - a feature that would have been well-received once but was now too little, too late. Today, Rdio is just a cautionary tale.
What does Rdio's plummet teach us?
The freemium model for streaming music services can only succeed with a colossal user base. Spotify, having raised more than $1 billion, still invests heavily in adding new subscribers. Because record labels take most of the gross profits, the only way to win is to go big and grow fast. With over 75 million users and over 20 million paid users, Spotify still struggles to be profitable, despite its market dominance. 
"Rdio, I guess, made the mistake of trying to be sustainable too early," Miner says. "That classic startup mistake of worrying about being profitable and having a business that makes any sense before you've reached this astronomical growth curve. Which is partly the trap of the business model itself — because of the content licensing deals, the margins for the business were so incredibly thin. No matter what we did, the labels made the lion's share of the revenue. You have to make it up with extreme volume, which is why you see Spotify going after every human being in the world."
But as for Rdio, their failure arrived from too little marketing and too much product. The app was lacking a clear vision of its benefits to bring to the public. Instead, it had a passion for developing features, though they were sometimes not innovative enough to warrant prioritization. 
In the case of Spotify, the freemium payment structure was itself great marketing and led to huge user growth. Rdio's upfront payment was prohibitive to many fans who would have otherwise engaged and later paid. With a product marketing team focused on driving user acquisition, retention and conversion, this dinosaur music app could have won out - and we'd be hearing a very different story today. 
Product Marketing vs. Product Development: Last Words
Whether you're looking at raising Series B funding or at an internal product team at a large enterprise, understanding the difference between product marketing and product management is essential. As we saw from Airbnb, even major consumer brands struggle to see the necessary functions of both roles. Especially in the case of Rdio, those who neglect product marketing can never succeed. 
The difference between product management and product marketing is about internal and external responsibilities. Effective product managers will develop a winning product that's aligned with the market. This means working with support and marketing to ensure features and benefits are understood and customer retention is successful. Effective product managers will define and orchestrate a clear go-to-market strategy and then ensure it succeeds.
If you're without both, I recommend watching some Silicon Valley. It'll get a laugh or two and show you how to prioritize your product roadmap. And remember look for outcomes, not features.