13 Winning Customer Acquisition Examples
Customer Acquisition Examples
Night's fallen but the big man refuses to stop driving. His blonde companion is asleep in the front seat, quietly snoring into his flannel. Since leaving Sandusky, Ohio, they've been on the road for almost a month.
Their mission is critical.
If they don't scare up some new business, it's the end. They need to reach Minnesota before daybreak to keep schedule and make their sales meeting. His determined grip on the wheel reflects the determination of Tommy Callahan himself.
He's not sure how he's going to convince them, he just knows he's going to. He's going to acquire one customer after the next because he needs to raise money and save father's auto parts factory. All he's got going for him is his good will, his family name, and his drive to succeed.
Wait.
Why am I rehashing the storyline to the 1995 movie Tommy Boy?
Yes, because Chris Farley is hilarious. But also because customer acquisition sometimes feel like driving in the dark, like you're not sure what's going to work - you just know it needs to work. And you know you're going to make it happen one way or the other.
And kinda' like Tommy Boy, brands must put their best foot forward with customers and hope for the best. Nonetheless, digital marketing takes more than a road trip and a good story.
It takes a multi-channel strategy with effective messaging at every touchpoint. But as Chris Farley and David Spade showed us, a solid brand story and persistent efforts will convince the audience that yes, you are the one to do business with.
Now, let's take a ride through 13 winning customer acquisition examples from leading software and retail brands. Take heart and take ideas from these proven ways to engage customers, convert new buyers, and drive revenue.
#1 Influencer Marketing - H&M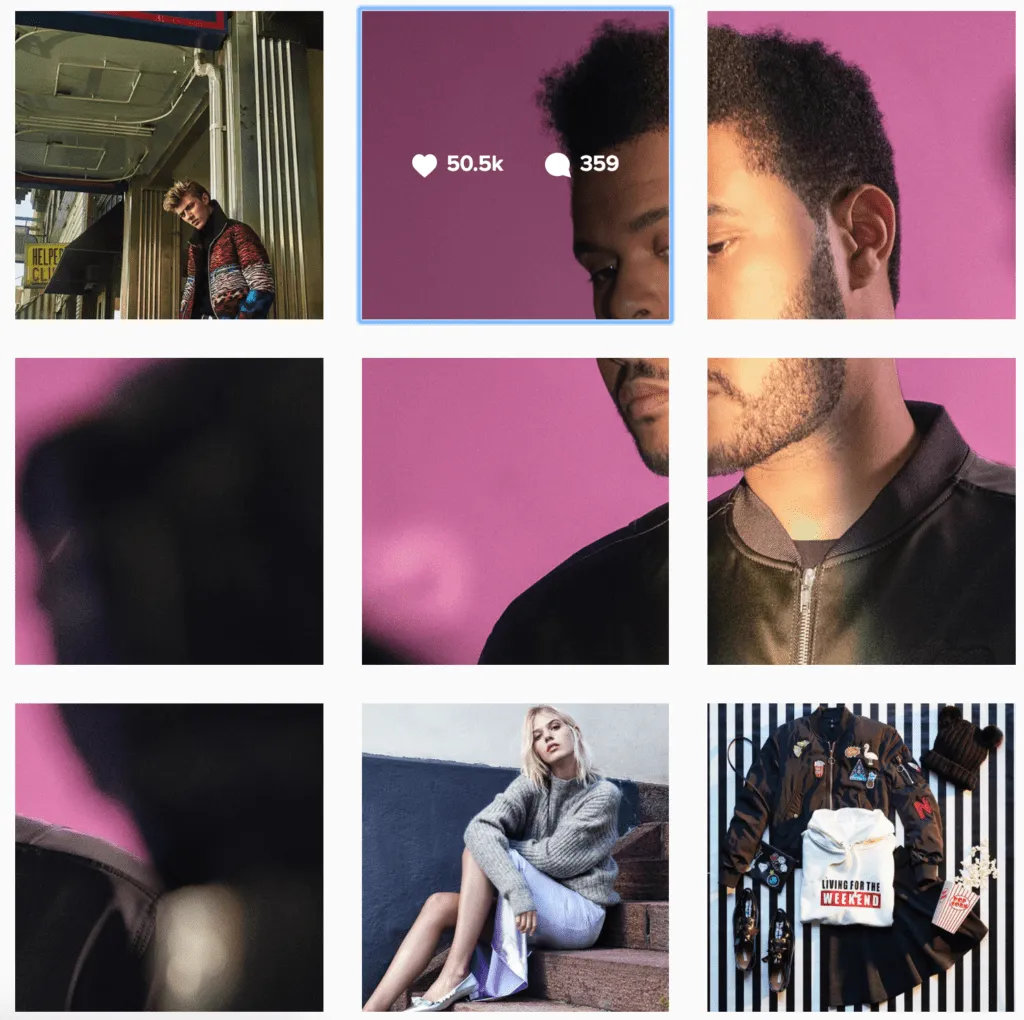 For the fast-fashion retailer H&M, pairing up with TheWeeknd was a power move. The brand's Instagram takes a full-page spread out to promote their affiliation, effectively showcasing their clothing both on and off the superstar singer.
H&M's youthful messaging aligns perfectly with the singer's name, which no doubt reaches the ears and hearts of many a shopper. Here's a prime example of smart influencer marketing alignment masterfully executed and to great effect (50k+ likes per post). Because consumers trust influencers, this massive-scale effort is sure to bring in some new business.
The takeaway here is that influencer marketing can be a great way to reach an audience of potential customers as long as you make sure your message aligns with the influencer's own brand. Influencers have cultivated relationships and earned followers, so it makes sense to use them in customer acquisition strategies. Reaching out to the right people could just be the key to unlocking a treasure trove of loyal customers.
#2 Live Website Chat - ASOS
British mega-retailer ASOS uses their live chat in an appropriate, impressive fashion. With stylists standing by, website visitors can inquire about fittings, sizes, colors, and the best way to match an outfit.
While customers feel appreciated and enjoy a surpassing brand experience, the company reaps higher profits from helping more visitors get into an outfit that works for them. Using the stylist's name is clutch, as is posting a thumbnail and asking for the upvote/downvote at any time. Would-be customers and returning customers alike are sure to appreciate such features.
The ultimate benefit of a live chat feature is the ability to immediately address customer concerns and questions. This helps to increase conversion rates by reducing cart abandonment. By providing quick, helpful answers, customers are more likely to complete their purchases in an efficient manner. In addition, customers may be able to identify any issues they're having with the product or service, allowing the company to address them before they become a major problem.
#3 Advocacy Lists - Lululemon
(Source)
Lululemon makes good with their Instagram page by asking customers to share actual photos of themselves in their gear. This campaign succeeds because it's built from the active brand lifestyle, showing viewers that the sportswear brand is great for both exercise and casual use.
Using brand advocates and user-generated content is a great way to engage customers, reinforce brand loyalty, all while recommending the brand to social media onlookers. Social proof? Check. Clean design with relevant repurposing on the website? Check. That's customer advocacy done right.
Advocacy lists are an effective tool to acquire customers. They're a valuable resource for existing customers that you can use to reach out to people who may not have heard of your product or service yet. Think of it as a list of your most dedicated fans – those who already love and use your product, and are willing to act as brand advocates to their friends and family.
#4 Email Automation - Sephora
(Source)
In an automated effort to engage their email list, cosmetics company Sephora brand reroutes a sweepstakes offer through their Instagram. Who wouldn't want a free trip to Paris with a pal? It's smart to pull viewers from email into IG, therefore increasing engagement across platforms and helping to promote the brand.
A nod of the head for making this email very actionable, including a bold, pink CTA for easy access and fun, playful visuals that communicate the playful possibilities and brand messaging. Extra kudos for siding with influencer Megan Hess and name-dropping AIR FRANCE for added pull. Customer acquisition can be fun, as this sweepstakes shows.
Email automation is the practice of using software platforms to leverage email campaigns in order to reach customer goals. This could range from sending automated emails in response to a customer's actions or even setting up automated campaigns that are triggered on certain dates or times.
With an effective strategy, businesses can generate more sales and engagement, personalize messages for customers, and even generate leads. Email automation is a great way to ensure that your campaigns are reaching the right people at the right time.

Speaking of email automation, we have a great article on How to Create Powerful Email Automation Tracks.
#5 PPC Advertising - Eloqua
Eloqua definitely knows their target audience. For B2B readers like you and moí, we see "Best Practices & Case Studies" and start to drool. Well...assuming we're top of funnel.
Which we are while searching on Google, so "Find" is the right word to start with. To help the software brand increase awareness and consideration among viewers, a hyper-linked bullet list of benefits is provided as are additional values in grey. "Get Started Now!" is well placed at top right, so it stands out as the last text the eye finds on a scan.
With PPC advertising you can break through the noise and draw attention to your product or service, no matter how crowded the market. Pay-per-click (PPC) is an online advertising model that allows you to pay only for what you need, when you need it. It's focused and cost-effective, meaning you don't have to guess or waste time on ineffective campaigns that go nowhere.
#6 Twitter Advertising - Hubspot
(Source)
Taking a compassionate angle, Hubspot promotes their new Hubspot Academy to marketers like us. It's smart: we know that customer "love" is what drives sales, nets conversions, engagement, and guarantees retention.
Aside from the cutesy imagery, the copy really makes this Twitter ad work. Words like "start," "learn," and "get" all drive action while choice words like "free" and "certification" compel viewers to click. Because love, like free and seemingly exclusive certifications, is a terrible thing to waste.
Twitter Ads are a great way to drive customer acquisition and secure more leads. But in order to be effective, you must craft your ad copy with the same love that customers put into making purchase decisions. Be sure to use actionable words and entice viewers with free offers or exclusive certifications. Show them that your brand is worth their time and attention, and you'll be sure to make a lasting impression. A good Twitter ad is like a box of chocolates: sweet, thoughtful, and delicious.
#7 Behavioral Email - Amazon
(Source)
Leave it to Amazon to do something clever with their behavioral email. This follow-up message arrives after a Kindle purchase and prompts the customer to review their product.
This simultaneously signals customer appreciation while pulling the reader back in for future purchasing. How so? By clicking the actionable, yellow CTA we're taken back to the Amazon website and reconnected to the massive online marketplace that got us here in the first place. Buying time, round two!
But Amazon isn't the only one using behavioral emails to their advantage. Brands from all industries have caught on to this tactic and are leveraging it to keep customers engaged with their products, services, and content.
Behavioral email has become a fantastic way for businesses to personalize each customer's experience. When done right, customers will be more likely to take action and come back for future purchases. After all, who doesn't want a personalized shopping experience?
A tailored message based on the products and services purchased - that's a surefire way to keep customers engaged in the process! Now go forth and conquer your customer acquisition game with some cleverly crafted behavioral emails! You won't be disappointed.

#8 Referral Marketing - Tile
(Source)
Location-service app Tile shows how to make referrals easy as cake. The brand makes sharing a referral link with friends a one-click process with those bright and familiar social buttons.
The copy beneath draws us in with a question and immediately appeals to our altruistic characters with "Help" oriented-copy that speaks to the benefits of  double-sided rewards.
Tile does a great job of using a simple points structure for users and showing us how many points we need to earn before getting  a reward - which encourages shares. Acquiring customers is much easier when using existing customers as brand ambassadors. This way, we can all have our cake and eat it too. The best part? Referral programs don't have to be complicated. Just keep it simple and make sure to communicate a compelling offer like Tile does. Everyone wins!
The bottom line is that referral marketing can be a powerful way to acquire customers and increase brand awareness. By incentivizing existing customers, you can create a steady stream of referrals and organic leads while providing incentives for both the referrer and the friend they referred. It's a win-win situation for all!
So get out there and start making your own referral marketing campaigns today. You never know who may be the next big advocate for your brand – and how much they can help you grow!
#9 Content Upgrade - Pardot
(Source)
Readers of Pardot's article "How to Win at Lead Nurturing" finish the article and find the actionable next step waiting for them. Yes, the complete guide full of campaigns to try is a relevant and practical extension of the theory presented in the blog post.
How could a reader who got value not want to swap an email for 10 nurture ideas and a total guide? The inspirational picture uses plants in ascending order to symbolize growth, the loyal blue of the company itself, and an exciting orange to attach to the "Free" e-book. Overall, a super-compelling and visually rewarding content upgrade that's sure to fill the funnel.
But why stop there? How about an interactive quiz or a mini-course with helpful video tutorials to help your readers hit their goals? These content upgrades make it easy for readers to stay engaged and keep coming back for more. With the right offer, you can make sure that every visitor gets something valuable in exchange for their contact information. And for you, that means more leads and higher conversion rates. Now that's what we call a win-win!
#10 Skyscraper Content - Unbounce
(Source)
Which would you rather read?
(Source)
If you're like the rest of the internet (note the social counters), you'll opt for the skyscraper blog post by Unbounce rather than from Blue Fountain Media.
Why? The title promises way more value to the reader, giving us an exact method to acquire more customers rather than 5 "inspiring" elements to drop into our about page.
The image is ironic and also draws you in way more than a basic two-color stock photo. I'll choose to read about netting customers over getting inspired nine times out of ten - and my guess is you'd do the same. To skyscrape stellar content, spend a few minutes on Buzzsumo or hit a few web searches. Then take the elevator all the way up!
#11 Facebook Advertising - Warby Parker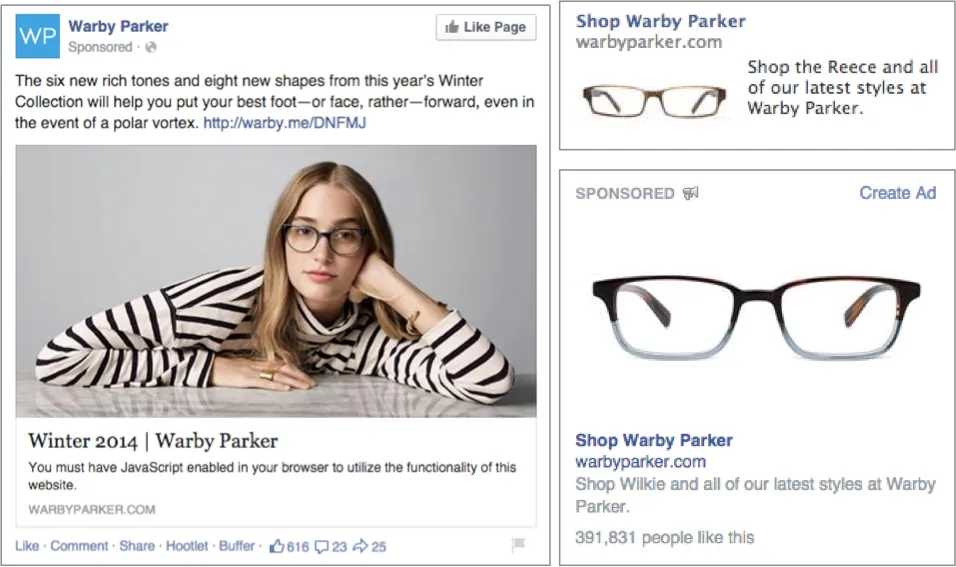 (Source)
Warby Parker has a good eye for Facebook retargeting ads. After some good ol' fashioned cart abandonment, this sponsored post shows up to remind us that it's time to buy.
The online eyeglass retailer uses some punny and funny copy to soften the message while making a timely reference to the winter season.
Facebook readers respond well to messaging that uses an informal, branded tone and references contemporary events. After all, some of us spend way too much time on that newsfeed. Ahem...
When it comes to snagging new customers, nothing beats the power of a well-crafted Facebook ad. Make sure you've got your A game on when crafting yours. And don't forget: There's plenty of humor to be mined from everyday life that can help make your ads truly stand out from the crowd!
#12 Web Push Notifications - Beyond the Rack
(Source)
Web push notifications are a fairly recent phenomenon, but like mobile push notifications before them, they require a delicate touch to do right.
Online apparel brand Beyond the Rack delivers a value-laden message here, putting it's best foot forward with "Free" and then reminding us of all the great brands that we can save on now!
Because push notifications are permission-based, it's best to limit messaging to time-sensitive and beneficial matters only - or you might lose your spot on the desktop.
So if you're looking to acquire new customers and keep them around, web push notifications are a valuable tool that can help you do just that! Just remember to be thoughtful with your messaging – customers will appreciate it and reward you with their loyalty.
#13 About Page - MailChimp
(Source)
MailChimp has a fun and evocative "About Us" page. More like a blog than a boring story, this part of the website screams personality while maintaining a brand-specific tone and conversational style.
It's pretty genius: those looking to get a bit more info end up finding stories, added benefits, and a completely unexpected brand position. If visitors were trying to make up their mind between two indistinguishable email platforms, this page will very likely bring them towards MailChimp.
In other words, the About page is a great tool to use to acquire customers. It's an invitation to join the crowd and become part of the MailChimp family.
Plus, it's a lot more fun than a boring "About Us" section! So why not make your own? Let your customers, prospects, and haters know who you are in a way that's easy to read, entertaining, and on-brand. You never know when an About page can create the connection between your business and a potential customer.
Roll Credits
Hopefully these 13 examples of customer acquisition strategies have shown you how to be your own brand hero and save the company every time. And in case you didn't see the movie, the answer is yes: Tommy Boy saves the day. After all, it's a 90's comedy flick.
How to reach customers is always evolving in marketing, but as long as you're staying focused on delivering succinct and valuable messaging, you will succeed. We've seen these brands use concise, actionable copy every time. They have great visual appeal, use consumer psychology, and create a customer-centric experience from the outset.