The 39 Best Referral Program Examples of 2014
Here it is folks!
Our big list of the best referral program examples in 2014. In this article you'll learn how different industries are using referral programs to drive profitable customer acquisition.
Survey/Form Builders:
Typeform
The team from Typeform are changing the way people interact with surveys. Their fun and easy to build survey/form builder is used by some of the worlds' top brands like Airbnb, Facebook, The New York Times and Walmart.
The 10% double-sided referral program we helped create takes advantage of the strong natural word of mouth they already have. Which is one of the keys to a program creating profitable user acquisition for your company.
Storage:
Dropbox
The heavily praised referral program from Dropbox offers 500MB of space for both the sender and the recipient. This was one of the key growth levers for the company, especially when the traditional  paid acquisition tactics like adwords/display weren't panning out. We wrote a post breaking down the real growth rate of the program here.
SpiderOak
With a stamp of approval from Edward Snowden, this privacy-focused Dropbox alternative is gaining traction in the consumer storage market. Their referral program offers a GB of storage for both the sender and recipient of the invite. Which is twice the size of the offer from Dropbox, but still lower than some of the other programs on the list. We took a deeper look at cloud storage referral programs like this one here.
Box
Our first enterprise referral programs on the list, this is a common misuse of the word referral. Really it's just a partner program under the branding of referral. There's no automation and it's a high touch qualification leading to a commission check based off of the first year's closing deal value.
Copy
Looking to gain a piece of the cloud storage market this newcomer is offering a large incentive to get people referring their product. 5 GB for both recipients is 10x the offer from Dropbox.
SugarSync
This program is also offering a large 5 GB reward for both parties in their referral program. A hint at how competitive the space is for customer acquisition and how valuable user referrals are for these companies.
JottaCloud
As we can see with this example large referral rewards are quickly becoming the standard for these smaller competitors. Jottacloud follows suit with a 5GB reward for both parties in their referral program.
Ridesharing:
Uber
Uber's mobile referral program is a well-designed machine that generates a ton of clients for the company. We wrote about our experience with ther program here and why it is so crucial for these companies to take advantage of that initial excitement.
Lyft
The hot competitor in the North American market. Lyft offers $25 in their referral invite program. A sign that more and more mobile acquisition strategies are including referral invite mechanisms in order to scale.
GetAround
One of the newer ridesharing companies making a name for themselves is GetAround. Their referral program offers the same $25 credit that Lyft uses and is quickly gaining traction in key cities throughout the United States.
Marketplaces:
Snapwire
An up and coming online photography marketplace, Snapwire is gaining traction in the competitive stock photo space. We worked with their team to create a referral program that offers a $20 credit for both the sender and the recipient.
Airbnb
The referral program refresh by the team at Airbnb is one of the best examples of finding moments in their product where a user is more likely to make a referral. In this example a user is given an interstitial prompt to make a referral after they book their first Airbnb stay. We wrote more about their program here.
EventBrite
This is another example of a single-sided referral program. In our experience we've seen double-sided referral programs outperform the single-sided programs. The dual incentive helps increase the motivation for a user to make a referral as well as increase the conversion rate of the referral invite.
iStockPhoto
One of the initial innovators in the world of online stock photography, iStockphoto gives their users the option of which reward they want to receive for making a referral. Which makes sense for products and services that have users with different motivations for making a referral invite.
Elance
Another example of a referral program allowing the user to choose their reward for making a successful referral. Although I feel the $10 incentive is quite low for a marketplace like Elance, I would recommend they increase the incentive to make it more appealing for users to make a referral.
Zulily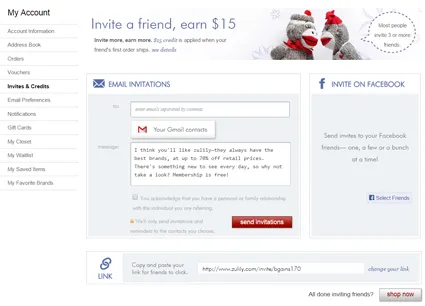 Here's an example of strong copywriting in the auto-filled text for the email invite. Though this is only a single-sided referral program, they are following a known conversion optimization tactic by making it easier for users to send an email invite.
Gilt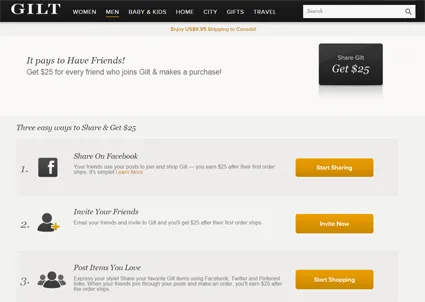 Gilt Groupe also only offers a single-sided reward for their users to make a referral. Though they are using a substantial referral reward that is $15 more than most E-Commerce referral rewards I've encountered. I still think they can improve the performance of the program by rewarding both parties.
ThredUp 
ThredUp uses a double-sided incentive to improve overall participation with the program as well as pre-fills to reduce friction. Now the only area I see they could make an improvement is the $10 reward. It seems a bit light, if they experiment with a different size reward they may be able to get bigger value out of the program.
E-Commerce:
JackThreads 
JackThreads uses different amounts in the reward structure of their referral program. Offering $5 to the recipient and $10 to the sender when they make a purchase. This likely is a fraud preventative measure so the referral program is not easily gamed by their users.
Fab
Fab uses a double sided reward structure in their referral program. It's a big reward too at $25 they will see an increased motivation for users to make referral invites. Though I would recommend they look into other optimization tactics like pre-filling the invite text and increasing the programs' visibility to the user.
Wayfair
Wayfair uses a slightly different reward structure in their referral program. The sender gives a 10% discount to their friend and earns $10 for every sign up they generate from the program. If they were looking to improve the performance of the program, I would recommend using shortlinks and finding ways to prompt the user to make a referral.
Gaming:
League of Legends
An interesting take on using referral programs to acquire users, is with this massively successful MOBA game. League of Legends recently updated their referral program to make the rewards more attainable and help combat their growing problem of fraudulent behavior. We wrote more about the update here.
World of Warcraft
Another case of a wildly successful video game using referral programs to attract new users is World of Warcraft. The MMORPG is 10 years old, but still attracts millions of players and just released another expansion this November. Their program uses special in-game rewards to motivate their players to make referrals.
Media:
Hulu Plus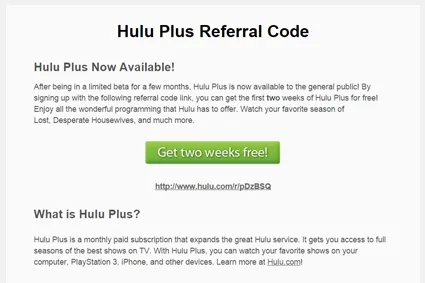 A single-sided referral program from content streaming site Hulu offers two weeks free to new users. If they're looking to see increased engagement with their referral program, I would recommend that they implemented a double-sided reward mechanism. As some users just aren't interested in making a referral unless they get a reward as well.
Netflix
Back when Netflix was primarily a dvd-rental service they used a referral program to acquire new users. They shut down this program in 2011, but from what we've heard about the program it was a key factor for establishing a foothold in the market.
Dish 
This is an interesting manipulation of consumer behavior by Dish. Instead of asking current users to make referrals, Dish is asking prospective customers to get referred. An interesting way to reverse engineer referral program participation. Hopefully we can dig into this more in the coming weeks.
DirecTV

DirecTV also follows the same consumer behavior trick with their referral program landing page. This could be a way to drive awareness to the referral program without relying on their own users to make the referrals. This is going to take some further research on our end to see how this is working in practice.
AT&T
AT&T offers their customers a $25 promotional card to give out for recommending one of their many services. This feels an awful lot like a partner program as the referral incentive for the sender vastly outweighs the offer for the recipient. They could see increased engagement with the program if they looked into balancing out the incentive structure of the program.
Other Notable Referral Programs:
Evernote
The team at Evernote uses a similar approach to Prezi with their referral program. Instead of offering a reward for each individual sign-up they make you sign up 3 friends before you get a reward. This creates a high barrier to entry right off the bat as you can lose out on potential referrals since the user doesn't think they can reach the reward.
EquityFeed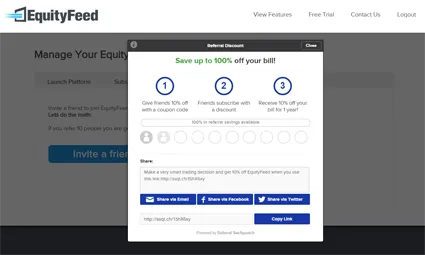 Another one of our clients EquityFeed sees great results from their referral program. Their 10% double-sided referral program helps the platform recruit qualified users with a much higher trial to paid conversion rate than they've seen with other channels.
Marin Software
This is the biggest direct cash incentive offered in this article. Marin Software has a very high customer lifetime value and is willing to pay up to $2,000 for each successful referral. Which makes sense when users of their advertising platform will have monthly spends upwards of $100,000 per month.
LastPass
We're a big fan of the way LastPass promotes their referral program inside their dashboard. Using a minimal CTA in the bottom left of their app gives the program the added visibility it needs to increase participation. We wrote more about their program here.
HubStaff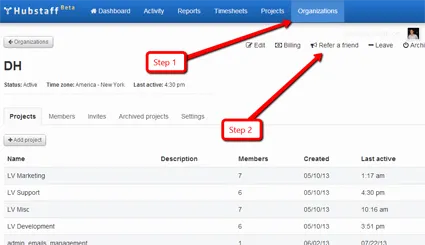 We helped our friends over at HubStaff build a give 10% get 10% referral program. Also helping them on their strategy for promoting the program like placing it inside the product as well as taking advantage of using their own channels(blog/social) to drive awareness to the program.
PayPal

One of the earliest examples of online customer referral programs. It was originally thought up by Elon Musk as a viral marketing campaign and was a major contributor to the company's exponential growth.  A simple give $10 get $10 program that easily onboarded new users into using the new online payment gateway.
Shoeboxed
In one of our mobile referral programs, we helped the team over at Shoeboxed create a give 10% get 10% referral program. Shoeboxed realized it was important to build a referral mechanism into their mobile product so they could successfully drive awareness to the mobile aspects of their product.
Prezi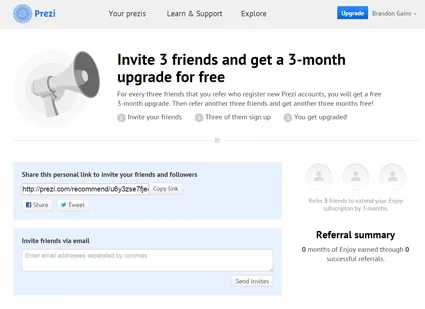 Prezi takes a different approach to what we've seen in this roundup. It looks like the program is only benefiting the sender of the referral which may decrease the users' motivation to make an invite.
Intercom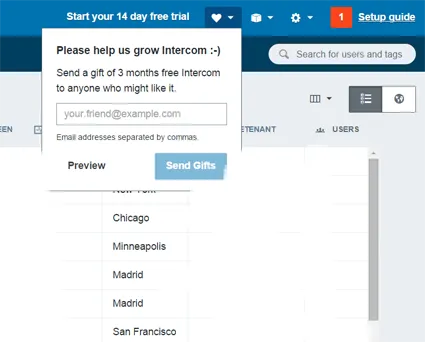 The team at Intercom puts their referral invite right in the main dashboard. This is a great way to drive awareness to a referral program without taking the focus away from the product. However, only offering a single-sided referral may hamper the performance of an otherwise well implemented program.
TreeHouse
The Treehouse team offers a single-sided referral program for their users. Although they do offer a rather large reward at 20% off per referral, they could see increased engagement if the reward was double-sided.
Google Apps
The Google Apps is a double-sided referral program that offers a $15/user credit for the sender and a $10/user credit for the recipient. If they're looking for ways to improve the program the team can look to techniques like auto-filling text and finding ways to increase visibility to the program.
We hope you enjoyed our roundup of the best referral program examples of 2014. Let us know in the comments if we missed a referral program you think should make the list!