6 Ways to Improve Your SaaS Product Marketing Strategy
When starting out in SaaS product marketing it seems like a relatively simple process - You get the new functionality through QA, put together a few tutorials, and send out an email campaign. Simple, right?
But we all know that SaaS product marketing can easily grow in complexity with many young companies not dedicating enough resources to manage the launch schedule, align different departments, put together documentation, create marketing content and work on promotion. 
They don't realize the complexity of marketing campaigns and the dependency departments have on certain features/product flows. Marketing these product features creates an opportunity to attract new industries or retain/upsell current customers. Internal departments like Marketing, Sales, Support and Customer Success use Product features to market, sell, support and retain a growing client base.
In this post, we're going to look at six key steps that a SaaS company should take whenever they're launching a new feature. It's an overlooked area and, by incorporating some of the advice here into your own company processes, you'll give yourself a key competitive advantage.
1. Co-ordinate internally on new product features
It's always important to keep things in perspective: a minor update to live chat, for instance, obviously isn't going to warrant the same use of resources as the launch of a new Android app. Atlassian, for instance, have a dedicated page for informing users of important, but not news-worthy, feature updates.
(Source)
Whatever the level of significance of your new product feature, however, it's always important to make sure that all company departments are informed and coordinated. This will mean that everybody can come together to effectively communicate the right information.
(Source)
Below are some examples of how this might work:
Top-level (C-Suite) executives should all be clear on the USPs that new features provide and how they change/add to the core company mission.

The marketing department should be aware of the need to advertise features and of the new markets that they open up (elaborated on below).

Support teams should understand how to teach new functionalities and solve inefficiencies/problems.

The IT department should be aware of backend changes and which data about adoption and use that the marketing and sales departments will need.
How cross-communication and collaboration between departments will be implemented will ultimately be dictated by the unique needs of your product and company structure. The vital thing to remember is that without it, things can very quickly go awry.
2. Target different customer segments
Product features are going to be more aligned with If new product features are designed to improve the user-experience of current customers, then your focus will be on determining which segments of your user-base it's most important to reach out to. Having clear parameters between different segments will enable you to focus your efforts on those customers  that are set to benefit most from the additional features whilst making sure that information is distributed to as many people as possible.
Salesforce implements this principle, for instance, by having dedicated industry pages: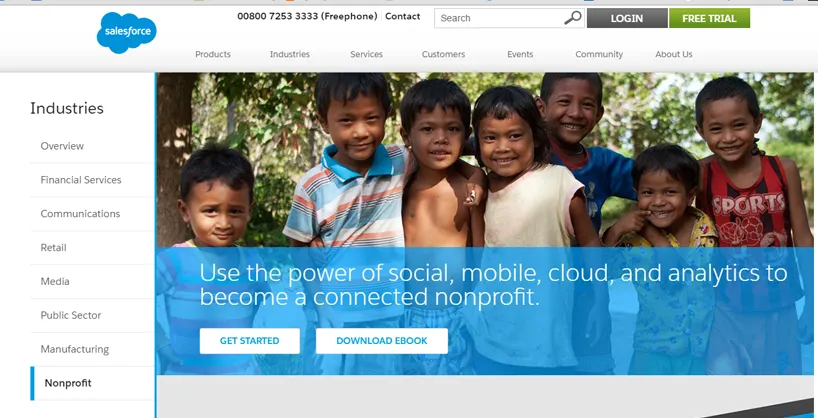 (Source)
On the other hand, if new features are primarily intended to target new sections of the market and fuel customer-acquisition then it's equally important to undertake this step so you can develop your client profile. Information about prospective markets will feed into step three where you will directly identify prospective markets.  
(Source)
Consider the following questions to either filter your current user-base or define new untapped markets:
Which businesses are likely to be interested?
What benefits does this new feature offer?
Which segments are the easiest to target?
When will be the best time to contact them based on demographic/geography?
Once you've answered these questions you can then use them to shape a hierarchy of customer segments and allocate the requisite resources to target them.
3. Expand Your Market
When Xero launched their multi-currency accounting functionality as part of their premium plan, they didn't just reach out to their current customers. By including this important feature in their product, they immediately opened themselves up to entire, previously-inaccessible parts of the accounting and small business market.
(Source)
One of the reasons that it's so important that your entire company understands the impacts of a new feature, as outlined in the first point, is because the effects can be wide-ranging, having ramifications well beyond your current customer-base. If a new feature makes your product desirable to new potential users then it's important that your marketing department is aware of this and updates their customer profile accordingly.
In particular, they should:
Include feature information in all on-site promotional materials

- Your own site and app are the two points of contact with your current customers

and

prospective customers that you have absolute control over. Make sure that every area where it's appropriate to so is updated and that major features are advertised prominently.

Reach out to reviewers and third-party recommendation sites

- Third-party SaaS review sites like

Merchant Maverick

and

Software Advice

often drive significant numbers of new leads. Reaching out to reviewers and asking them to update feature lists can often pay dividends in the long-term.
Tailor and expand current advertising materials

- The key here is to make sure that you're doing two things. First, you need to make sure that your new feature(s) is being promoted in all of the appropriate current advertising materials (posts to social media, content, paid ads, referral materials etc). Secondly, it's important to create new material for those previously-untargeted aspects of your market, again where it's appropriate to do so, using your new client profile.
Consider utilizing new marketing channels

- Though there is usually a high degree of overlap between marketing channels that are successful for different customer-bases of the same product, it may also be worth exploring the possibility of using new channels to target prospective customers that will be drawn to specific features.
4. Define key communication channels
It's usually best to take a multi-channel approach when announcing new product features. The aim is to get your message to as many of your customers as possible, limiting the number that fall through the net. Email outreach will be your go-to strategy, but you can reach some of those people that you miss by using other channels.
As with all things, you want to take a data-driven approach where possible. Speedy testing and analysis of data during the onboarding phase can help iron out any faults with your pre-planned strategy.
Consider incorporating the following communication channels into your promotion:
Email

- Email is the easiest way of guaranteeing that all of your customers receive a message. It will also give them a readily-accessible reference point should they need to consult it in the future.

Interstitials 

- Advertising in- app with a pop-up or interstitial will mean that most active users will see the announcement. You should include a link to further information but also structure the message so that all the necessary basic points about the new feature are included, should users choose not to click through. Interstitials are inherently annoying so don't overuse them.

Tooltips

- Tooltips are small pop-up boxes associated with specific features (see picture below). You can use them to draw attention to new functions in the app interface or to create an interactive tutorial. They're very easy to implement and relatively non-intrusive. You can also use "activation rules" to determine which user groups will see certain tooltips and how many times they will appear for repeat visitors.
(Source)
Webinars

- Webinars are

one of the most successful

and widely utilized promotional methods. They're great for advertising new features

and

building customer loyalty because, alongside the basic information, you can include extensive training along with a Q&A session that allows users to be taught directly by your top developers.

Blog posts and video content

- SaaS customers often use company blogs to stay up-to-date so this is one area where you can provide information about new features. Also bear in mind that prospective customers may find your product through this page so it won't harm to design it to be convertible.
(Source)
Social media

- For promotion to your current user base, social media should be to "catch" those people that can't be reached through any of the above channels, for whatever reasons. Ideal posting times and preferred content format (data that you will likely already have) should both be taken into account.
5. Create a customer success center
Where do you want your users to go when they click-through from emails or in-app ads? A training area, that includes all the information needed to effectively understand and adopt any new features, constitutes a vital part of the onboarding process. Click-through rate will likely be one of the key metrics with which you gauge the rate of adoption, and thus the success of your campaign. Buzzstream, for instance has a dedicated area for feature updates.
(Source)
Keep the following points in mind when designing your landing page:
Training should be short and benefit-focused.

Live support should be available if it's required.

Give users the choice to learn about product features in their preferred format by linking to blog posts, videos, upcoming and recorded webinars etc.
6. Test the onboarding process
Finally, once you have launched your onboarding campaign, make sure to tweak it based on data measurements. In this way you will be able to "seal up" any inefficiencies. Consider the following pieces of advice:
Measure uptake

- You can easily gather metrics about the level of uptake across all of your promotional channels. How many people are clicking through from emails? What is the level and rate of engagement with tooltip tutorials? What is the rate of use of the new feature itself? Answering these questions will enable you to achieve two things. First, they will give you the information to set internal benchmarks. Secondly, it will allow you to compare the results of A/B testing...

Run A/B tests

- Depending on the size of your user-base, split-testing is one of the surest ways of improving engagement with, and adoption of, new features. Nearly all communication channels, from email to splash pages to social media posts, can be tested on a small-scale before implementing a full launch. This is particularly the case with email copy.

Community monitoring

- Information about both new features and satisfaction with the onboarding process can come directly from your community of customers. Consider involving feedback mechanisms like questionnaires into the onboarding process itself.
Wrapping Up
By implementing a well-developed plan for your feature launches, whether they're for significant changes to your product as a whole or minor functional additions, you will be ensuring that you're able to reach as many people as possible.
As has been outlined above, successfully targeting both new users and prospective customers involves fostering cross-departmental communication, outlining clear market segments to target, reaching out to them through the appropriate communication channels and then testing the results of your efforts. If you follow these simple steps then you will be well on your way to success.