The Ultimate Guide to Mobile Referral Marketing
Ask your friends who they trust and they'll say family or friends. The human disposition is to trust our inner circles, and this has enabled mobile referral marketing to become a popular brand strategy in recent years. 
Creating any successful marketing campaign requires an in-depth understanding of your customers. With mobile referral marketing you also need a strategy behind creating your rewards, encouraging referral invites and onboarding newly referred users.
In today's guide we'll highlight examples from Busbud, Tile, Sprig, Airbnb and Uber to show you the strategy behind creating a successful mobile referral experience.
---
4 Key Factors That Make a Mobile Referral Marketing Program Successful
Product Fit
Your company needs to have a level of product-market fit established before your customers will want to refer your product. For a referral program to influence your bottom line, your product must provide sufficient value so that customers naturally want to share it with their network. Product-market fit is the foundation of where a successful referral program can be built, but this doesn't necessarily guarantee mobile referral marketing success - you need to constantly find new ways to tell your happy customers about the program.
Segmentation
If you're going to get viral-quality reward shares on mobile devices, you'll need properly segmented lists of users. Segmenting your best customers will help you market to similar customers and build more durable networks in which to market your referral program. For example, customers with the highest lifetime value will know others who will find your product useful. These customers have discovered the core value of your product and can relay the message to the right audience.
Targeting should include:
Customers with highest lifetime value

Influencers with large social followings

Highly engaged customers
If you're concerned with handling the growth from your referral program, stay away from offering referral campaigns to those with high ticket volumes. The needy tend to hang out with the needy. Long term, this is by no means bad, but you need to also prioritize premium customer service throughout the lifetime of your campaigns.
Happy, Good Customers
Only happy customers will refer your product, so previously high levels of customer service, positive user experience, and overall brand satisfaction are essential before considering referral programs.
The law of social proof, or informal social influence, is the spirit of your referral program. A Nielsen study found that word of mouth is the most trusted form of advertising; it's also increasingly trusted, dwarfing other forms by a long shot.
A German banking case study by Harvard Business Review also found that "customers obtained through referrals are both more loyal and valuable than other customers." With the cost of acquiring customers typically high, referrals cut costs associated with finding new customers while simultaneously returning customers with high lifetime value. Both those referring and referred are shown to spend more and be more loyal brand ambassadors.
Mobile referral marketing is not affiliate marketing. Affiliate programs do not discriminate upon the quality of the motivation for referees: these programs are happy to have anyone advocate to anyone for the brand. Referral programs are more personal, hinging on happy customers wanting to share your product or service with their friends because it will make their lives better.
The principle of altruism makes referral sharing a deeply satisfying way to connect with others - as opposed to a way to simply create profit for oneself.
Double-Sided Rewards
Users aren't typically out to send invites to friends just so they can incur an upgrade or credit. This idea of individual reciprocal incentive doesn't work nearly as well the double-sided incentive.
If you want brand ambassadors to readily refer close friends, reward the friend in question  - or better yet, include both parties.
When brands leverage the customers' desire for rewards with their innate desire to assist their networks, the value of equal party incentives becomes readily apparent. The added incentive to help themselves - and to help others equally - motivates them to action today. That's because it feels better to act on the behalf of others and gives a joy not found in pursuing gains for oneself. Altruism runs referral programs.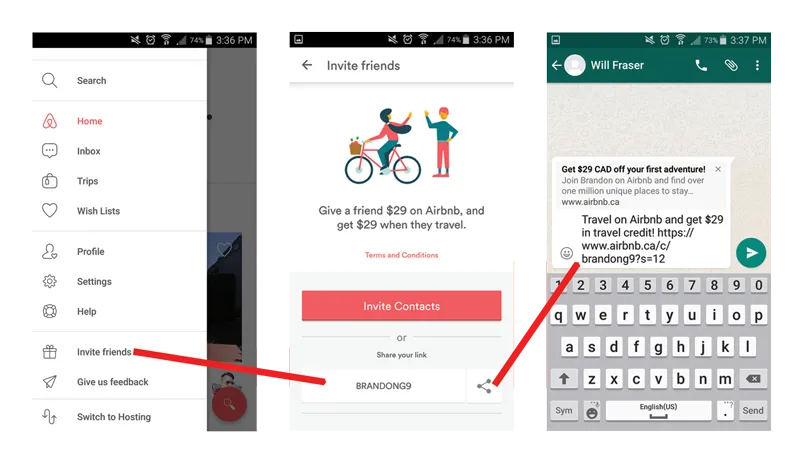 ---
3 Ways to Make the Mobile Referral User Experience Easy
How easy your mobile referral program is to use will be a major factor in its success. With small screens and diminished attentions, brands need to make sharing rewards as easy as possible.
Clear CTA with Value Proposition
When optimizing referral campaigns, look for areas that create friction for customers. Anything that slows down the process, sounds confusing, or requires user input will greatly reduce rates of reproduction and hamper virality efforts.
A viral loop of sharing hinges upon clear value for both parties and an easy invite.
Seamless Integration
Most customers won't participate if they sign up and have to complete multiple steps before collecting their reward. Prepopulating user information is a great step in helping speed up the login process and keep it simple for customers. Be careful, though: mobile devices are personal. Leave users with the proper amount of agency, allowing them to select their sharing and contacts personally.
Only provide a concise set of options for users: go back, learn more, or invite friends.
Easy to Use
Also position social buttons centrally and in large format to make them easy for users to click.
Busbud executes their referral page flawlessly. This one-page, one-step referral flow makes choosing a sharing option incredibly easy. The bus ticket app uses a simple design to position its value statement and incentivize sharing.
After Busbud users click the large social CTA buttons, they're taken to the next (and final) screen where they select who will receive their rewards. Simple, easy, and direct.
---
7 Ways to Promote Your Mobile Referral Program
Your customers need to know about your mobile referral program for it to be effective. To decide when to give out rewards, consider points after which an action is taken - a juncture that allows users to promote a value they may have just enjoyed themselves. The goal is to make sharing rewards an organic, seamless extension of the present action that improves the quality of the process.
Opportunities include:
Points of sale

Blog signup

Trial signup

User converts to a paid account
These are all actions that signal user interest and make for a threshold where users can refer the product or service to others with enthusiasm.
Offers could include:
Free shipping for customers that refer a friend with free shipping for the new friend as well

Discounts or gift card for customers who influence new members to try your products

Complimentary trial memberships for users that invite others try your product

Exclusive access to select content or additional content if customers will email a colleague or share
Now, let's look seven effective ways to place your referral program for easy mobile use.
#1 Main Menu of App
App users will come across your referral rewards in the menu of their app. Your goal is to make it as easy to see and enticing to click on as possible.
Custom meal plan app Sprig does an excellent job of creating a 'refer' button worth clicking. The bright green CTA button pops out of the main menu with a great action word. The resulting action sequence is equally intuitive and rewarding for app users. Bright and engaging buttons detail the intermediary screen while the autofill functioning within makes sharing a piece of cake.
#2 In-App Messaging
A great way to reach actively engaged app users is with in-app messaging. For example, inform users where to find the referral function in the main menu with an unobtrusive discovery message or interstitial message (among many other available ways. In-app messages are a customizable, content-rich tactic for driving many actions - updates, flash sales, referrals - within an app.
Users will appreciate the help in getting more value from the app, as well as any time-sensitive promotional messages or other feature updates you might send. One downside: the user has to be actively using the app to see these messages.
Uber makes a very appealing reminder to app users after they've selected their pickup location. With a great, timely aesthetic (during the holiday season) the ride app makes a strong case for immediate rewards with very available share icons. These two screenshots are an example of Uber's A/B testing of their copy and design for increased effectiveness; something that should not be overlooked.
#3 Mobile Email Digests
These abbreviated mobile newsletters are great chances to share feature information, deep links within the app, company news, and goings-on during the past week. There are many ways you can choose to let readers know about your incentives.
Tile, a locator app, even makes use of their blog to point users toward their mobile referral program. By linking to their website, Tile is able to improve their multi-channel presence with users while positioning readers to learn more about features (and increase overall value).
#4 Push Notifications
Push notifications reach mobile app users on the home screen of their phone - not within the app itself. That said, the customer must have opted in to allow push notifications. Unlike in-app messages, these swipe-away messages are all text. Among the benefits, they are a guaranteed method of direct, quick communication with users outside the app.
Push notifications, being somewhat intrusive, are best kept highly relevant and brief. If you're sending obnoxiously timed or valueless push notifications, users might opt out or uninstall the app.
#5 Invoice Reminders and Receipts
Invoice messaging, given its highly personalized nature, receives high email open rates. These also make for great follow-up push notifications.
The pain point surrounding payment can be relieved by including an opportunity to see some extra money or savings on their next bill. Plus, they're sent out regularly.
#6 Monthly Email Digests
To grow, focus on channels that you already own and have traffic. Your own system notifications, monthly reports, newsletters, and other content-rich forms of correspondence are a great way to insert a rewards incentive.
This Udemy email footer is great at driving awareness for their referral program while not detracting from the main message of the email.
#7 Re-Engagement
Once a customer has made a referral, there's an opportunity to boost the amount of referrals they'll make in the future; for example, asking a customer to make another referral after they've earned their first reward. If this is an app user, an in-app message or push notification is a great choice to affirm engagement and promote immediate reward redemption. Triggered emails will likewise increase the virality and share rate of your program.
---
Takeaways
Your mobile referral marketing strategy needs to use compelling copy and CTAs to target a segmented list of customers. Once you've established your reward structure that will grab the attention of your customers your strategy should take advantage of owned marketing channels. This can include push notifications, in-app messaging, email digests, invoice messaging, and more. Finding organic and authentic ways to reach your customers with your referral program is key, as referrals should feel like spontaneous and altruistic actions.
[optin-monster slug="h3a6mmcgy471dicz7dga" followrules="true"]