What do Mary Poppins and lead nurturing have in common?
Unless your brand name is Disney, it's not animated characters and flying nannies. It's something called "the mere exposure effect." Also called the familiarity principle, this is a psychological phenomenon by which people tend to develop a preference for things merely because they are familiar with them.
Even nonsense words, for example – "Supercalifragilisticexpialidocious" – gain positive recognition through repeated exposure. If you're like many of us raised on Disney, this phrase will always elicit a positive response. The phenomenon is clear: the human mind loves familiarity.
Today, top brands consistently apply the familiarity principle with lead nurturing strategies. The lead nurturing process helps brands build a relationship with their audience by supporting their needs with valuable touch points throughout the customer experience.
Because we know trust and favorability are the results of repeat engagement, marketers use nurture marketing as a primary strategy for reaching their audience in a meaningful way.
This article will show examples of how leading consumer brands use various nurture campaigns to drive engagement, retain their best customers, promote sales, and secure repeat revenue. By the end, you'll be equipped and ready to use nurture campaign best practices within your own organization. 
What is Lead Nurturing?
Lead nurturing is the process of building and sustaining relationships with customers via multiple channels throughout the entire customer lifecycle.  Nurture campaigns consist of delivering marketing messages to suit the various needs of prospects and customers as they engage with your brand.
Unlike traditional marketing approaches that aim to sell, lead nurturing strategies emphasize customer value and education. After all, customers will only continue purchasing if you're seen as a trusted source.
Since consumers are constantly bombarded by marketing messages, the only way to differentiate your brand is by consistently adding value. Informing consumers about issues surrounding their pain points is beneficial in many ways, as it:
Educates customers on how to get value from your product or service

Streamlines the lengthy customer-based research process

Establishes a trusting relationship with prospects

Reduces the anxiety of choice for consumers

Shares your brand values and storytelling
Yes, nurture marketing is similar to content marketing. The lead nurturing process is centered around creating a range of automation workflows consisting of emails, in-app messages, direct mail, push notifications, live events and more.
Speaking specifically to the needs, values, and emotions of your prospect is key. Knowing how your audience engages on social will be key in sharing content and developing a community around your brand. Drip email marketing is a cornerstone of nurture processes, uniting the other channels around the customers' inbox.
"After a while, as people begin realizing the value of your content, it will become automatic for many to perform the actions you ask them to take – whether it's to reply to an email or to click on a link. It needs to become a habit. Later, once you've accumulated enough engagement and trust from your leads, getting them to say yes to your ultimate offer will be easier." — Raphael Paulin-Daigle, ConversionXL
To reach your audience effectively, segment customers by their brand activity and key attributes. Deliver your segments targeted content, personalized messaging and triggered emails. Even when discussing your product, be customer-centric in your multi-channel approach. Why? Giving away value always turns leads into customers.
That said, the best brands leverage their lead nurturing processes beyond the first sale, winning upsells and cross-sells with existing customers. This pays double for brands. Aberdeen Group found it's 4.8x cheaper to sell to an existing customer than to acquire a new lead. Plus, resale opportunities reinforce brand loyalty and promote customer advocacy. 
And according to DemandGen, nurtured leads represent a 20% increase in sales opportunities over non-nurtured leads. Nurture campaign best practices result not only in bottom line profitability but also establishing a long-term brand relationship with customers.
How to Craft Lead Nurturing Campaigns
To guide prospects down the funnel most effectively, utilize a variety of lead nurture campaigns for your unique customer journey. Nurture campaigns do require patience from marketers but develop an invaluable trust that can only come from time and experience with a brand.
The average prospect will receive 10 touches from the time they enter the marketing funnel until they become customers (Marketing Lead Management Report).
This means you'll need to craft campaigns for prospects in many phases of the customer lifecycle. Here are five examples taken from leading consumer brands to show you how to excel with your own drip marketing campaign ideas.
#1 Welcome Campaign – Target
(Source)
According to Jimmy Daly, "the real purpose of the welcome email is to move users through your onboarding process." To welcome effectively, give exact instructions on how to make use of your product right now. Introduce your brand to users with an upbeat, branded tone that lets them know what's in store.
Instead of flooding them with information, remind them why they converted and share value immediately. Some brands share a piece of educational content to develop a brand relationship, but Target starts off with a discount.
People love puppies, so points for appealing to user emotions with an adorable visual. The big box retailer maintains an inclusive, cheery persona as it onboards the email subscriber with details about savings, coupons, free shipping, and more.
Offering clearance items below, a credit card signup at the middle, and a direct link to shopping above, Target gives buyer's many different ways to get started with their shopping experience.
#2 Educational Campaign – BuzzFeed
(Source)
To educate your audience, you'll need to provide a consistent stream of engaging content to user segments. Truth is, the primary reason email recipients stop reading and unsubscribe is a "lack of relevance," says a survey by MarketingSherpa.
This means lead nurturing content should be focusing on specific customer needs. Sharing information is an opportunity to boost value and secure trust with consumers – but also to collect engagement data for further segmentation. Click-through and open rates should be monitored to determine your nurture marketing optimization strategy.
For example, entertainment behemoth Buzzfeed shares email courses with subscribers catered to specific interests. After creating over 20 email newsletters to help segment and appeal to specific interests, the media channel provides subscribers with custom, hyper-relevant educational content.
In classic Buzzfeed form, the emails are visually appealing and prompt users to read and click. Make gathering information a rewarding, simple process and expect prospects to keep coming backfor more.
#3 Promotional Campaign – Zappos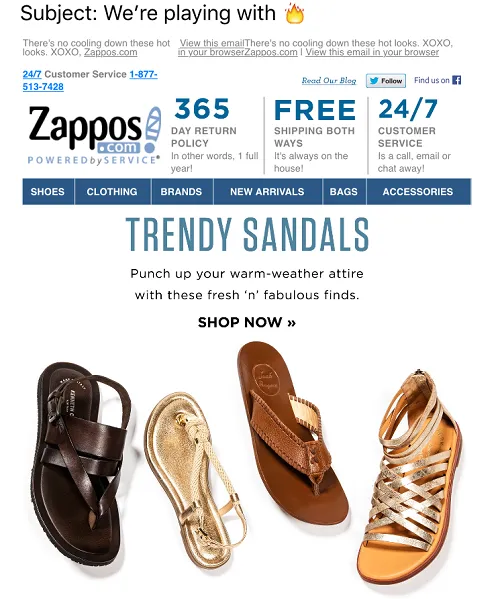 (Source)
As leads near the bottom of the funnel, promotional messaging can be very effective at making the sale. Lead nurturing is primarily educational, but at the right moment, your prospect will appreciate a good deal.
Whether you're offering upgrades, special features, discounts, or free shipping (found to be more effective than purely monetary rewards) – make sure the value is aligned and immediately actionable.
This Zappos promo email is an eye-catcher thanks to the fire emoji in the subject line. Even beyond a strong visual aid, this email caters to consumer emotions. "Free" excites buyer enthusiasm, as does the security of the year-round return policy and nonstop customer service.
Promoting secure shopping features speaks to the 'why-not' in every buyer. The copy shines as well, appealing to seasonal wants for outstanding footwear with action words like "punch," "fresh n' fabulous," and "trendy." Zappos makes buying riskless and rewarding at once, then positions a bold black CTA at center for the close.
#4 Re-Engagement Campaign – Timberland
(Source)
Sadly, not all prospects will become buyers. Many will stall in the funnel and need additional nurturing to reach a purchase decision, so re-engagement campaigns become essential for targeting these inactive leads.
Content must be compelling at this stage to entice action. Consider sharing interactive content, an insightful case study, a new infographic, or well-aligned blog post to elicit a response and encourage re-engagement.
For ecommerce companies like Timberland, cart abandonment rates can exceed the industry average of 68%. Frustrating? Absolutely. Retargeting across Facebook and Google works well, especially when combined with cart abandonment emails like this one.
Here we see the fashion brand utilizing exclusivity to encourage a final purchase, reminding users about past selections while also providing personalized recommendations.
Shoppers love to feel special, so customer-centric tactics like this help brands retain customers while promoting sales at the same time. Essential to success: providing one large CTA to prompt easy action and avoid confusion.
#5 Referral Campaign – MeUndies
(Source)
To maximize revenue, lead nurturing campaigns span the entire customer lifecycle. As Harvard Business Review reports, the CLV for referral customers is 16% higher than non-referral customers. You can take advantage of customer advocacy to drive repeat sales and encourage earlier stage customers to make their first purchase.
This MeUndies nurture referral campaign strongly appeals to consumer altruism by inviting customers to "be a hero." The double-sided rewards of giving and getting referral rewardss, and we see the underwear retailer getting creative by trading dollars for discounts. To be more effective, streamlined referral programs make sharing and receiving perks a straightforward process.
The MeUndies rewards interface does a great job with a simple invite screen and straightforward copy to encourage conversions. Sharing marketing messages through trusted social channels is the most effective tactic for lead nurturing.
"Nurture your existing customers. Don't just emphasize new account acquisition nurturing. From this point forward you should look to nurture your current customers with the same energy and optimism as you do with leads and you'll be amazed with the results." — Brian Carroll, B2BLeadBlog
Wrapping Up
Lead nurturing strategies are an effective way to develop a familiar relationship between customers and your brand. The patience required to nurture leads is offset by the trust it creates in your audience. By engaging in nurture marketing best practices like we've discussed today, your brand will create engaged customers that will purchase again and again.
As we saw from leading consumer brands, lead nurturing campaigns come in all forms and can reach users at any stage of the customer lifecycle. From highly effective drip marketing campaigns to social media and traditional advertising, a variety of integrated channels is what makes up a successful marketing strategy.