Create a Complete Customer Loyalty Marketing Strategy
Loyalty marketing is the strategy of doing well for your brand by making good with existing customers.
As the customer journey becomes a nonlinear brand experience that has no set end-date, companies are shifting their focus from one-time offerings to a more long-term relationship.
This means offering users an individualized experience replete with added benefits. Studies show it takes 10 times the resources to acquire a new customer than to sell to an existing one.
Brands emphasizing the principles of loyalty marketing are primed to earn not only goodwill and strong brand advocates, but a stronger bottom line. Our beginner's guide to loyalty marketing is going to walk you through every aspect of this strategy so you can see high returns and provide a rewarding experience for all.
You'll learn about key tactics to effect a powerful multichannel strategy across email, mobile and web. We'll look at how to structure and test rewards programs, how to personalize your messaging and produce stellar content.
Let's see how to improve our customer engagement and increase repeat purchases with loyalty marketing!
What is Loyalty Marketing?
Loyalty marketing is a strategic focus upon growing and retaining your existing customers through incentives. The goal of loyalty marketing is to reduce the rates of churn and maximize repeat purchasing power within your best and, oftentimes, overlooked customers as well.
Moving beyond the typical rewards programs such as frequent flyer miles - though these are certainly relevant - loyalty marketing is about optimizing the brand experience for each user segment. Trick is, you need to speak to your audience in the way they want, which is both evolving and variant.
How can you do this easily?
By being customer-centric. Each phase of the customer journey, both before and after the first sale and into the next, must satisfy the unique wants and needs of individual users.
Many companies stumble over loyalty marketing best practices because they're so focused upon acquiring new business. Because the consumer mindset has shifted to desire fewer things but a more rewarding experience from their companies, providing meaningful and sustainable interactions can prove difficult.
But it's not hard to be a loyalty-inspiring brand. Loyal customers have a higher LTV and also a greater spending average, per purchase.
You'll also be more efficient with segmented (or soon to be) groups of existing customers. Having a firm understanding of motivations, buying behaviors and purchase histories, your ability to provide a more satisfying brand experience - one that drives repeat business - is closer than you think.
Creating Content for Loyalty Marketing
Content drives your brand experience. Preparing to invest in varied styles of media - interactive, blogs, videos, etc. - will pay off with higher levels of engagement.
Your brand can only inspire loyalty by standing out from the pack. Users don't have time or resources to be loyal to all brands, so make sure content is unique and unlike anything else across your channels.
However you share your brand experience, from an informative blog read, an outstanding video, a distinctive voice on social media, be sure it is a continuous experience worth staying tuned for.
An incentivized experience is a valuable experience. Your customers will stay engaged with you if you're offering exclusive content. For example, you could sponsor research in your field or host an invite-only webinar. Experiment with Periscope and position your executive as a thought leader to drive attendance.
And what better way to stand out from the rest than to stand up for something important?
Value-driven messaging aligning with a cause or idea can also be effective for keeping users engaged. These days, feeling emotionally and spiritually at home within a brand is a key component of user loyalty.
(Source)
Personalization is a crucial aspect of all content creation.
Receiving one of a kind treatment is something users will stick around for.
The Sephora website makes returning customers feel welcome with a customized shopping screen "just for you." To draw repeat guests into new products, items are presented as selected with an individual air of attention and care (which customers crave). The cosmetics brand knows reminding shoppers that they're one in a million is how to increase sales.
Each product description has the copy "for 'your' body," making the customer-centric idea explicitly felt everywhere. We're even prompted to edit our profile with a smartly-placed CTA that invites us to fix anything we don't like about the page. However, each product is laid out with a benefit statement underneath as well, further helping us know Sephora wants to share their beauty secrets with us. The clean, minimal design aesthetic ensures it all stands out in clean definition.
Personalize your brand for users by:
  Using customer profile data such as name, geographic location
  Acknowledging past purchases
  Recommending products based on preferences
  Recommending products from what user's friends have purchased
Personalizing emails and push notifications about sales, promotions and other content repeat buyers would enjoy (these earn 6x the revenue than non-personalized messages)
At the end of the day, it's all about making your brand a pleasure to interact with. If every time we log in to our website (like with my PayPal) and we have to see the same "try this new feature" screen that we clearly don't want to use, it degrades the interaction and makes us feel like we're not being listened to.
Customers will spend their time and money with brands who market them feeling consistently listened to.
Enhance user experience by:
Simplifying payment processes
Eliminating messages and data that's relevant to users
Making search and navigation easier to use
Adding chatbots
Tracking users to see where they're spending their time and send them content to match their interests
Prioritize Customer Service
What good is a flawless interface and awesome content if you don't listen when customers need help with purchases or want to voice input about your brand?
Not much. In order to sustain engagement and retain customers who want to repeat purchases, these people must have confidence in your support staff.
47% of customers (Forrester) say they are willing to go elsewhere after experiencing poor customer service. Years of loyalty can be undone by one unsavory interaction. Being ever-present in your support is also recommended, as consumers have come to expect it.

Research from Forrester shows that 44% of customers place high importance on live chat. Many customer frustrations arrive from not having anyone to talk to in the moment, so 24/7 support chat (whether live or with a chatbot) can make all the difference when assuaging customer concerns and retaining valuable clientele.
At SaaSquatch we're ready to talk, as the above image shows. However, since there wasn't an issue at hand and I'd been checking on blog content about 5 ways to optimize loyalty marketing, "Cindy" here chimed in to ask about providing me with some additional content. Not this time, Cindy, but thank you.
Investing in customer service is crucial for ensuring your customers are loyal and also ready to provider testimonials, make referrals and act as brand advocates across social media and toward their friends.
If the product is great, our customer service is flawless and our content is dialed-in, what else can we do to improve customer loyalty?
Implement a Customer Loyalty Program
Customers in loyalty programs have been studied to spend 19% more than those not engaged with a brand in the same way. Another study by Campaign Monitor reveals 65% of consumers admit that receiving rewards contributes to how frequently they make purchases. And 80% of respondents to a recent 3,000+ person survey said they would be more likely to do business with a brand if they offered a rewards program.
Loyalty programs are valuable for both you and your consumers. Try any variety of incentives such as:
Points: Flexible across many offers and many demographics, points allow you to be creative when delivering benefits to your existing customer base.
Giveaways: Give your own unique materials or third party materials. Either way, you show users how distinctive your brand is by offering something new.
Affiliate offers: Affiliate partners can offer fresh materials for added engagement and spending.
Discounts, giveaways, contests: Free is a huge motivator. Drive engagement with relevant offers reaching users through email, mobile and social channels.
Value-centric rewards: Aligning your brand offers with the strong values of your user yields positive attitudes and cultivates engagement through a sense of social good.
Referral rewards: Reciprocal rewards prompt dedicated users to benefit for repeat spending while simultaneously engaging new users, which naturally injects your campaigns with another way of revenue. Referral incentives pair well with all above offers.
Remember: These offers are not limited to loyalty programs. Use these freely amidst your campaign to drive engagement and improve overall UX with your brand.
Tiered rewards programs are becoming popular, as they allow you to incentivize future spending with customers while simultaneously rewarding your already high-spenders. This Walgreens "Balance Rewards Program" allocates boldly colored dollar amounts for those who are willing to engage with the brand and make repeat buys.
"Points equal more rewards" is a succinct, value-intensive headline to announce the benefits to readers while the corresponding value amounts arrest lots of viewer attention at right. This "everything store" retailer makes their FAQ page section an easy read on a well-designed aesthetic. The video is an added bonus some customers are sure to enjoy!
To grow a segment, brands add tailored promotions to tiered programs encouraging more spending. For example, if you "spend X amount, you'll earn double points" is an example of how to prompt growth in loyal users.
Acquiring new customers is about spreading hype and value around members' key benefits. Using referral tactics to spread the word is most effective. Lastly, reactivating loyal members that have gone quiet is a key aspect of this program. Members who have stopped engaging are more likely to engage than non-members to respond.
Luxury brands have long made use of tiered rewards programs. Beyond typical savings, users appreciate superior service and special events. A study by Colloquy shows 62% of mid-level loyalty program members and 57% of upper level loyalty members are motivated by access to special events. Receiving superior service motivates 79% of mid-level and 74% of high-level loyalists.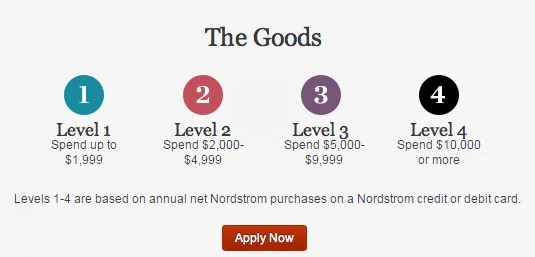 (Source)
Nordstrom utilizes the rewards tiers shown above, with level 3-4 members receiving invites to private photo shoots, face time with designers and specialty tours of watchmaking factories. The black icon at right communicates exclusivity, the purple icon speaks of royalty, the red incites passion and the teal for "Level 1" signals trust and enthusiasm. The bold "Apply Now" CTA at bottom pulls readers in with actionable language to prompt conversions for some awesome incentives.
Optimize Rewards for Mobile
Online luxury retailer Gilt won't be left out of the loyalty game. The membership service makes good with users here by providing elevated customer experience through push notifications. Messaging is concise, detailed and value-driven, arriving by privilege of user allowance. Gilt knows their customers want their new shoes the moment they're available and pay to be in the loop.
Since 30% of all e-commerce is mobile these days, it's crucial to reach rewards members via their "right hand" mobile device. What's more, 72% of respondents to a Loyalty Report survey said they preferred their mobile devices as a way of communicating with brands. As well, 59% of respondents said they are "much more" or "very likely" to become a member if the loyalty program had a dedicated app.
How to Test Rewards Programs
When tracking your loyalty marketing program's success, keep in mind a few key metrics to gauge performance:
Sales: % of sales generated by loyalty program members
Transactions: % of transactions when loyalty membership was used
Activations: % of members with at least one transaction of set time frame
Sales changes: Split test groups/stores/pages that do and do not accept rewards
Beyond tracking metrics, you want your programs to start with a bang. So make the most of the first six months of your program launch, letting new members collect heaps of new points to gain traction. Being over-generous can only help your word of mouth marketing and loyalty.
Be sure that first loyalty redemption is easy and straightforward for users. Creating a memorable and distinctive experience around claiming rewards is the icing on the cake that really makes the difference for your users. If your optimized loyalty program is worth chatting about, you'll earn lots of referrals and organic growth in revenue will follow.
Conclusion
The Pareto law is very real when it comes to loyalty marketing: your best 20% of your customers will earn you 80% of your revenues. Investing in your customer experience starts with great content across all channels, otherwise loyalty will be hard to come by. Next, you'll want to personalize your messaging for your user segments, making them feel special and welcome within your brand.
Anyway you can improve customer experience is a must-do. This includes loyalty programs utilizing creative incentives to drive engagement in current customers and prompt more spending in new members. Be sure to reach your users across mobile, email, social and website channels for a comprehensive brand experience that merits a lifelong commitment.