How to Get More Customer Referrals (Part 1)
Referral marketing is consistently quoted as the most effective form of marketing: 92% of consumers worldwide trust recommendations from friends and family more than any other form of advertising.
But assuming that referrals will come flowing in as a result of good customer service and a great product alone is shortsighted. The modern customer has a never-ending to-do list, too many browser tabs open at once, and a low tolerance for inconvenience. Giving a referral might be the last thing on their mind, even if they love your product.
This is why all great referral programs start with an intentional strategy for how to increase the number of conversations around their brand.
So how can you make sure that you're set up to get the most referrals possible?
In this article, we're covering everything you need to know to get more referrals from the modern customer.
How to get more referrals
1 - Set up an automated referral program
Of all the things you could implement, this will have the biggest impact on the success of any referral program.
Companies with formalized referral programs have been known to experience 86% more revenue growth over two years when compared to companies who don't.
In addition to this, one of the most surprising referral marketing statistics states that 83% of consumers are willing to refer after a positive experience, but only 29% actually do. This means that without a formal program, you're missing out on revenue from the referrals of 71% more customers!
Having a dedicated system for encouraging and fulfilling referrals means that you can:
Provide customers with a seamless way to offer and accept referrals across platforms
Never miss an opportunity to engage with a satisfied customer
Protect your programs, revenue, and customers from fraud
Track referral metrics to iterate for optimal results
A platform like SaaSquatch lets you reach customers on their preferred channels, giving you the confidence that you have the right tools in place to give out any rewards that you promised.
2 - Ask for referrals at the right time
Asking for a referral at the wrong time (like when the user just had a confusing or frustrating experience with your product) can severely impair your chances of receiving any future referrals.
Naturally, the best time to encourage a referral is when a user feels positively about your brand and is confident that their money is being well-spent. These are what we like to call "happy moments" with your brand. A few examples:
A user receives their order in the mail and is excited to use your product
A user of your marketing automation software collects a record-number of leads, improving their professional performance
A user receives their meal from an on-demand food delivery service and gives the driver a 5-start review, indicating their satisfaction
Asking for referrals at the right time feeds into ensuring that every member of your company is on board with the goal of the referral program - not just the marketers.
Equip your sales team, account managers, and support team with the ability to generate each customer's share links to use in appropriate conversations, such as when a support issue is resolved, or an account upgrade has been finalized.
3 - Offer an incentive in return
Referrals work best when they're a two-way exchange: Your business earns a new customer, and the customer earns a reward.
This positively reinforces referral behavior, turning it into a habit for your customers. Once they know they'll receive a benefit for sharing your brand, they'll continue to bring in more business.
Referral incentives can be single-sided (ie. only the user giving the referral gets a reward) or double-sided, where both the referring and referred user get an incentive.
While single-sided rewards may be easier to manage, they can imply a lack of balance between the two sides, and cause new users to question whether the referring user is just in search of a reward. Double-sided rewards put everyone on a level playing field.
For example, Dropbox rewards both the referring and referred users with free storage after a successful referral, and Uber rewards them both with free credit towards a future ride.
The exact rewards you give will depend on who you're selling to, and what they value, but non-cash incentives are proven to be 24% more effective when it comes to driving engagement in referral programs.
To get started with choosing your rewards, check out part 1 in our series all about the most effective rewards for your referral program.
4 - Reach customers where they are
According to Broadband Search, mobile traffic is up 222% in the last five years. As of 2013, 16.2% of worldwide traffic was from mobile phones - in 2018, this increased to 52.2%.
Given this shift in how users prefer to consume information, getting referrals means reaching customers where they spend the most time - on their phones.
This is where a cross-platform referral solution shines. When you can reach users continuously across mobile, email, web, and in-app components, you'll never miss an opportunity to leverage a positive opinion.
Modern consumers have a low tolerance for inefficiency - don't expect customers to alter their behavior in order to give a referral. Removing friction is a key component of maximizing referrals.
5 - Give customers a referral template to use
Customers are busy, and the last thing they want to do is put in extra work to give a referral.
Whether you pre-fill the body of a Tweet, Facebook post, or email, give customers something to say that effectively communicates the message to any potential new user.
This not only ensures that your program is being accurately represented, but reduces the friction involved with giving/accepting a referral.
The only responsibility of the customer should be to reach out to anyone who might benefit from your product - your business needs to do the rest. Given that referred customers have a 16% higher lifetime value than non-referred customers, putting in this extra effort is worth your time.
6 - Provide multiple ways to "refer"
Many customer referral programs involve asking users to share links or special codes with friends, but you can't assume that every single customer is comfortable communicating with their peers in this way.
It's possible that your best customer doesn't have a Facebook account, or they simply prefer to speak to the masses rather than target a friend or colleague individually.
Instead of pressuring them into sharing a link with friends, let them leave their positive opinions in the form of a review, rating, or testimonial that you can use on your website and other marketing collateral.
Research indicates that 84% of consumers trust online reviews just as much as a personal recommendation. If you aren't flexible with how you're willing to accept and display positive opinions, you may risk losing them altogether.
7 - Make it about the user - not your company
As a marketer, you know that the best way to inspire action from others is by telling them what they will get out of it. A customer is much less inclined to do something that only appears to benefit the company.
Check out the differences in language for an on-demand workout app advertising their referral program:
"Invite your friends to try our app because we just launched great features!"
compared to
"Invite your friends to download our app and help them achieve their fitness goals!"
While both can motivate to a certain degree, as an existing customer you're more likely to share a product if you think it will benefit someone else, instead of just feeling like you're being enlisted as a salesperson.
As the referred customer, you're much more inclined to sign up for service if you understand what it's going to do for you.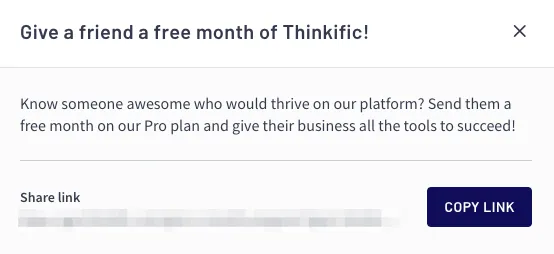 8 - Make it obvious but not overpowering
There's a danger in assuming that giving a referral will always be at the forefront of a customer's mind.
While this may seem obvious, ensuring that customers know your program exists is key to driving results.
Even Airbnb admits that a lack of promotion was one of the biggest issues with their first attempt at a referral program – not even their employees knew it existed.
Start by thinking about where on your website and app you can add information and CTAs to trigger a referral. Consider what pages or sections a user will be on when they're most receptive to sharing your brand.
For example, by integrating a clear call-to-action into the main navigation of your portal, website, or app menu, every time a user engages with your product, they'll be reminded of the opportunity to refer and earn.
To make things easy, we created a checklist with all the ways you should be promoting your referral program. Check it out!
Now that you know how to get more referrals, it's time to put it into practice! Check out the links below for some of our favorite referral programs and what you can learn from each of them.
Referral Program Inspiration
Final Thoughts
How are you leveraging the positive opinions of your customers? Having a referral process that is simple, rewarding, and easy to find is the first step in generating your best new leads.
Interested in setting up a referral program for your business? Talk to us today!
Ready for even more ways to get more referrals? Check out Part 2!