How to Reward the Right Kind of Customer Behavior
At the heart of every loyalty program is positive reinforcement.
When you offer exclusive rewards in exchange for profitable customer behaviour (ie. making a purchase, referring a friend), your users are quick to understand how their actions are linked to the benefits they receive.
Positive reinforcement is everywhere: A student who receives a gold star for acing their tests is likely to try and succeed again. An employee who receives a bonus after hitting their sales quota will work hard to repeat this accomplishment.
It's a popular strategy because behaviour that's followed by a positive reward is proven more likely to occur - and recur.
While positive reinforcement with loyalty rewards works by inspiring customer action, rewarding the same customer behaviour at all times isn't your most effective way to drive brand loyalty.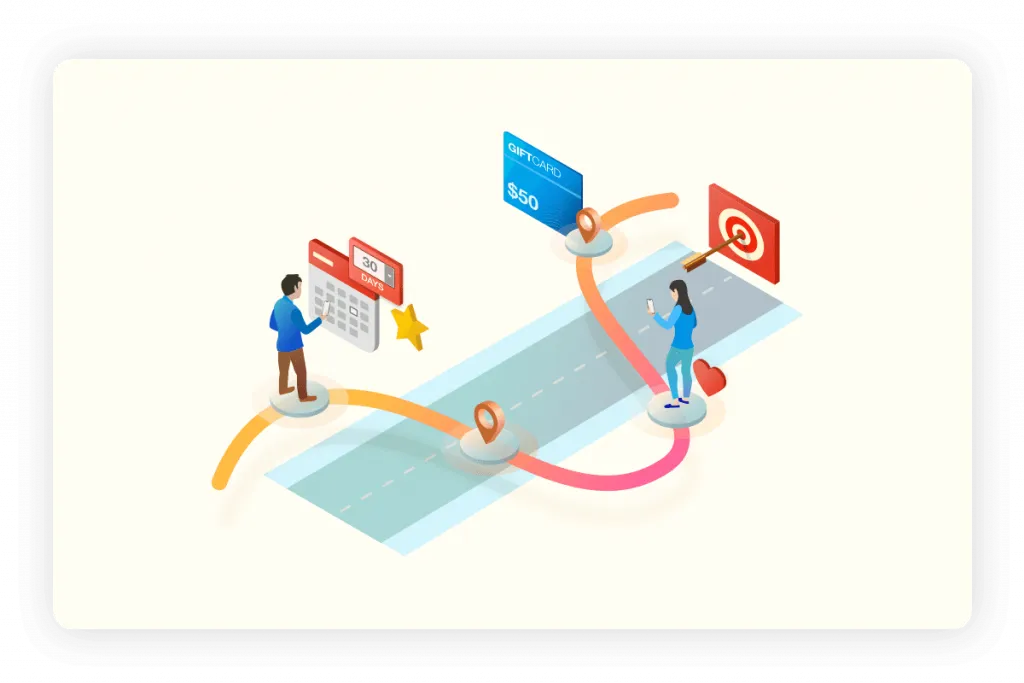 As customers mature, their knowledge, confidence, and commitment levels vary, making it necessary to customize the behaviour that they are rewarded for.
Just like you wouldn't ask your date to marry you after the first dinner together, incentivizing a customer to make a referral after they've spent 5 minutes on your website isn't the most sensible approach.
We'll show you how intentionally selecting the best actions to reward based on a customer's stage in their journey helps you influence how, when and how often they engage with your product - ultimately turning them into loyal brand advocates.
Reward different behaviour at each point in the customer lifecycle
When choosing the best behaviors to reward, we turn to the customer lifecycle model: the progression of steps a customer goes through when considering, purchasing, using, remaining loyal and ultimately stopping using your product or service (source).
There are five key phases in the model we'll be using: Acquisition, Activation, Retention, Revenue, and Referral (known as AARRR for short).
As a digital marketer, your key goal is to turn one-time buyers into returning loyal customers.
This is done by successfully moving users through each stage of the journey, from acquisition all the way to revenue and referrals - ie. moving users "through the funnel".
By drawing on different customer characteristics at each phase of the lifecycle, you can be strategic about the behaviour and actions you incentivize to propel them to the next stage.
Why should you reward different behaviour at different points in the journey?
Intentionally incentivizing different behaviour is necessary to account for shifting user characteristics. Throughout a customer's journey, these factors all vary:
A user's knowledge about your product
A user's opinion of your value proposition
A user's ability to influence others
A user's commitment and buy-in to your product and brand
A user who just came across your website is not someone you want to encourage to make a referral, because your best advocates are those who are knowledgeable about your brand.
Similarly, you're better off incentivizing a long-time client to leave a review than to complete an in-app tutorial, as their loyalty is an extremely valuable tool for referring new business.
The traditional approach is to reward all users (regardless of position in the lifecycle) when they contribute to your bottom line with a purchase. However, there are many more specific actions you can incentivize to build brand loyalty.
What behaviour should be rewarded at each stage?
Acquisition
Acquisition represents the moment you have your first transaction with a user, though not necessarily through an exchange of money.
In the digital economy, acquiring a new users or leads typically involves them registering for a trial or downloading your app and creating an account.
The user is now individually identifiable amongst a general pool of prospects but has not yet purchased.
Your goal at this stage is to initiate basic relationships with potential customers, and incentivize them to learn more about your value proposition.
Behaviour to reward at this stage:
• Sign up for your newsletter: Collect user contact information in exchange for a discount code or store credit. Receiving your newsletter keeps your brand top-of-mind and can spark further interest and action.
• Start a trial: Encourage users to create an account and begin a free trial with your product. You can leverage email or mobile push notifications to promote you best feature and nudge them towards the activation stage.
• Download a piece of content: Your marketing plan likely involves publishing blog articles, case studies, and educational guides to attract prospects. Let users unlock exclusive content in exchange for providing their email address.
• Complete a small educational session: Create a short series of videos on an industry topic for prospects to watch, and reward them after completion. Don't forget to include a soft-pitch for how your product or service helps accomplish the user's goals.
For example, if you run an e-commerce store, offer new website visitors a $10 store credit if they sign up for your weekly newsletter. You now have their contact information to keep nurturing the relationship, while the customer has a new reason to return to your site to browse and hopefully purchase.
Intended result: Nurture them into users of your product/service
Activation
The activation stage signifies the moment when a user engages with features of your product for the first time. For digital businesses, this is typically during a free trial or limited access period.
Just because they've signed up for a trial or downloaded your app doesn't mean they're active customers. This is the point when the user is testing you out, and seeing if your product or service is useful.
Your goal at this stage is to encourage product usage by rewarding any action that further exposes them to your offering, convincing them that it's worth the investment of time or money.
Behavior to reward at this stage:
• Any in-app action: Depending on your platform, this could involve making a post, creating a listing, watching a video, placing an order, or simply logging in to your portal or app. Here is where you want to reward actions that demonstrates use of your product.
• Profile completion: Incentivize users to log in and fill out their profile. This not only helps personalize their experience, but provides you with valuable customer data.
For example, if you're selling a digital note-taking application, encourage a new user to create their first checklist in exchange for unlocking a premium feature. This helps the user clearly understand the benefits of being a paying customer.
If you're running an on-demand workout service, reward new users for completing their first workout video. Give them a discount coupon to apply to a subscription when their free trial is over.
Intended result: Nurture them into active product user.
Revenue
A user enters the revenue stage when they make their first purchase such as placing their first order or paying their first month's subscription.
They've been convinced that their financial investment is worth your value proposition.
Your goal at this stage is to have the user make their first payment. Rewards can be used to help convince those who might be on the fence about committing.
Behavior to reward at this stage:
• Place an order: This is the traditional behaviour that's incentivized by a discount or collection of loyalty points. It's a concrete representation of the user contributing to your bottom line and becoming an active customer.
• Pay for X months upfront: Incentivize a more substantial financial commitment by rewarding those who pay for several months of a subscription up front. This increases their commitment to your product and helps with cashflow.
For example, a CRM software solution might offer a complimentary training session and e-book when a user buys a subscription before the free trial is over. The added sense of urgency encourages a smooth transition from trial to active subscription.
Intended result: Nurture customers into repeat buyers
Retention
Once a customer has made their first purchase, the goal is to keep them coming back. This is done through up-selling and re-engage your best users.
Essentially, the rewards shouldn't stop after a customer has made their first purchase. This is especially true when we realize it's far easier and cheaper to sell existing customers than new ones.
Your goal at this stage is to remain top-of-mind for customers and encourage repeat purchases/habits to help build the foundation of a loyal brand advocate.
Even if you think you've lost a customer, making an effort to re-engage them can be 5 times more cost-effective than starting over with a new customer at the acquisition stage.
Behavior to reward at this stage:
• Reach a usage goal: Reward users for staying engaged and keeping up a certain amount of logins per month, making frequent purchases, or repeating any in-app activity. VIP rewards attainable by only your top customers become extremely attractive when they play to a user's social status.
• Upgrade their plan: Incentivize plan and feature upgrades with a discount or credit. Exposing users to more of your advanced features boosts their product knowledge, making them better brand advocates.
• Make a follow-up purchase: Your best customers may have gone quiet at this stage and need a reminder of why they loved you. Incentivize them to re-activate a subscription or complete a new purchase to edge them closer to the referral phase.
• Go to an industry event: Reward customers for their attendance to an industry event that will further their education and need for your product or service. This could be a networking meet & greet for your top customers, or a product launch to keep them excited about your brand.
For example, a meal-kit delivery service may periodically reach out to customers who have cancelled their subscription and incentivize them to reactivate with 50% off their next month of meals. When done right, efforts to win back lost customers can increase spending frequency and boost lifetime value of your clients.
Intended result: Turn customers into lifelong users and brand advocates
Referral
Engaging users at the referral stage of their journey is one of the most important efforts you can make.
This is where your loyal, repeat customers will advocate on your behalf to bring in new business - an extremely effective form of marketing.
A study by Texas Tech found that 83% of consumers would be willing to refer new business to a brand they love, but only 29% of them actually do, making rewards a key component of motivating users at this stage.
Your goal is to help these customers develop into strong advocates for your brand. After all, 81% of consumers trust their friends and family's advice over advice from a business.
Behaviour to reward at this stage:
• Send a referral code to a friend: When you leverage dedicated referral software, unique referral codes are generated for your customers to share across multiple channels and give their friends a discount (or other benefit), plus earn a reward for themselves.
• Promote your brand on social media: Encouraging users to share your Instagram or Facebook post is a great way to expand your reach into new social circles. Often, this is backed by a contest where those who share the post are entered into a prize draw.
• Leave a review: Reward users for leaving a product review on a well-known review website like Software Advice, Capterra, or even on your Facebook business page or Google listing.
• Act as a customer reference in the sales process: Reward customers for putting in a good word to those in the evaluation stage. A survey from Hubspot revealed that buyers' two most trusted sources of information when making a purchase decision are word-of-mouth referrals and customer references.
For example, if you run a ride-sharing service, incentivize users to send a referral code to their friends. When used, the code gives both the referring and referred user $10 towards a future trip.
Plus, because referrals involve two parties (the referrer and the referee), you have the ability to target two users at different stages in their lifecycle.
For example, if you run a digital staffing agency, you may choose to only reward the referrer (in the referral stage) once the referred user (in the activation stage) has logged a sufficient amount of hours within the application.
Intended result: Continue to increase customer lifetime value
How do you set this up?
To reward the right kind of customer behaviour, you need a loyalty platform to configure, test, and report on how you're affecting users at each stage in their journey.
A solution like SaaSquatch can be configured to reward users based on any customer behaviour of your choice. Pass in any custom event from your system to automatically reward the right users at the right times.
Using dedicated software means you always have the most up-to-date insights into customer behaviour and what action/reward combination is successfully nurturing them to the next stage.
It helps you clearly understand your own brand's customer lifecycle, and what stages need more attention than others to keep moving users towards becoming loyal brand advocates.
P.S. Now that you know when to reward your customers, check out Part 1 of our series on choosing the best type rewards to offer for every scenario!