10 Ways to Optimize Your Push Notification Strategy
Taking advantage of a push notification strategy is an effective way to reach users and provide them with immediate, actionable value. These often overlooked messages are both convenient for the recipient and highly valuable for brands. What's not to love?
Whether you're trying to drive engagement, drive sales, or push more total app installs – using push notifications in a personalized, respectful manner is a gateway to marketing success. As always, remembering not to overstep the boundaries of customer privacy and preference with this delivery method is important, as is including it as part of your larger multi-channel strategy.
Today, we'll talk about everything you need to know about push notifications. Showing you how to optimize your push notifications, personalize them, and deliver them with your business goals in mind. The best e-commerce companies are coming along to lead by example, showing the way while we discuss in detail how to reach users – right in their front pocket.
---
1. What are Push Notifications?
A push notification is a message that pops up on the home screen of a mobile device. Users do not have to be in the app or using their device at the time of arrival. App publishers can send these notifications anytime.
Push notifications look like SMS text messages and mobile alerts, but they only reach users who have installed your app. Each platform – iOS, Android, Fire OS, Windows, and Blackberry – has its own services.
In order to receive the notifications, the user must have agreed to allow the app to send them notifications at the time of install. Otherwise, the user must go into their settings and establish their willingness to receive push notifications from the app.
---
2. Why are Push Notifications Important?
For app publishers, push notifications are a way to speak directly to a user or a segmented group of users. They do not get caught in spam filters or overlooked in an inbox.
According to research, click-through rates on push notifications can be 50% higher than on emails. A total 68% of customers have enabled push notifications for their apps.
What's more, these messages promote a 92% higher mobile app retention rate. That's because they remind users, in myriad ways, to use the app – whether the app is open or not.
Because of their direct and intimate arrival style, notifications can be used to drive real action:
Promoting products or offers to increase sales

Improving and informing customer experience

Increasing brand engagement

Converting unknown app users to known customers

Sending transactional receipts immediately

Driving users to other marketing channels, like social networks
---
3. How Do You Send Push Notifications?
First, push notifications can be targeted to segments of your user base and personalized for specific app users. This is a distinct advantage over SMS text messaging. That said, this requires the management of user identification data, as well as an interface for writing messages, targeting them, and sending them. We'll cover these best practices soon.
Publishers can build these structures themselves or hire a vendor to perform these tasks. Such companies include:
Urban Airship

LeanPlum

Kahuna

Appboy

MixPanel
Most publishers focus on building a great app and leave the rest to the vendor. Platform providers perform additional services, such as:
Reporting

Scheduling

Mobile marketing automation

User attribute collection and segmentation

Data management

Security

Cross-platform support
---
4.Best Practices for Push Notifications
Push notifications are an intimate form of communication. After all, they arrive unscreened on your mobile device. The messages are attention-grabbing by nature, sliding into view no matter the circumstance. That said, notification messaging should be delivered like a light tap on the shoulder from a friend you've not seen for a while. It should be immediate, personal, and re-engaging – never intrusive or irrelevant.
Publishers are best served to remember that it's a privilege, and not a right, to send users push notifications. That means publishers must also provide value. If they don't, notifications get turned off and the app gets ignored. Worse yet, the app gets uninstalled. If you're sending "urgent" or "time sensitive" messages that aren't worth the time, watch out for the boot.
(Source)
The airfare app Hopper provides a great example of a worthwhile, time-sensitive notification. The direct and concise message reminds users of the urgency of the action while keeping the tone friendly and personal. Once users swipe to investigate, their screen opens a basic, easy-to-read format screen to promote the sale.
---
5. The Opt-In Prompt
The first point of interaction is the opt-in. Information provided by app vendors comes in very handy starting at this first touch. Maximizing opt-in rates, ensuring that new users are properly onboarded, and reducing user churn rates are key to app success.
High-performing apps across industry verticals, those in the 90th percentile, have opt-in rates above 50%. Travel, business, and charity app opt-in rates hover around 70%.
The best apps will encourage users to opt-in by offering incentives and examples of the value that push notifications provide.
(Source)
Hopper, again, does a great job of providing an open, friendly onboarding screen. The airfare-predictor app demonstrates to users the values they'll receive by allowing Hopper to send them push notifications in an inviting, respectful fashion. Their messaging is personified by a bunny and uses powerful language ("instantly") to keep their branded message on point and persuasive.
---
6. Use a Multi-Channel Strategy Wisely
A multi-channel approach is great way to assist users with setting up and engaging in your app fully. As with push notifications, providing succinct messaging, convincing examples, and incentives can drive home exactly why the app is valuable and worth using.
When using this multi-channel strategy, harness the power and insights of user's data across channels (mobile, web, store, etc.) to better track and adjust to user behavior. Also, make it easy for users to share content on social networks.
Campaigns using push notifications alone increase retention by 71% when they send one notification within the month, while those with a second channel boost retention rates by 130%.
Store promotions, app updates and time-sensitive campaigns need to be approached with care as frequent use of push notifications and in-app messaging can cause high opt-out rates.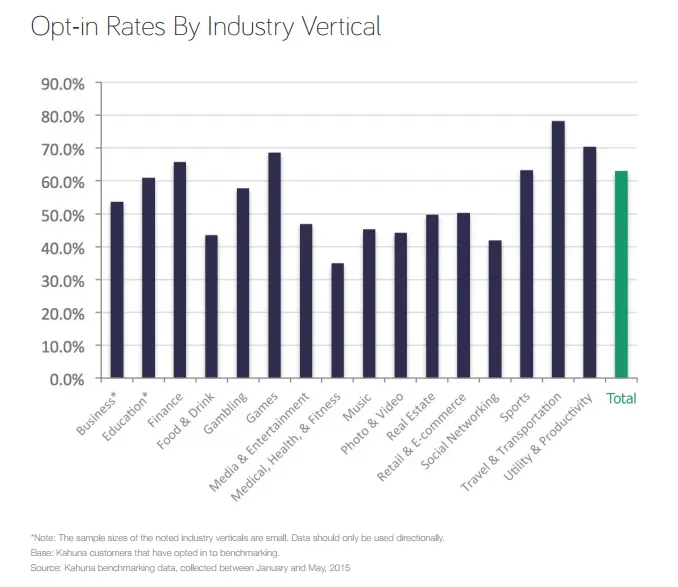 (Source)
Kahuna shows us that 60% of users cite "irrelevant notifications" as one of the main reasons to uninstall or opt out of push notifications.
Up to 60% of users opt out from social and news apps. While apps that let you know if a friend has joined or published a post are appreciated, not many people care that Uncle Ron liked a picture they posted. Giving attention to opt-outs and uninstalls will steer your consideration for how best to trigger push notifications.
78% of users will opt out of push or uninstall if they get messages they're unhappy with, and the majority of apps lose 80-90% of new customers within 90 days. This shows how delicate you should be when sending messages.
---
7. Email Inside the Multi-Channel Strategy
What if a user is lagging behind in their onboarding process? Or has opted out of push notifications altogether?
This is where a multichannel approach to app engagement is essential. Email can be used to reach users who've opted out of push notifications and re-engage them with value-driven campaigns.
Vendor platforms allow you to sync emails with push notifications.
But sometimes email makes more sense than a push notification, especially when your app goes through some of its inevitable changes. Whether it's new features, new capabilities, new design – it's best not to leave less engaged users behind.
This StyleRyde feature announcement campaign is a strong way to keep users updated on changes in the app. Some users will uninstall if they come back to using an app that's drastically different from what they remember. It's these users – the less engaged – that might warrant an email update instead of a push notification. Email supports richer content and in-depth copy to communicate the finer points when trying to encourage users back to your mobile app.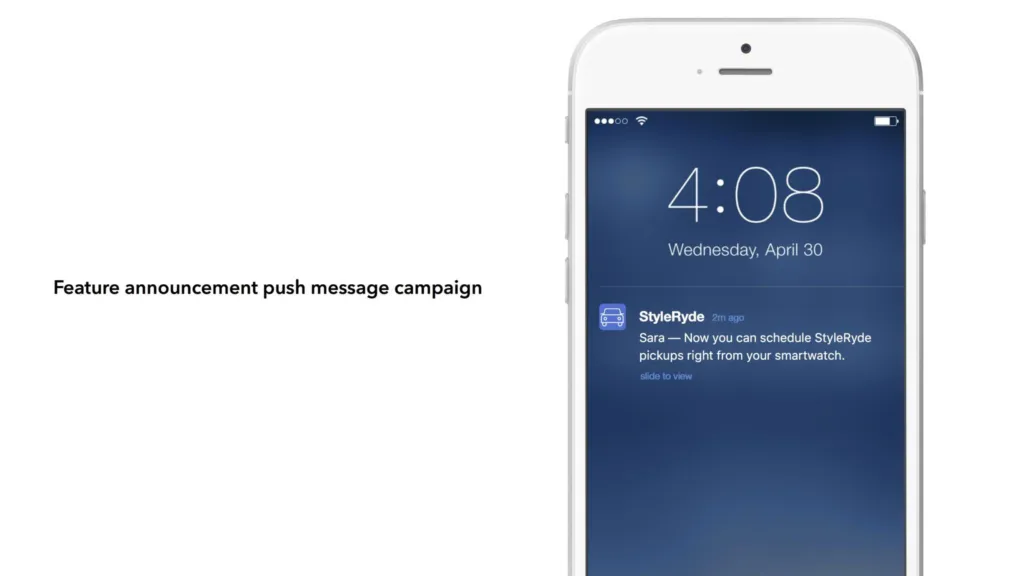 (Source)
---
8. Message Personalization and Optimization
Within a push notification platform, message personalization allows brands to insert customer names, product preferences, and other data in messages. This creates more intimate, targeted outreach. According to ApbBoy, apps that include personalization see more than an average increase of 27% in conversions associated with each push or email.
Rue La La provides an excellent example of how to re-engage customers who haven't interacted in a while:
(Source)
Customers respond to brands that make them feel unique instead of part of a large customer pool. Using customer data, the online clothing boutique is able to speak to users on a personal level. Which leads to higher app engagement and stronger sales.
---
9. Segmentation
Segmenting and filtering users before sending messages is crucial for maximum impact. Composing messages and customizing message deliveries are possible as part of a push notification platform, and making full use of them can make all the difference. Location data and behavioral data blend well for effective user targeting.
(Source)
Ticketmaster provides users with timely, no-nonsense notifications about the latest and greatest events in their area. By taking into account demographic and user histories, the ticketing giant is able to reach and promote sales in a quick, effective way to those most likely to purchase (often at a higher price).
---
10. In-App Customization
Knowing when to send messages is of crucial importance. No one wants to wake up at 3 a.m. because their phone pings with a promotional offer, however enticing it may be. These messages are best sent at times when people have time to act: during the morning subway ride or mid afternoon on weekdays.
Kayak, however, gets away with sending notifications whenever necessary, because they ask for user permission at setup. This keeps uninstalls and opt-outs to a minimum.
---
Takeaways
A push notification strategy requires a delicate touch. Not only do you need to remain tactful and potent in your messaging, you need to know when to ease up or change your approach. A multi-channel strategy will support your best practices within the app, helping keep engagement high through email or in-app messaging.
Taking advantage of user data allows you to segment and customize messaging to effectively target users with your push campaigns. Your push notification strategy needs to be well-planned and provide value to users at every step of the app experience.