Product Updates: Internal Notes, Widget Customization + More
What's new at SaaSquatch? Our newest product updates help you streamline reward fulfillment, improve customer relationships, and boost your referral program ROI.
Subscribe here to never miss an update!
Portal Updates
Add custom notes when redeeming rewards
We've heard that sometimes our reward statuses didn't provide enough information to end-users. It wasn't enough to tell customers that a reward is just "Earned" or "Redeemed" or "Cancelled".  That's why anyone on your team can now add a custom note to each reward, and show it to end-users in their rewards dashboard.
We've seen how this little bit of extra info can go a long way to keep your users happy and reduce the number of support tickets you receive.
For example, if user rewards are fulfilled against specific purchase invoices, add a reward redemption note to show which reward relates to which invoice. You can choose to display these notes to the end-user when customizing your reward widget.
However, not all information is meant for your users' eyes. Keep a seamless internal record of rewards by adding an internal note to every reward.
This helps you ensure the data in SaaSquatch is in sync with the information in your other systems, and enables support agents or marketers to quickly answer customer questions.
How it works: When redeeming or editing a reward in SaaSquatch, add an Internal Note or a Customer Facing Note. This process can be done for any reward, and notes can be adjusted/removed at any time.
Customize the Referral Reward Widget with notes and expiry dates
Keep customers informed by letting them see when a reward is due to expire, plus any customer-facing notes you've added to the reward.
New options in the Referral List settings panel let you customize your referral reward widget to show Expiry Date and Customer Notes:
When enabled, customers get a clear picture of their referral reward status in the Rewards Dashboard:
*This feature is not available in our Classic Referral Programs
Easily navigate your Program Participants page
Quickly locate and record details about your users' rewards to keep all systems in sync and answer customer questions.
Here are the new columns and features on every program participant's profile:
What was previously a "Manage" button is now a set of 3 dots to present your reward management options.
A new Customer Note column shows any customer-facing notes added to rewards. Hover over the "i" icon to see your internal notes on each reward.
Program Updates
Customize the referral cookie expiry date
One of the ways SaaSquatch tracks referrals is by placing a cookie in the friend's browser when they click a share link. It ensures that we know who referred whom and that rewards are given to the right people at the right time.
You can now decide how much time should pass before this cookie expires, instead of always using the default time frame of 12 months.
This customization lets you decide whether to create urgency with limited time offers, or to give users plenty of time to act on a referral.
*Not available in our Classic Referral Program
Set up tiered referral programs
If you're looking for a better ROI on your referral program, or want to appeal to a broader range of participants, you can now set up a tiered referral structure to reward different types and levels of referrals.
Create tiers based on your own custom rules like:
How much the referred friend spends
What kind of customer is referred
How many referrals a customer makes
For example, reward promoters with a $10 credit if their referred friend subscribes to the Basic plan, or reward them with a $40 credit if their friend subscribes to the Premium plan.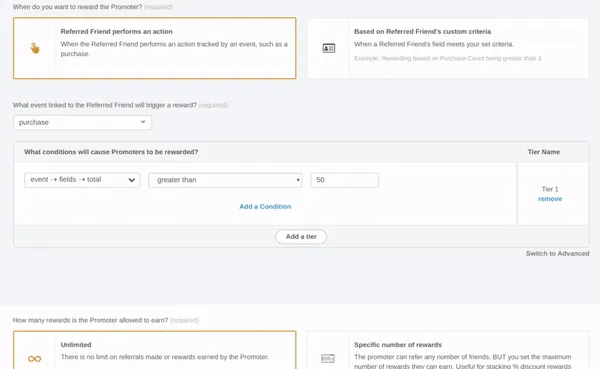 Read all about referral tiers here.
Security Updates
Learn how our SoC 2 protocols keep your data secure
When you work with a leading customer referral and loyalty platform like SaaSquatch, you deserve to know that your user data is monitored in accordance with the industry's highest standards.
This is why we've entered the readiness phase of earning our SoC 2 Type II certification — An achievement that represents our continued commitment to building on trustworthy customer relationships.
At SaaSquatch, our mission is to fuel your growth with referral and loyalty programs, and that should be all you need to focus on. Any time worrying about the integrity and security of your customer data is time that should be spent reaching your business goals.
Click here to learn more about SoC 2 and why it matters.
What's next?
Stay tuned for what's next at SaaSquatch by subscribing to our updates. Missed an announcement? View all product updates here.