Product Updates: Pending Rewards, Multi-Step Programs & more!
What's new at SaaSquatch? Learn how our new updates help you drive more conversions, boost your program ROI, and improve user engagement.
Subscribe here to never miss an update!
Program Updates
New configuration options to support your program goals.
Set up Pending Rewards to handle refund periods and tackle fraud
To combat fraud and maximize program ROI, add conditions that hold referral reward(s) so that they can be cancelled before distribution.
For example, while gift card rewards are a great option for saying thanks to customers for a referral, once they are given out they are nearly impossible to retract. So by setting a delay period where the reward is canceled if a refund occurs, you can be confident that rewards are only given out when all referral conditions are met.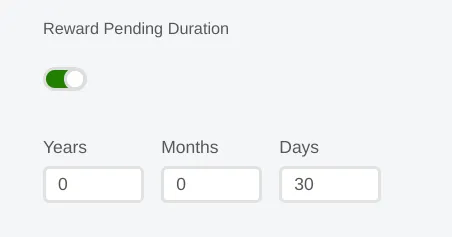 This is useful when dealing with refund periods where you would want to hold the referring customer's gift card reward for 30 days in case the friend that they referred returns their product or cancels their subscription.
This ability helps you ensure that all referred customers are actually contributing to your bottom line, and prevents anyone from taking advantage of your rewards.
Support complex customer journeys with a Multi-Objective Referral Program [Feature Open for Early Access]
When dealing with long sales cycles or complex customer journeys, a single-touchpoint referral program may not engage customers and prospects in the way you need to drive sales.
With SaaSquatch, you can now create a multi-objective program that sets small goals throughout the buyer's journey where both the promoter and referred customer can be rewarded at each milestone.
By defining various checkpoints throughout the sales process, you can reward advocates early on, and increase your chances of getting the sales process started and completed by a new customer.
For example, a multi-objective referral program for a CRM software platform might look like this:
Objective 1: When an existing customer refers a qualified lead who completes a product demo, give the existing customer a $25 gift card.
Objective 2: When the referred customer signs a 12-month contract, reward both the new and referring customer with a $100 gift card.
Why does this work?
Your existing customers are more willing to start the referral when the task at hand (ie. completing a demo) is simple and attainable, meaning they will earn their reward quickly.
Prospects are more willing to enter the sales funnel knowing that the ask (such as starting a free trial) is not binding, and may even let them earn a preliminary reward.
Learn more about how a multi-objective program can support your goals.
Drive urgency with limited-time earning periods in a VIP Program
Looking for a way to supercharge user engagement within your app?
When setting up a VIP program, you can decide whether to reward participant activity all the time, or only during a limited time frame. When choosing the limited time option, your users have a specific time window (in days) to qualify for a VIP reward.
For example, an on-demand app like ride sharing or food delivering might only reward users who sign up and load $50 into their account within the first 30 days of use. This creates the necessary urgency to drive engagement for new users right away.
Portal Updates
New changes you'll notice when updating and creating your programs.
A refreshed look for the Code Manager & Security Pages
The Code Manager and Security pages received a facelift to improve accessibility. All functionality remains the same, but now you can navigate the options with ease and quickly see your settings at-a-glance.
Security Settings
Code Manager
*New* Location: Under "Rewards" tab
Scroll through a Gift Card Picker in the reward setup page
When you choose to reward the promoter or referred friend with a gift card, you can scroll through a visual gift card selector to easily select your preferred brand, currency, and custom amount.
Many brands are available in multiple currencies and you can filter by currency to quickly find exactly what you're looking for.
Learn more about when and why to use gift card rewards.
Technical Updates
New changes behind the scenes to keep your programs running smoothly.
Updates to facilitate new third-party browser cookie rules
As you learned in our latest product update, one of the ways SaaSquatch tracks referrals is by placing a cookie in the friend's browser when they click a share link. It ensures that we know who referred whom and that rewards are given to the right people at the right time.
However, browsers like Chrome, Safari, and Firefox are shifting away from the use of third-party cookies that were previously used in this process.
Third-party browser cookies are those that take your information and history from one website and load it on a different website, such as to show you targeted ads for something you were recently browsing.
In an effort to promote transparency and limit how much personal information is shared across websites without a user's consent, browsers are putting measures in place to block the use of third-party cookies.
What this means for referral providers like SaaSquatch is that we must make use of first-party cookies to pass referral information from SaaSquatch to your domain. This is done by placing specific javascript on your landing page so it can read UTM parameters sent from the SaaSquatch domain and create a valid first-party cookie.
Learn more about third-party cookies and our newest update here.
What's next?
Stay tuned for what's next at SaaSquatch by subscribing to our updates. Missed an announcement? View all product updates here.