Using Incentives to Win Back Customers & Reduce Churn
You've probably had countless "we miss you" emails sneak into your inbox from brands you've stopped engaging with.
Chances are, most of these end up in the trash. The absence of any clear value or offering makes them sound more like a desperate plea for your business rather than an honest invitation to reactivate the customer-client relationship.
It's a good sign that companies are starting to realize the value of re-engaging past customers, but not all know the best ways to actually revive a quiet or churned customer.
So how do you win back your customers without sounding desperate, annoying, or just plain pathetic?
To help you out, we have brought together our favorite incentive-based strategies for convincing customers to give you another chance.
Why should I bother winning back customers?
Customer churn can be a big problem for digital products and services, mainly due to low switching costs. A lost customer could be defined as one who has canceled their subscription, not made a purchase in a while, or deleted your app from their phone.
It's easy to become focused on customer acquisition methods; however, re-engaging inactive users can actually be 5-25 times less expensive than going after new ones.
Not only is it cheaper, but you have a 60 - 70% chance of selling to this group. Plus, existing users are 50% more likely to try new products and spend 31% more, when compared to new customers.
In one of our previous posts, we cover the ins and outs of running a win back program and why it's worth the investment. If you haven't yet, give it a read to understand the top 5 keys for launching a successful win back program.
Now that you're familiar with the basics, here are 5 ways to leverage incentives and bring back your customers.
How to win back your customers with incentives:
1 - Give them a birthday present
Tracking the birthdate of each customer sets you up for the perfect annual re-engagement opportunity.
Your advantage here is that celebrating someone's birthday year-after-year would never come across as redundant, or as overkill. People rarely complain about receiving extra gifts.
Birthday presents make people feel celebrated and create a classic "happy moment" with your brand. These positive emotions increase a user's likeliness to further engage with your product or service and increases their willingness to try a new feature or re-activate a trial if prompted.
An alternative is celebrating a customer's "anniversary" with your brand by rewarding them a year (or other timeframe) after their first purchase or signup date.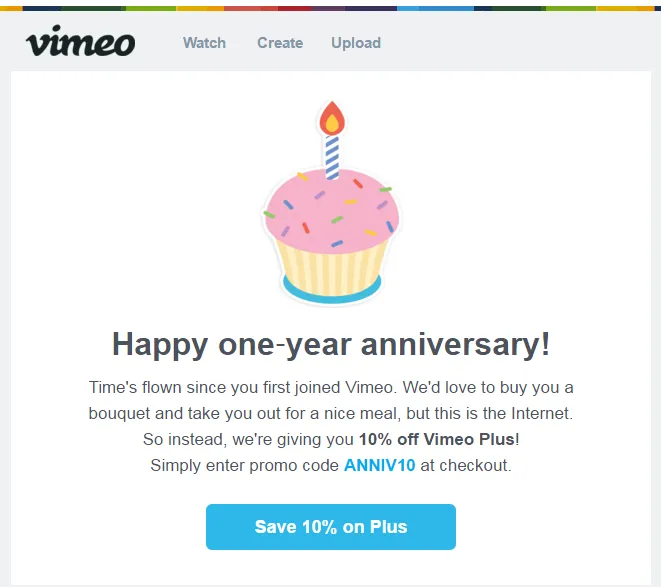 When you leverage the right loyalty software, you simply select the reward and how many days before the user's birthday it should be triggered. The system automatically monitors a user's birthday and sends them an email notification accordingly.
2 - Remind them of their reward status (and help them reach the next tier)
If your brand's loyalty rewards are segmented by VIP tiers where more product usage leads to more exclusive rewards, a customer may have lost track of their status and benefit from a reminder.
The user may have no idea that they're three purchases away from the top VIP tier, or that they have a $10 credit waiting to be used. Outlining how easy it is to access the best perks may be just the motivation they need to make a purchase and reach the next program goal.
Take this a step further by helping them reach the next reward tier. Instead of requiring $100 spent to become a VIP, lower the amount to $80. If your rewards system uses points, credit an extra set of points to their account.
Keeping your rewards program top-of-mind reminds users of the added value they gain from using your brand as opposed to a competitor.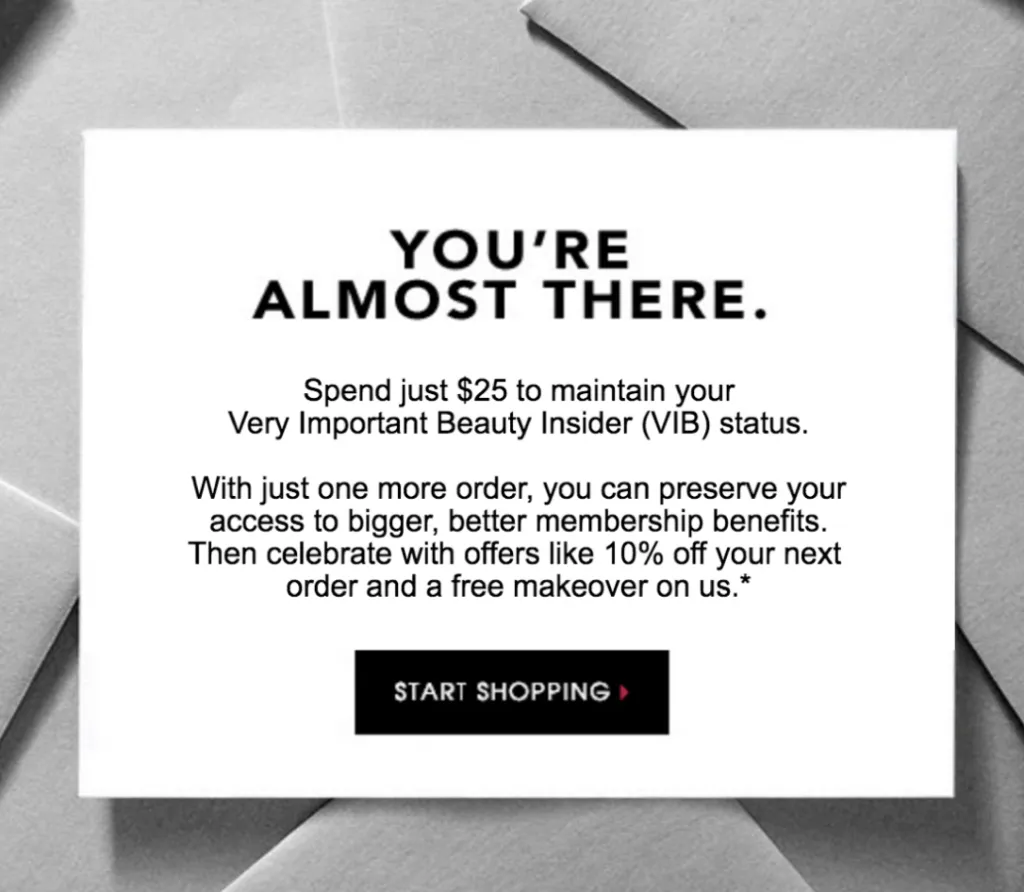 P.S. This may be a good time to make sure the complexity of your program isn't the cause of customer abandonment. Remember that the most successful loyalty programs are characterized by simplicity and ease of use.
3 - Ask for feedback in exchange for a reward
Incentivizing your customers to give feedback not only makes them reconsider using your product or service, and provides you with powerful insights to both proactively and reactively address reasons for churn.
For example, maybe a user's feedback attributes their subscription cancellation to the absence of a specific product feature, which you've since implemented. Present them with a welcome offer to try it out, and you're well on your way to winning them back.
Even if feedback reveals your product still isn't a fit, this active communication builds a positive relationship and the customer will be more likely to recommend you to someone else.
Plus, the feedback you receive becomes an invaluable tool for driving product improvement and growth. Offering incentives (ie. order discount, extended trial, free shipping) typically lifts survey response rates by 10-15%.
4 - Offer a time-sensitive discount or premium feature trial
Engage your best-lost customers with a limited time offer to encourage a visit to your website, or to promote the use of a premium feature.
The key is to communicate the exclusivity: ensure they believe it's only available for them (even if it's not), and for a limited period of time. If they feel like they're being tempted with the same incentive as everyone else that day, there's no extra motivation to follow through.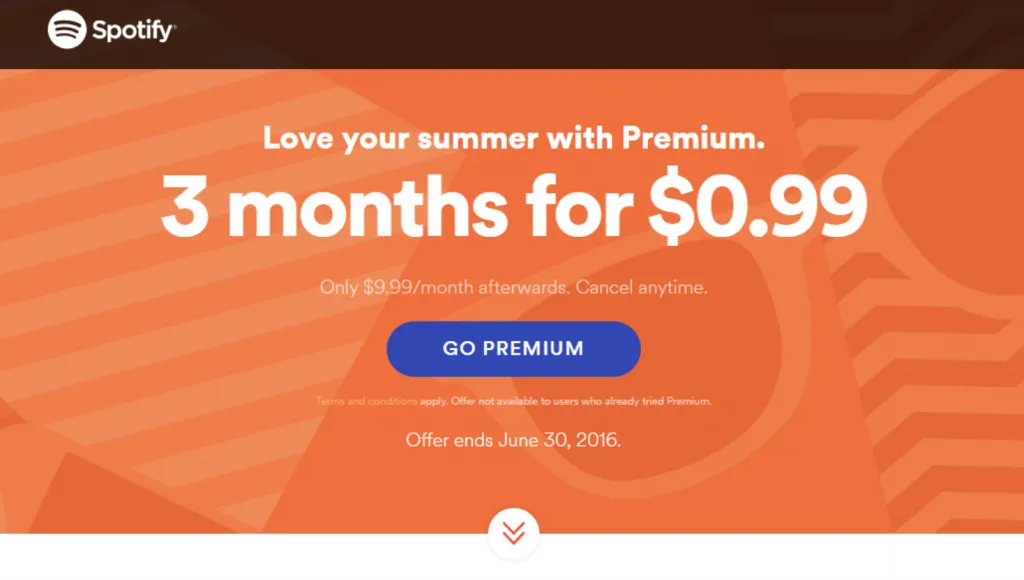 Be careful with not putting too many restrictions on the reward redemption process. There's a fine balance between making the reward easy enough to redeem and applying a sense of urgency to re-engage the customer quickly.
A sample re-engagement email to a dormant Uber customer (pictured below) cites a 4-step process the passenger must follow to receive their incentive, each step with its own conditions.
The intention is good but the offer could be simplified - especially if trying to re-engage a customer who is on the fence:
Remember, the point is to make it a no-brainer for them to return as a customer, not to pose a skill-testing question or have them jump through hoops.
5 - Invite them to a free event
People love receiving event invitations and feeling socially included. Invite your disengaged customers to a free webinar, networking event, meet & greet, or product launch to re-expose them to your value proposition.
Even if a customer attends only with the intention of expanding their professional network, experiencing your brand in real time can help remind them why they wanted to do business with you in the first place.
Be sure to invite your most active customers too. Not only will you further strengthen these relationships, but they're the best kind of advocate to positively influence your target guests.
If you don't have the means to host an event yourself, consider partnering up with the organizers of a well-known conference in your industry to entice lapsed customers with preferred pricing.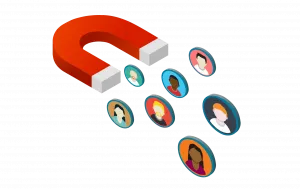 Extra tips for a great win-back campaign
Don't try to win everyone back
Win back efforts aren't meant to re-engage every single customer. Identify your top prospects based on their history, potential, and likeliness to come back.
An article in the Journal of Marketing indicates that your most valuable former customers are those who:
Have referred others to your brand
Left for reasons surrounding price rather than service quality
Had complaints that were satisfactorily resolved
Leverage data to personalize rewards
Turn to historical customer data to tailor your messaging and incentives for increased chances of success. Knowing past purchasing behavior, old support cases, and profile data can mean the difference between churn and retention when asking for a second (or third) chance.
For example, a meal-kit delivery service is better off enticing canceled users with meals relevant to their previous selections. Showing meat-based dishes to someone who previously signed up for a vegetarian meal plan will not be successful.
Leverage the opinions of your best customers
It's unlikely that your best customers are all friends with the customers you want to win back, so a direct referral might not be possible. You can still leverage the positive opinions of your top brand advocates as an indirect referral mechanism to strengthen your win back proposition.
Incentivizing user-generated content like reviews and social media posts can seriously boost your credibility. Customer reviews are trusted 12x more than marketing coming directly from your organization, and 85% of consumers say that visual user-generated content is more influential than brand-created photos or videos.
Final Thoughts
The biggest takeaway here is that your win back messages must add value to the customer. Your goal should not be to bribe a single, finite purchase, but instead to build a long-lasting relationship.
Customers won't respond well to false promises, empty offers, or desperate asks. They'll be enticed by something that shows they are valued by your company.
The more personal you can get, the better your chances are of winning them over.
If you're still not convinced that re-engaging inactive users is worth the investment, check out our post with 5 tips for success when running a win-back campaign.
To learn more about designing a successful loyalty strategy in the digital economy, sign up for the Digital Loyalty Academy today. Free access for the first 700 students.