Referral Programs: What should you be running?
We've all heard about a referral program, and as a consumer, you've likely come in contact with at least one along the way. Some big examples of successful consumer referral programs include Tesla, Dropbox and Uber. These programs are proving to be a cost-effective way for digital-first companies to acquire more customers at a fraction of the cost of traditional channels.
However, as common as referral programs may be, the confusion around what exactly it means seems to be more common. Like most things, the devil is in the details: Depending on who is referring who, what the reward is, and how the referral happens, the name and connotation of the program can change significantly.
Referral programs are an important part of an organization's complete growth strategy. In this article, we shed some light on the 4 most popular types of referral programs and which ones may work best for you. At the end of the article, download a free comparison table to take with you.
1 - Customer Referral Program
Referral: Customer -> Customer
Primary Market: B2C, B2B
Common Rewards: Credit, Discounts, In-Product Rewards
Customer referral programs reward existing customers for referring their friends, family and colleagues to a business. For digital services and products, referred users are typically sent to where they can download an app, sign up for a trial or browse the online store. Customer referral programs are commonly used for promoting consumer products, but can work just as well for business-to-business products.
The referrer is often rewarded after the referred user has made their first purchase, or after they have used your product sufficiently. It's common to reward both the referrer and the referred user in a customer referral program. Typically the referring customer is rewarded with something that can only be redeemed with the company, such as credits or discounts, as to encourage further product usage.
Customer Referral Program Example
Trello is a Kanban-style list-making application for personal and professional productivity.
Trello users can refer a friend – either by sharing their unique link or inviting someone to work with them on a Trello board – and earn a free month of Trello Gold.
2 - Partner Referral Program
Referral: Partner -> Customer
Primary Market: B2B
Common Rewards: Cash Payout, Gift Cards
A partner program is similar to a customer referral program except that the referrer is not necessarily an existing customer, but a member of a select group of trusted and often trained "Partners". Referred users can be asked to download an app, sign up for a trial or possibly submit a demo request. These programs are most common in business products but can be found in consumer products as well.
Partners often have the ability to give preferential pricing to the people they refer and are typically rewarded with cash for their referrals, often on a commission basis. One of the main differentiators of a partner program is the high level of engagement between the partner and the brand. It's not unusual for partners to be trained on the product, provided with marketing collateral, and even assigned a representative from the brand. 
Partner Program Example
Sleeknote is a website popup builder that lets you create popups for email capture, cart abandonment, or any other goal.
Anyone can apply to join the partner program and earn up to 25% recurring commissions on successful referrals. The program highlights quarterly payouts to partners, and free marketing resources to help them attract the right kinds of leads. However, before earning commission, partners must prove that they are engaged and active by referring three clients with their unique link.
Sleeknote's partner program also features a tiered reward system to let partners unlock new rewards and a higher payout.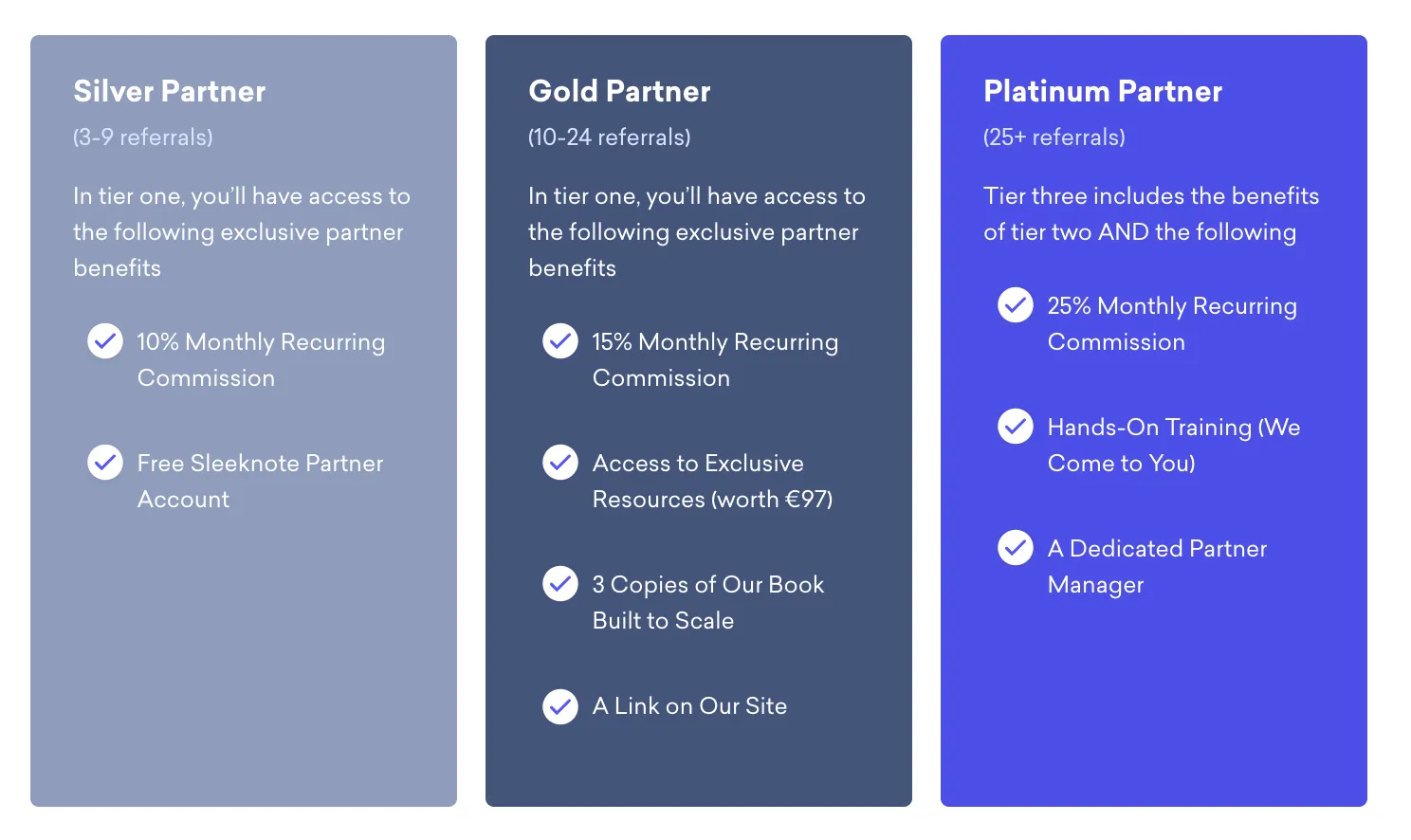 3 - Influencer Referral Program
Referral: Influencer -> Customer
Primary Market: B2C
Common Rewards: Cash Payout, Gift Cards, Product Samples
Influencer programs are like partner programs in the sense that you recruit a group of people to recommend your product. However, in an influencer program, you are typically recruiting social media celebrities, podcasters or other people with an existing following instead of trained salespeople as in a partner program.
Additionally, influencers aren't official partners and thus can brand themselves as such. These programs are almost exclusively used in consumer products, but if your industry has a prominent voice or a popular podcast, an influencer program could work for you too.
While it is not required, the referred user may receive a discount or credit when they sign up using the influencer's links or code.  Influencers are typically rewarded with one-time cash rewards for each new customer they help you acquire, or could be paid for a percentage of each sale they generate. Depending on your business it may make sense to pay out influencers after an app download/trial signup or you may want to hold off until a new user actually submits a payment. 
Influencer Program Example
Meal-kit delivery service Blue Apron leverages the power of influencers as one of its many acquisition strategies. Podcasters, Instagram personalities and YouTubers can be heard and seen un-packing, testing, and reviewing Blue Apron meal kits, usually with a special discount for their followers to use.
4 - Affiliate Referral Programs
Referral: Affiliate -> Customer
Primary Market: B2C, B2B
Rewards: Credit, Discounts, In Product Rewards
Affiliate programs are often rebranded as "referral programs" due to some of the negative press they have received over the years. Despite some people's feelings towards the word, affiliate programs can be very effective tools for the right business. Affiliate programs are essentially partner programs open to the broader public.
Unlike a partner program, affiliates come to you and apply to be part of your affiliate program. Because there is less of a connection between affiliates and businesses, there can be problems with affiliates following the rules. Affiliate programs are almost exclusively used in consumer businesses such as streaming services or e-commerce. 
While not as common as in other types of programs, it's possible for affiliates to provide a special offer to referred users. Affiliates are commonly rewarded with cash (on a commission basis) or gift cards. They can be rewarded for a wide variety of actions including trial signups, first purchase or a percentage of ongoing revenue.
Affiliate Program Example
The Amazon Associates program is one of the most popular affiliate programs. Users sign up, get approved, and start placing affiliate links on their websites (ie. blogs, review sites). When someone makes a purchase using one of those links, the affiliate receives a commission of the sale.
Referral Program Comparison
Customer Referral Program
Partner Program
Influencer Program
Affiliate Program
Referral Schema

Customer > Customer

Partner > Customer

Influencer > Customer

Affiliate > Customer

Brief Description

Existing customers recommend your product to friends and family in exchange for a reward. 

Other businesses market your product to their clients/network, using their existing channels. 

Influential people like social media personalities, bloggers etc. promote the use of your product to their followers. 

Website owners (of blogs, review sites etc.) recommend your product to their readers. 

Primary Market

B2C/B2B

B2B

B2C

B2C/B2B

Works well for (but not limited to)

Mobile apps, subscription services, on-demand apps, e-commerce

B2B software, B2B e-commerce 

Consumer mobile apps, subscription services, on-demand apps, e-commerce

Mobile apps, subscription services, on-demand apps, e-commerce

Common Reward Earning Structure

Referring customer and referred user are both rewarded upon successful conversion of the new user. 

Partner receives a commission for every new sale that they help generate. 

Influencer receives commission for every new sale/action that they help influence and referred users get a welcome discount. 

Affiliate receives a commission for every new sale that they help generate. 

Common Rewards

Gift cards, in-product rewards, gifts, swag, points. 

Commission, cash payout, gift cards.

Commission, fixed cash fee per post, gift cards.

Commission

Customer Referral Program
Partner Program
Influencer Program
Affiliate Program
Main Business Goal(s) 

- Acquire new customers

- Retain existing users

- Drive new sales through partner's relationships

- Raise brand awareness

- Acquire new customers 

- Increase revenue

- Acquire new customers

Best-suited products & services

Products/services whose value can be easily communicated by customers.

Products/services with a significant on-boarding process, buy-in from various stakeholders, or steep learning curve.

Products/services whose value can be communicated with first-hand usage (ie. unboxings)

Products/services with an easy to communicate value prop and with high enough margin to offer commission.

Advocate Example

Your customers

Other businesses (may or may not be your customers)

Social media personalities, YouTubers, podcast hosts, bloggers (may or may not be your customers)

Bloggers, owners of review sites, YouTubers (may or may not be your customers)

Level of engagement between business and advocate

Moderate/High

High

Moderate

Low

Pros

Easy and cheap acquisition method. Keeps existing customers engaged with a way for them to earn incentives. 

Attracts high-value clients and builds mutually-beneficial partner relationships. Reaches new audiences.

Reaches new audiences. Builds positive brand association.  

Low commitment with no need to monitor individual relationships. Easy to achieve positive ROI because of performance-based payout. Clear CAC.

Risks

Risk of referral fraud (ie. account cycling, self-referrals). 

Relationships may deteriorate without consistent effort put in by both parties.

Can be expensive with no guaranteed results if paying flat fee.

Affiliates might not follow all rules of the agreement. Brand representation may be hard to control. 

Success Stories

Dropbox

 

HubSpot

Fab Fit Fun 

Amazon 

Learn More

Guide to customer referrals

What makes a partner program?

What makes an influencer program?

An introduction to affiliate programs
Wrapping it Up
Regardless of the type of referral program you are looking to run, always think about these three things:
Who is the referrer?

Who is being referred?

What is the right reward?
The best referral software should enable you to multiple kinds of referral programs at once, depending on your business needs. Using dedicated referral software means having easy access to analytics and program data, and being able to keep your advocates in the know with responsive dashboards and widgets.