If you've read our blog before, you're well-aware that referral programs are effective for companies operating in the digital space. After all, referred customers are 18% more loyal, spend 13.2% more and have 16% higher lifetime values than non-referred customers (source).
We talk a lot about customer referral programs. But if you're looking for more ways to find new clients, it might be time to link up with other businesses to help widen your reach and amplify your message.
Implementing a Partner Program strengthens your salesforce by letting brand champions, corporate partners and resellers sell for you in exchange for a commission.
You may be thinking that you've already set this up by enlisting that well-known Instagram star to post a picture of them using your app, or letting that blogger sprinkle affiliate links throughout their website to drive traffic to your landing pages.
A partner program is much more.
Before we dive into the details of a Partner Program, let's clarify the differences between the three most common referral strategies that enlist third-parties to help you sell:
Influencer Programs
Affiliate Programs
Partner Programs
What's the difference between each program?
Each of these programs involves pairing up with third-party brand advocates to send customers to your business. In these types of performance-based marketing arrangements, the third-party is asked to promote your brand and as a reward, is compensated – typically in cash – for the revenue you receive as a result of their marketing efforts.
Although often talked about interchangeably, we can easily distinguish these programs by answering two questions about the business-referrer relationship:
How closely/often does the business engage with the third-party?
Is the third-party an individual or a company?
In today's post, we're diving into what you need to build and sustain a successful partner program.
Check out this article for a full comparison on customer, affiliate, influencer and partner referral programs.
What makes a Partner Program?
As pictured above, the relationship between your business and an official partner is characterized by a high level of engagement from both parties.
A partner program is formalized relationships with existing businesses who have their own customer base, website visitors or other sales channels, from which you can benefit being exposed to.
The idea is that your partners help you gain a presence in new markets and verticals in order to raise your brand awareness, increase leads and ultimately increase sales.
Here's an example from Sleeknote: once approved, partners can earn up to 25% recurring commissions on successful referrals. The program highlights quarterly payouts to partners, and free marketing resources to help them attract the right kinds of leads.
A strong partner relationship is built through consistent communication, clear goal setting, and regular check-ins to assess partner needs and progress. Due to the formality of a partnership, the setup process requires more upfront planning, communication, and resource commitment, but has the potential to yield powerful results.
Important elements that make a successful partner program include building win-win relationships with the right partners, creating formal agreements, and committing to ongoing maintenance:
Build Win-Win Relationships
A successful partner program equally benefits both your business and your partners.
A mutually-beneficial arrangement is only possible when both parties have expressed clear goals that can be realistically achieved by working together.
Start by determining your own goals – why are you implementing a partner program? To expand into a new vertical? Promote a specific product? Increase free trial signups? Penetrate a new market?
Next, come up with a value proposition for your partners. Will you reward them with a flat fee for their marketing efforts, or will they receive a percentage commission from every new customer they help convert?
Don't be afraid to get creative with your reward structure to attract better partners and incentivize improved performance. For example, offer an increasing commission amount for more referrals, or reward tiers based on the size of the deal.
The rewards distribution process is best managed when you leverage a referral software solution. Define your reward criteria once, and automatically pay partners for the revenue they generate, while easily identifying your top performers.
A common frustration is that the partner feels the relationship is one-sided. If you can't articulate the value you can provide to your partner, you're missing the point.

Find the "Right" Partners
With clear goals and value propositions in mind, the next step is to carefully enlist the right kinds of partners that align with your brand.
Start by answering these questions about potential partners:
Can they help us achieve our goals?
Can their customers benefit from our product or service?
Does the company have values similar to ours?
Can they help us reach our target audience in ways that we can't?
Do they have a good reputation?
Many companies may want to partner with you, but working with the wrong kinds of partners can be worse than having no partners at all.
Even with the best partners, it's common for 12 -18 months to pass before you start to achieve real performance through this kind of channel. This is why it's so important to only be spending time and money on the right partners.
Create Formal Processes
The key to a successful program is to keep a relatively low barrier to entry, while ensuring that your partners are equipped with the knowledge to accurately represent your business's value proposition to potential customers.
Have a Partner Admission Strategy
Partner programs typically have a much more rigorous admission process than affiliate or influencer programs and may come with some legal obligations.
The admission processes can include paying fees or going through a certification program. This is a great time to ensure your partner's goals and expectations align with yours.
Due to the formality of the partnership, official partners are often able to state that they are associated with your company and may be listed on your website to represent their credibility.
Take the Time to Train Partners
Partners usually undergo training with your marketing, sales, and/or technical teams to become product experts and understand how they should advertise for you.
It's a good idea to provide partners with marketing materials such as brand guides and email templates, as it can be detrimental if your brand is being misrepresented.
Shopify even created an academy for their partners complete with online courses, exams, and certifications to ensure partners have the tools and knowledge needed to excel.
When you share the right information with partners, you have a better chance of receiving high-quality leads, which increases the chances that your partners will reap benefits and keep filling your sales funnel.
Offer Ongoing Support
A partner program isn't something you can set and forget. Unlike affiliate and influencer referral programs, successful partner programs require a higher level of continuous care and maintenance.
Keep partners up-to-date with product developments and industry trends, and continuously educate them on how to sell and overcome roadblocks. For your largest partners, you may even dedicate account managers to each partner to offer personalized support.
Because the development of a partner program requires the ongoing investment of resources, it's crucial to regularly review the financial value created by each partner relationship. Based on this data, you may want to adjust your partner relationship by changing incentives, providing new resources, or ending a relationship altogether.
Use the Right Tools
Creating beneficial partnerships is one thing, but managing your relationships and expectations is crucial for continued success. Trying to run a partner program manually without the right tools increases the risk of late or incorrect payments, and not providing your partners with the resources they need to succeed.
Instead, leveraging a dedicated software platform (also referred to as a PRM – a Partner Relationship Management platform) lets you scale quickly, while managing your spending and legal responsibilities. It helps you maintain positive relationships with your partners by keeping them engaged and informed.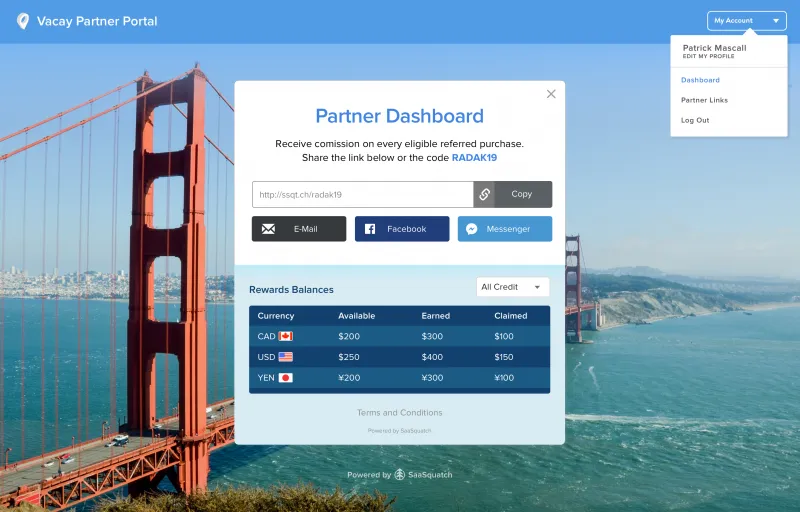 Features to look for:
Partner portal to manage relationships
Let partners log in to their dashboard and view the status of every referral and payout, and easily share their links and codes to keep earning. This becomes their one-stop-shop for marketing resources, tools and support.
Program administration dashboard
Being able to measure and manage your partner relationships is key to keep revenue rolling in. Make sure you're able to quickly find you best partners, check on their earnings, change their links and codes, and block them from the program if necessary,
W9 support
If your business needs to adhere to United States W-9 Compliance, you can easily manage this with a tool like the SaaSquatch W-9 Compliance feature. This ensures that participants will not receive in excess of $600 USD in rewards within a tax year, unless a W-9 tax form has been marked as collected. If a participant without a collected W-9 tax form receives any rewards that would exceed the limit within the tax year, the rewards will automatically be set as Pending and the participant will receive an email notifying them of their pending reward.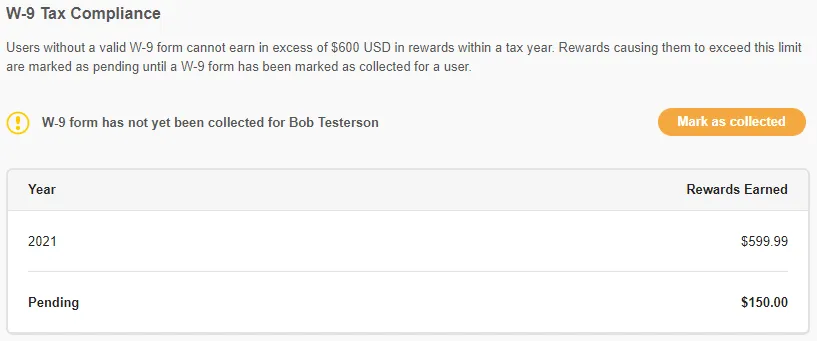 Partner Program Examples and Inspiration
Sleeknote
Sleeknote is a website popup builder that lets you create popups for email capture, cart abandonment, or any other goal.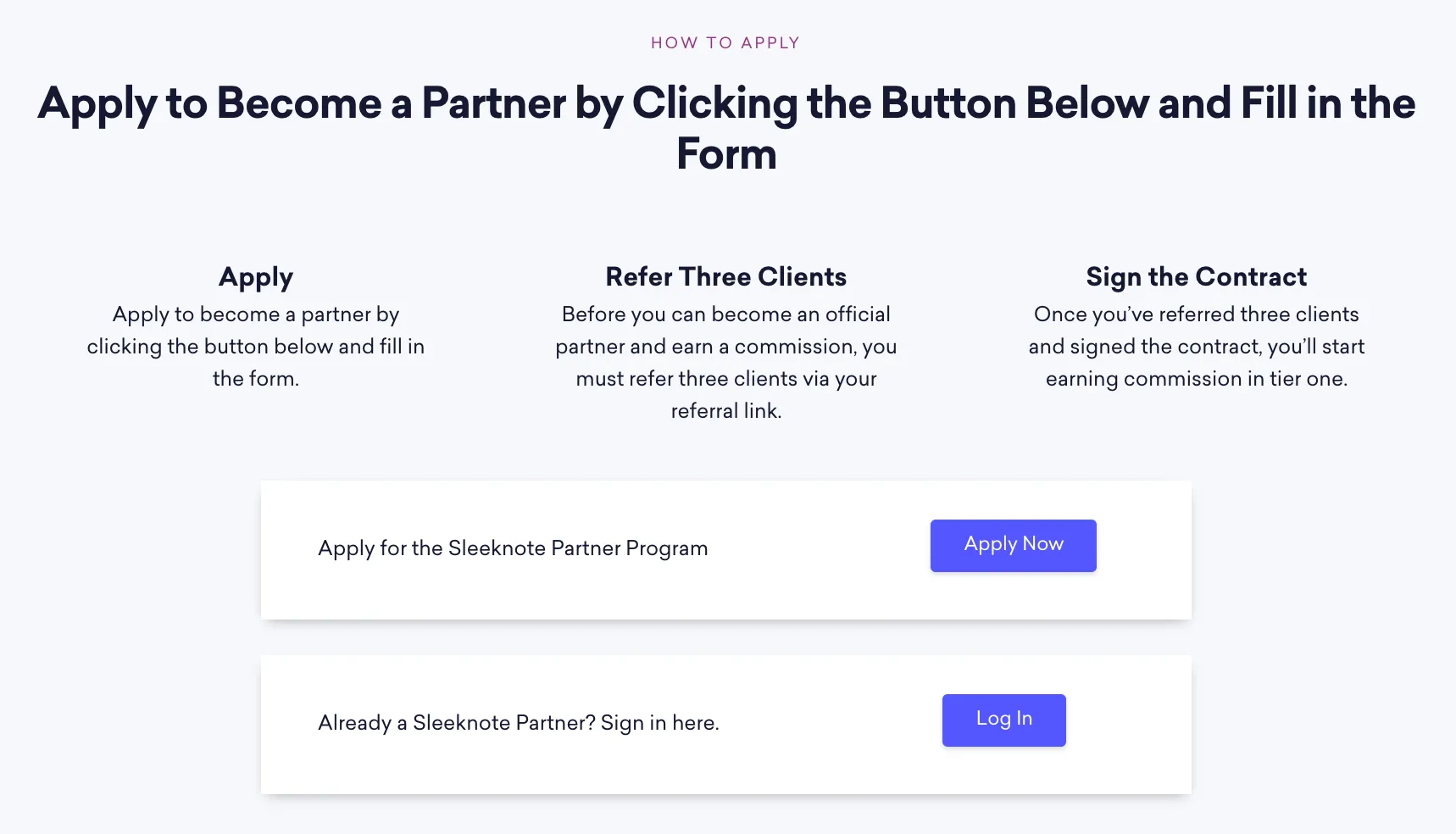 Once approved, Sleeknote partners can earn up to 25% recurring commissions on successful referrals. The program highlights quarterly payouts to partners, and free marketing resources to help them attract the right kinds of leads.
However, before earning commission, partners must prove that they are engaged and active by referring three clients with their unique link.
Sleeknote's partner program also features a tiered reward system to let partners unlock new rewards and a higher payout.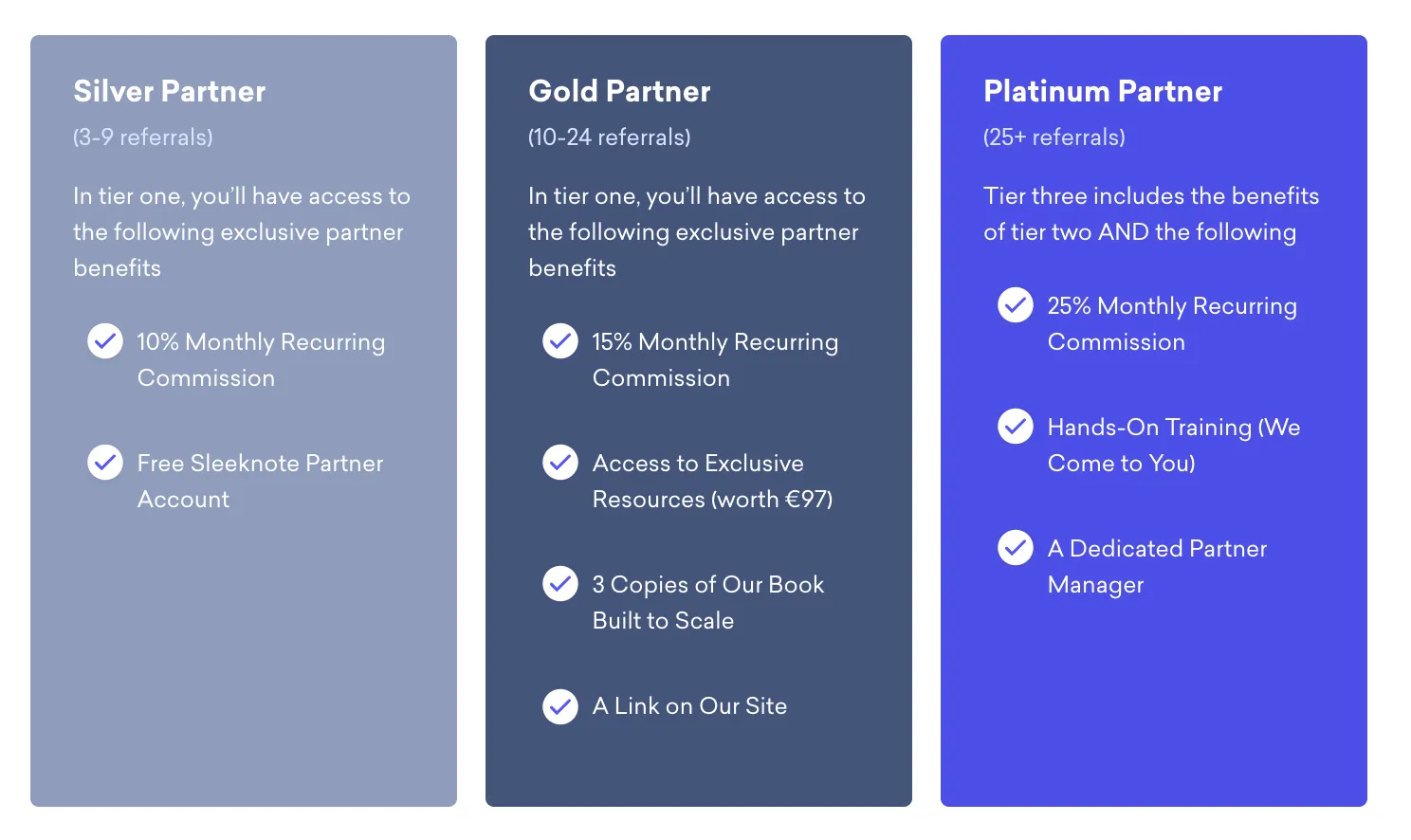 Slack

As a well-known business communication platform, Slack offers a variety of different partnership types, one being a Referral Partnership.
While compensation details aren't readily available, Slack takes their partner approach seriously with a set of criteria that each referred lead must meet such as:
The company has at least 200 employees
The customer is a net new opportunity.
The customer is ready to start an active evaluation of Slack.
The primary contact for the customer is a decision maker or key influencer.
These requirements ensure that each referral is viable for the sales team, and increases the likelihood that it will result in a qualified sale and benefit the partner.
Accelo
Accelo is a cloud-based platform providing professional services with the tools and resources they need to manage client operations including sales, quotes, projects, tickets, retainers, timesheets and billing.
The Accelo Referral Partner Program is designed for those who want to promote Accelo to their own networks. Before being accepted, Accelo gets in touch with prospective partners to learn about their business and the types of leads they would refer.
As an Accelo partner, you earn up to $250 for each new account that converts from a trial to a paid account.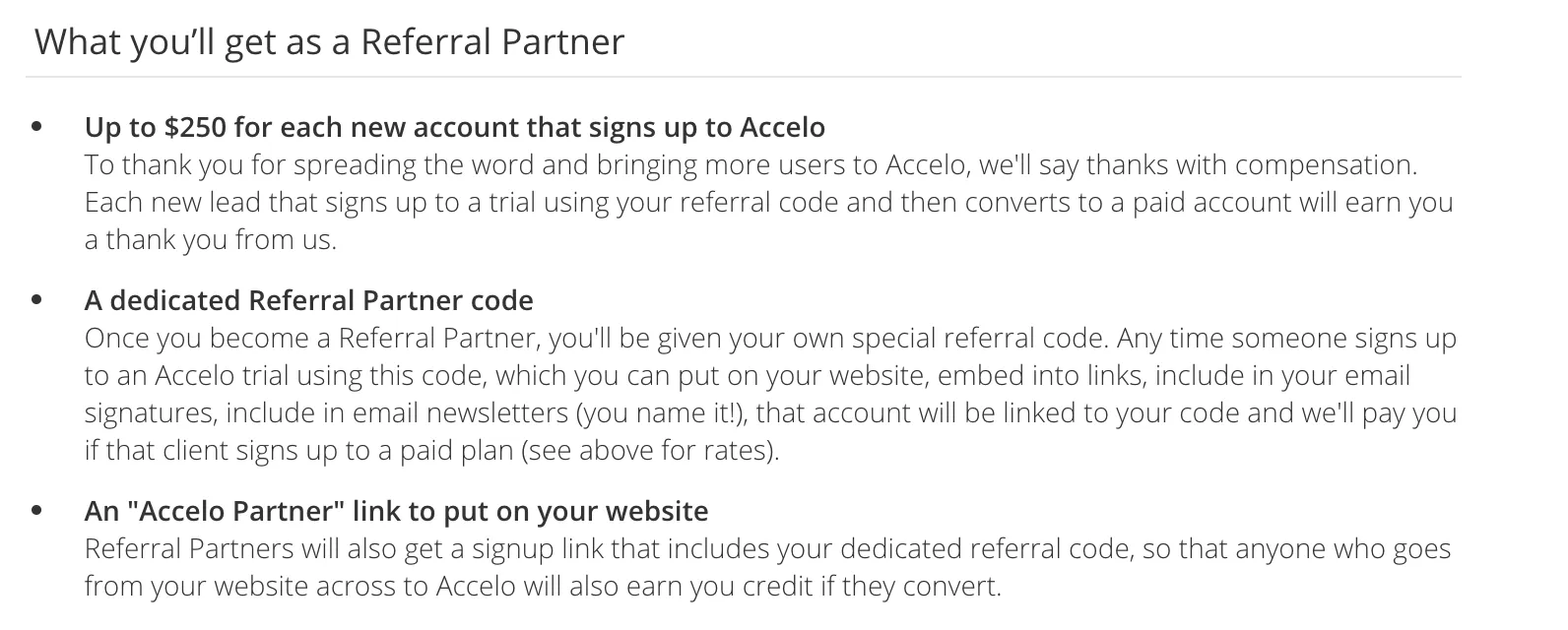 Kajabi
Kajabi is a platform used to build, market and sell your online course, membership site or coaching program.
Official partners can share the Kajabi platform with fellow entrepreneurs and earn a 30% lifetime commission for any new referral that stays active past their trial period.
The program features a dedicated partner dashboard, and a significant library of resources like swipe copy, help articles, webinars, and brand guides complete with writing tone and brand voice to help partners reach the next tier.
Wrapping Up
When done right, a partner program can increase your market reach, overall sales, and accelerate growth. As you've now learned, these powerful outcomes are a result of careful planning and maintenance.
A solid understanding of your own corporate goals and what you have to offer will help you identify and attract the best partners, while a clear outline of expectations from both parties will keep everyone on track.
Remember that it can take 12 -18 months before you start to see real performance through a partner program, so don't be discouraged if the channels aren't producing immediate results.