How Uber is Redefining Loyalty
We live in a world where anyone with a computer and an internet connection can build and launch a digital product. The digital marketplace is oversaturated, and consumers have more choice than ever given the cost of switching providers is negligible.
This new reality makes it difficult to stand out based on product differentiation alone. Digital companies need to create strong brands and build customer loyalty, but we also need to reframe our thinking around what it means to implement a loyalty strategy.
It must be ingrained in everything you do as an organization – we need to move away from thinking about loyalty exclusively in terms of retention.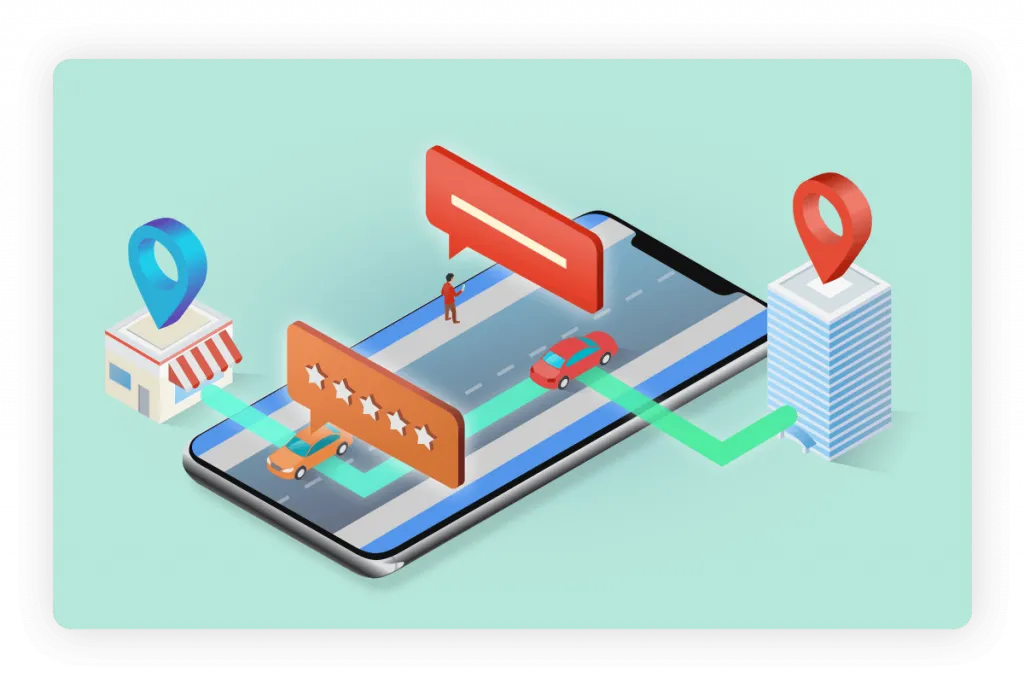 In a digital-first world where people expect instant gratification, companies are learning that incentive-based loyalty strategies should be leveraged across the entire customer lifecycle to drive acquisition, engagement, retention, and win backs.
In this article, you'll learn how one of the fastest growing companies in the world is using incentives to build a loyal user base, plus some best practices for getting started with your own end-to-end incentive-based loyalty strategy.
Who is Uber?
It's likely that everyone reading this knows about Uber. They are the largest ride sharing service in the world, commanding a value north of $70 billion dollars, with an IPO on the horizon.
With 5 billion rides completed to-date and more than 15 million per day, it's clear that Uber is doing something right.
How Uber is reinventing customer loyalty
There are multiple factors at play when we think about Uber's explosive growth: they offer a better service that disrupts a massive industry (taxis), their technology is world-class and provides a seamless experience, and they have a significant war chest of VC money to grow with ($200 billion+).
But there's no denying that adopting a comprehensive incentive-based loyalty strategy has played a major role. Uber currently owns almost 75% of the US ride-hailing market and has seen year-over-year revenue growth upwards of 60% (source).
In our estimation, Uber is the first digital service organization to adopt a true end-to-end loyalty strategy that doesn't just focus on retaining customers.
They do an amazing job of offering incentives to various stakeholders at all stages of the lifecycle. This means that Uber leverages rewards to drive engagement from the moment a user first learns about the app to the day they make their first referral, plus every moment after and in between.
In other words, loyalty is ingrained in everything Uber does: from acquiring new customers, winning back lost customers, incentivizing their drivers, and engaging their most active users.
Below are a few examples of what Uber is doing to reinvent loyalty in the digital age.
Driving user growth with acquisition offers
When we think of Uber and incentive-based loyalty, we probably think about their acquisition offers, which take the form of a classic double-sided referral program.
Uber customers have a unique referral code they can share with friends and family that rewards both the new user and the referring user with $5 off a ride.
For someone accustomed to conventional transportation methods, this incentive acts as the perfect nudge they might need to try a brand new service.
It's a simple offer, but it has resulted in significant user growth (100 million and counting). Plus, consumer research has found that referred customers have a 16% higher lifetime value.
Not only does the referral program incentivize new users to register for the service, it drives more engagement from existing users, creating a flywheel effect.
Increasing customer lifetime value with Uber rewards and Uber cash
In 2018, Uber introduced a new rewards program and Uber cash. The program offers points to users of Uber and Uber Eats, and users can convert these points to cash that can be spent within the Uber ecosystem.
Uber has done a great job of tiering their rewards based on levels of usage. The more points you collect from using Uber, the higher reward tier you achieve. The higher tier you achieve, the more valuable your points become, and the better perks you can access.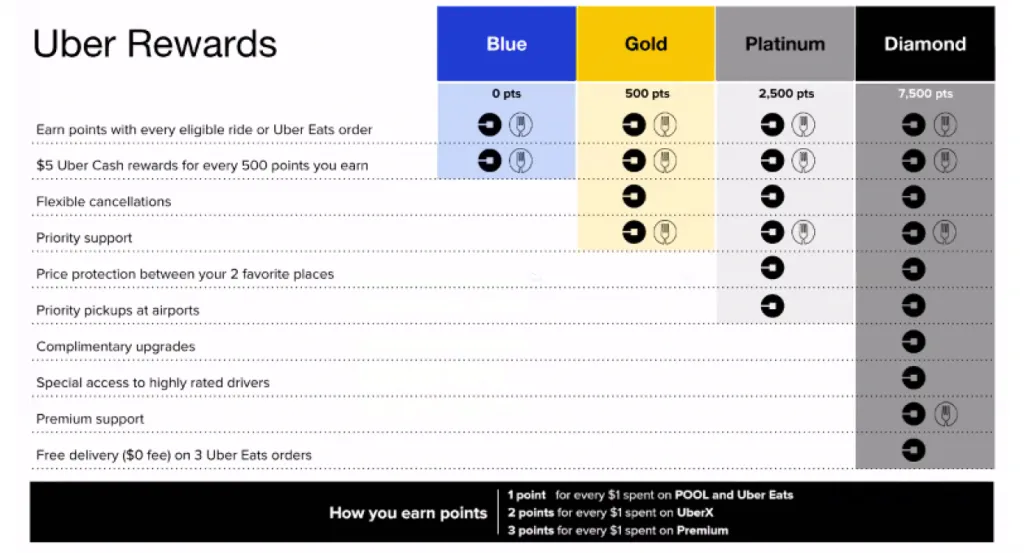 By segmenting the reward categories, the top tiers act as an exclusive VIP program that can increase the lifetime value of each customer. Humans have a desire for achieving a high social rank, so offering reward schemes that tap into this tendency is an excellent strategy.
Offering increasingly better rewards to each tier helps Uber show the right levels of appreciation to different user types. Power users who take multiple rides a day should receive better incentives than the casual user who rides once a month.
A businesses loyal top 10% of customers spend almost 3x more per transaction than the lower 90% of customers. Uber understands the value of their top customers, and has implemented this program aimed at retaining them.
To further increase customer lifetime value, Uber Cash was created as a way to preload your account with cash for rides and UberEats deliveries. Users are incentivized with a 5% discount when they load at least $100. This approach helps keep people engaged within the Uber ecosystem, as opposed to spending money with competing apps.
The Uber points system also takes advantage of alternative currencies that go beyond simple cash rewards. Users can benefit from incentives such as free car upgrades, no-fee cancellations, and guaranteed ride rates. These benefits are geared towards improving the passenger's experience to ensure they remain active users.
The beauty of Uber's rewards structure is that users don't need to jump through any new hoops to be eligible for benefits - they're simply receiving perks for rides they're already taking.
Winning back customers with consistent, compelling offers
Uber has a knack for offering compelling incentives that help win back customers who have not used the app for a while. As a periodic Uber user, I experience these programs all the time. Uber is not available in my hometown yet, but exists in many other cities that I travel to for work.
When I visit a city where Uber is available, I use ride-hailing frequently while I'm there. But when I'm back home, I can go weeks without using the service.
Uber recognizes that re-engaging inactive users (like me) can be 5 times more cost-effective than acquiring new ones, and keeps past riders engaged with various incentive offers. These typically include discounts on rides, which are seamless to take advantage of in the app.
By being consistent and making compelling offers, Uber remains top-of-mind for me, and ensures that I will use their service the next time I'm in a city where they operate.
Incentivizing all stakeholders for maximum engagement
One of the more impressive aspects of Uber's loyalty strategy is that they offer incentives to all stakeholders, not just passengers. Uber wouldn't exist without their drivers, and with growing competition in the space, the drivers are arguably Uber's most valuable asset.
They can create all the demand they want, but if they can't match that demand with supply, it's of no value to Uber.
They've done a great job including this group of stakeholders in their loyalty strategy, and with the 5 billion + rides, it's clearly working. Here are incentives Uber offers its hard-working drivers:
• Partner perks: Uber has partnered with a range of service providers in local markets around the world to offer drivers incentives on everything from oil changes to healthcare. A few of these include affordable and easy healthcare through Peachtree Immediate Care, 25% off Jiffy Lube services, and discounted on-demand roadside services.
• Boosts: Select drivers receive email and SMS notifications each week for boost opportunities. These happen when there is more demand than supply and allows drivers to earn more from each ride.
• Quests: This fun tactic allows drivers to earn extra money for completing certain trips in a set amount of time. This is effective, because it doesn't only offer an incentive, it gamifies it.
• Tips: After your Uber ride, the app asks you to rate the driver and allows you to provide a tip. Tips make a big difference to drivers as they can earn up to an additional 30% on each ride. It also benefits Uber, as it is an incentive for their drivers to offer excellent service.
It's important for companies to think about all the key stakeholders involved in delivering their digital service or product. Uber's incentives makes their drivers feel valued, which helps discourage them from driving for the competitors and ensures they offer excellent customer service.
Incentives like healthcare discounts, educational opportunities, and car maintenance services create a program comparable to many employee benefit packages for a driving force that are ultimately independent contractors.
Best practices for running incentive-based loyalty programs
We hope that through this article you've come to understand why loyalty should be thought of in a different light - it's no longer purely about retention. We've examined the real-world benefits of taking a holistic approach to loyalty and using incentives at all stages of the customer lifecycle.
Uber is proof that incentive-based loyalty works to drive acquisition, engagement, retention and win-backs - at significant scale.
Below, we've laid out the best practices for kicking off your own incentive-based loyalty strategy, based on years of working with organizations around the world to deploy loyalty strategies that drive results.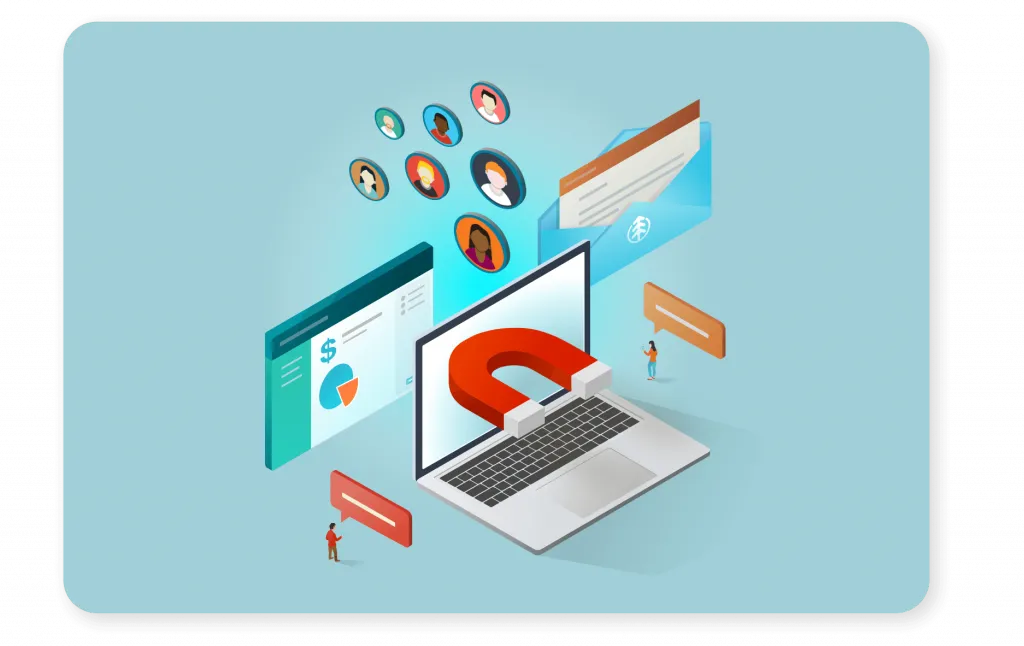 Loyalty at every stage of the customer journey
Loyalty has historically been considered primarily in the context of retaining customers, but it needs to expand beyond that. People's expectations are higher, and incentive-based strategies should be used to drive results at every stage.
This might take the form of incentives to drive new customer acquisition, offering points to keep current users engaged, or running targeted offers to win back lost customers. No matter what your specific tactics, your loyalty strategy should be leveraged at every stage.
Move beyond points and discounts
Points and discounts will always be powerful drivers for your loyalty programs, but it's best practice to begin thinking about alternative currencies, too. You should be creative with your incentives, offering alternative currencies as incentives.
Alternative currencies can include things like access to exclusive content, free shipping, complimentary training, early access to new features, upgrades, and more. Bonus points if you can find alternative currencies that also drive deeper engagement with your product or service.
Promote, promote, promote
No matter how enticing your loyalty incentives are, it won't move the needle if people don't know about it.
Your promotion plan deserves as much thought and planning as your incentive strategy. For the best results, include CTAs for your programs across all channels: emails, landing pages, blog posts, social, and in-product. Download our promotion checklist!
Target and tier your incentives
Not all customers and prospects are created equal. Digital businesses have an advantage when it comes to measuring engagement levels and the value of customers. Consider these factors when developing your loyalty strategy.
Rewards should be targeted to subsets of your customers and prospects based on a range of characteristics, and you should be offering more attractive incentives to your most valuable customers.
Other marketing and growth channels are not one-size-fits-all, so your loyalty strategy should be no different. Take the time to understand the makeup of your customers and prospects, and tailor your incentives for the best results.
Measure everything
You can't improve what you don't measure. As with any other channel you invest in to grow your business, you need to understand which aspects of your loyalty program are performing and which aren't.
Digital-first businesses have the advantage of being able to iterate at a rapid rate. Ensure you have the proper tracking in place so you're able to review results, adjust, and double-down on what works best.
Final thoughts
If there's one thing you take away from this article, we hope it's that the definition of loyalty is changing and it's time to reframe our thinking about it. Stop thinking about loyalty purely in terms of retention – it's a strategy that needs to be injected at all stages of the customer lifecycle.
Incentive-based loyalty programs are the future. And don't just take our word for it, Uber is one of the most valuable private firms in the world, and it's in large part due to their end-to-end, incentive-based loyalty strategy.
With all the channels available for allocating your marketing spend, we feel that loyalty should be near the top of your list. Effective incentive-based loyalty programs drive growth, increase customer lifetime value, and help keep your top customers engaged.
To learn more about designing a successful loyalty strategy in the digital economy, sign up for the Digital Loyalty Academy today. Free access for the first 700 students.