Loyalty Programs for Customer Acquisition
In case you haven't heard, loyalty programs aren't just a retention tool anymore.
The best way to grow your business with incentive-based loyalty programs is to apply them to each major stage of the customer journey. This drives more successful conversions and creates long-lasting customer relationships.
Because of their versatility, loyalty programs can help your digital business achieve a number of different goals, from lowering your acquisition costs, boosting customer lifetime value, retaining more customers, and lowering sales and marketing expenses.
If your current goal is to acquire new customers, this article is for you.
We'll walk through how and why loyalty programs fuel customer acquisition, and what programs you should launch to generate new business.
How loyalty programs drive customer acquisition
Loyalty programs help you grow your customer base by:
Attracting new customers, and
Strengthening your salesforce.
1 - How do loyalty program attract new customers?
- Loyalty programs act as a differentiator
While loyalty programs remain a relatively new idea to many digital businesses, this presents the opportunity for loyalty initiatives to act as a brand differentiator. Using extra incentives to drive acquisition means that you don't need to rely on price as your only competing metric.
When you successfully advertise and position your loyalty program as easy-to-use and valuable, this can end up being the reason someone chooses your brand over a competitor. After all, 69% of consumers allow the presence of rewards or loyalty programs to influence their shopping decisions
If you're presented with two competing apps that equally meet your needs, you'll choose the one that offers extra rewards and incentives just for being a customer.
- Loyalty programs offer a sense of belonging
Rewarding a user creates a connection that involves emotion, and lets your brand become more than just a place for them to spend their money.
Customers want to feel special, and loyalty programs can help deliver on this desire to belong to an exclusive community. This might be done by offering customers the chance to join an elite tier of VIP customers, or simply by providing exclusive access to customer forums or meetups.
For example, reaching the top tier of a company's VIP rewards program might give the customer opportunities to give product feedback, attend product launch webinars, and receive company swag.
- Loyalty programs provide tangible value
In a survey of 3,162 loyalty program members in the US, 57.4% of respondents cited "saving money" as their top reason for joining a loyalty program.
Many customers are naturally price-conscious and will look for the best deal. When your loyalty program offers tangible credit, discounts, or gifts, this makes them more inclined to shop with you.
For example, offer points to customers after every purchase that they can redeem for items and future purchases. This gives a customer confidence that every dollar spent with your brand will also benefit them in return.
2 - How do loyalty programs strengthen your salesforce?
- Loyalty programs fuel word-of-mouth marketing channels
A customer who feels positively towards your brand is more likely to recommend it to friends and family, whether on their own or through your formalized referral program.
A study from the American Marketing Association reveals that 64% of marketing executives find word-of-mouth to be the most effective form of marketing, as it can drive 5x more sales than paid media impressions.
Not only does the quality of your product influence referrals, but 73% of loyalty program members are more likely to recommend brands with good loyalty programs.
- Loyalty programs create trusted brand advocates
Consumers are now citing salespeople as their least trusted source of information when making purchase decisions, which makes traditional sales channels more difficult and expensive to operate and maintain.
Since people are 4x more likely to buy when referred by a friend, a significant portion of your selling power comes from having a loyal customer base who is willing to advocate on your behalf.
Loyalty programs support this by both incentivizing people to talk about your brand, and offering valuable rewards to ignite positive customer emotions.
- Loyalty programs allow for cost-effective acquisition
Customers acquired through referral methods and word-of-mouth channels are typically more qualified and more likely to buy, delivering an increased ROI and lower acquisition costs.
A study from the Wharton Business School found the customer acquisition cost (CAC) for referred customers was $23.12 less than non-referred customers, resulting in a 16% higher lifetime value.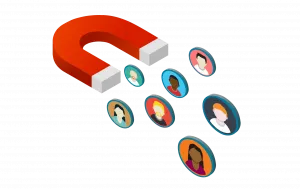 Loyalty Programs for Customer Acquisition
Based on the distinctions made above, we can separate customer acquisition loyalty programs into two categories:
1) New User Incentives: Programs that help you attract brand new users, and
2) Referral Programs: Programs that strengthen your salesforce through word-of-mouth channels.
1 - New User Incentives
New user incentives are leveraged to alleviate any concerns associated with trying a new product for the first time. They do this by lowering any perceived risk, which is typically financial.
When loyal customers are worth up to 10x the value of their first purchase, it makes sense to offer the incentive needed to close that first sale. New users incentives can take many forms, and we've outlined three of them below.
- Welcome Offers
The goal of a welcome offer is to make the customer feel like they are being "welcomed" into the community surrounding your brand. This could take the form of points, credit, or a special gift.
We also know from the psychology behind loyalty programs that if people feel like they have made progress towards a goal, they will be more motivated to achieve it. This means that getting new users engaged with your brand and its loyalty programs right away means they are more likely to stick around.
For example, if users can qualify for the first tier of VIP rewards once they have collected 100 loyalty points, offer a new user 25 points after their first purchase to fuel their motivation towards the 100-point goal.
- Special Event Offers
Exclusive new-user offers can be leveraged to incentivize purchases throughout the holidays or during a special event.
This not only helps new customers feel like they are getting a good deal, but lets you control buying behavior to your advantage as you draw users to your website during specific times to promote a new product, clear out inventory, or increase sales during the slow season.
For example, offer a 10% off coupon to any new users who make a purchase during the first month after your product launch. This acts as a time-sensitive reason for new users to try your brand and, provided they have a good experience, encourages them to return.
- Regional Offers
Regional offers are built to exclusively incentivize new users from a specific region to support your expansion efforts, help with a staggered rollout, or hold off competitive entrants.
This drives customer acquisition because customers can be risk-averse to a product or service that is not yet widely adopted by their community.
For example, as a ride-sharing service expands their active cities once receiving government approval to operate, they might extend a special offer to new customers from each new region to drive adoption.
2 - Referral Programs
At the most basic level, a referral program involves one entity (referrer) sharing a brand, product or service with someone else.
Using this scenario as the basic building blocks, there are several different types of referral programs depending on who is referring who, what reward is offered, and how the referral takes place.
- Customer Referral Program
As the most well-known form of referral programs, a customer referral program involves rewarding your existing customers for referring their friends, family, and colleagues to your business.
Customer referral programs are vital to acquisition, as 77% of consumers are more likely to purchase a product when learning about it from a friend or family member. (Nielsen)
Not only do referral programs bring in more customers, but typically your best customers: Referred customers spend 13.2% more and have 16% higher lifetime values than non-referred customers. (source)
For example, every time a customer refers a new user to your brand, give both the existing and new user a 10% off coupon once the new user makes their first purchase.
- Partner Program
A partner program involves formalizing strategic agreements with other businesses to help bring in new customers. These corporate partners promote your brand in exchange for a commission based on how much revenue they generate for you.
Partner programs are an effective way to drive growth in a B2B environment where the buying process requires a trained salesperson (in this case, the "partner") to educate multiple stakeholders on the value proposition.
As an example, a CRM software might offer a percentage-based commission for each closed sale based on the agreement that the partner brings in at least 3 new customers per year.
To learn more about what makes a partner program, check out this article.
- Influencer Program
An influencer program involves working with an influencer to help promote your product, service or brand to their audience, typically in exchange for a commission.
An influencer is someone like a blogger, podcaster, celebrity, or social media personality who can leverage their authority to convince their followers to try your brand. They do this by posting about it on their own social channels, blogs, websites, or other media outlets.
This drives customer acquisition by serving as the ultimate way to leverage social proof and reach a wide network of users with a single post. As an example, an YouTube personality might post a video of them cooking with a meal-kit delivery service, offering viewers $20 off their first box.
To read our best tips on how to create a successful influencer program, check out this article.
Final Thoughts
Based on what we've discussed in this article, we can all agree that customer acquisition is important - every business needs customers to survive.
However, we've talked before about how focusing too heavily on traditional methods of customer acquisition can end up hurting your business instead of helping it. This is because methods like online ads and prospect outreach are getting expensive, hard to do, and aren't delivering the results that everyone planned for. Check out this article for the full analysis.
That's why we turn to loyalty programs as a cost-effective way to attract new customers and make sure they stay around longer to deliver a positive ROI.
Loyalty programs like the ones mentioned above are powerful acquisition tools, but only if you take a relationship-oriented approach to the acquisition. Loyalty programs aren't to be used as a quick cash grab, but rather a way to build the foundation for a long-lasting customer relationship.
Loyalty programs to support your acquisition efforts are most effective when you continue nurturing the relationship with incentives throughout the entire customer lifecycle.
For more guidance on creating a comprehensive loyalty strategy for your digital business, enroll in the Digital Loyalty Academy for free today!